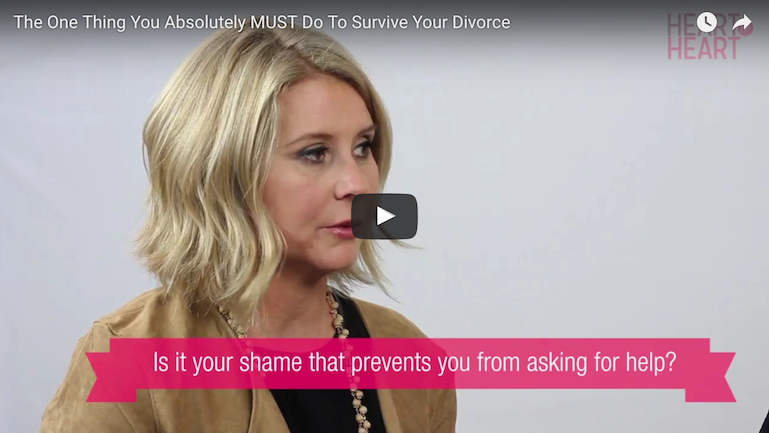 The One Thing You Absolutely MUST Do To Survive Your Divorce
Are you devastated, overwhelmed, or simply stuck when it comes to figuring out how to survive your divorce? Do you wonder constantly how you are going to get through it—all the tears and scary nights, navigating the unknowns, the paperwork, the kids, the house, the EVERYTHING? You can search the internet for divorce advice until your fingers are numb and your eyelids are as heavy as your heart, and still, you might feel like you're getting nowhere.
During a divorce, we're living in survival mode. Our lives have suddenly become chaotic, if they weren't already, and choosing what aspects to prioritize and what really matters can feel like an impossible task to even start let alone accomplish. The solution seems simple, but it's so hard to do sometimes: you must ask for help.
An outsider's perspective and divorce advice can make all the difference. You aren't your best self right now. As women, we tend to take care of everyone else before we take care of ourselves. We are used to being perpetually stretched thin. But in this case, you must recognize you cannot care for everybody else well if you do not stop and take care of yourself. Sometimes your support system is larger than you realize—you just have to look around and let go of your pride.
In this short video, Liza and Kim discuss the power of asking for help. (Sometimes the simplest divorce advice is the best kind.) They also share ways SAS clients have found help from the most unexpected sources.
Since 2012, SAS for Women is entirely dedicated to the unique challenge's women face when considering, navigating and recovering from the divorce experience. You are invited to meet SAS through a complimentary consultation. You deserve knowing the smartest, healthiest next steps and divorce advice for yourself and for your family.
https://sasforwomen.com/wp-content/uploads/2017/06/theonething.png
433
769
SAS for Women
https://sasforwomen.com/wp-content/uploads/2018/12/logo.jpg
SAS for Women
2017-06-22 12:57:20
2020-02-01 20:24:00
The One Thing You Absolutely MUST Do To Survive Your Divorce