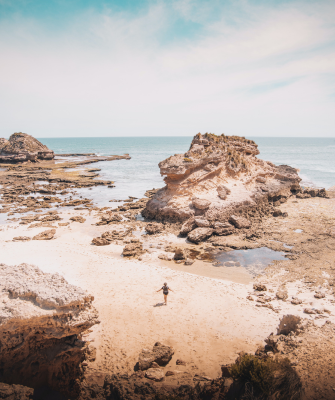 Solo Travel After Divorce: Finding Yourself, Faraway
Not long after my marriage broke up at age 46, I planned a trip to Europe all by myself. I loved the idea of its adventure and its freedom — solo travel after divorce. Just before leaving, I had a conversation with my therapist, who reminded me that I now had a blank canvas on which to create a beautiful, new life.
But rather than inspire me, that canvas terrified me. It was white. Blank. And I not only had no idea what to do with it, I was afraid to even begin picturing what life should look like now.
What if I make a mistake? Or I don't like (once again) how it comes out?
Like many women who travel after a profound loss like divorce, I hoped my time away would bring healing as well as clarity around what my new canvas—my life—might look like. As my trip unfolded, travel became a beautiful healer and a catalyst for opening my mind to new possibilities. Slowly, I began to catch glimpses of this new canvas and what it held. As I look back today, I can see several steps that helped me along the way. They might help you, too. 
Give yourself permission to pause
Every journey begins by simply giving yourself permission to take it. The best way to grow and discover new possibilities for your life is to step out of your ordinary, daily activities and allow room to re-imagine, ask hard questions, and feel all your feelings. Travel can be a wonderful tool to help us face our fears and think creatively about our future. But for wisdom to speak, we must create the space to listen.
---
Check out "How Long Does It take to Get Over a Divorce? And 4 Signs You are On Your Way."
---
For many women, taking time away is the biggest hurdle and the most difficult decision. Making time for family and friends is natural but carving out a few weeks for ourselves isn't always so easy. Research shows that more women are seeking out and discovering the benefits of solo travel. According to Kayak, searches for solo ventures are up 36% in 2022.
Robin is one of these women who recently decided to travel solo after her 42-year marriage ended. "For the first time in my life," she said, "I was able to simply focus on my needs and my healing." Robin described leisurely strolling down cobblestone streets in the south of France, where the beauty of her surroundings helped her begin to reconnect with herself. 
---
Learn about the stage that follows signing your divorce agreement in "Divorce Recovery: A Definition and a Guide."
---
The challenge of making her way around in a new place—one in which she did not speak the language—also instilled confidence. "I went to France alone. I can do anything now," she said with a wide smile upon returning. More and more women like Robin are discovering that giving themselves permission to take a solo journey can be a catalyst for their own transformation.
Ask, "What do I need to feel?"
The idea of heading off to a beautiful location and leaving your cares behind can feel amazing. It's why so many people are drawn to Elizabeth Gilbert's Eat, Pray, Love story. But when you get into the details of planning it, you can feel bogged down with the stress and pressure of designing the perfect trip. You might be tempted to fill your days with tours and sites to visit and restaurant reservations. Soon, every day is full of places to go and things to do. Sometimes that's our way of feeling safe or less nervous about the "unknowns" that can come with travel, so we mitigate them by being busy. Busy is often comfortable.
I've found one thing to be crucial when it comes to planning any transformational journey. Start by envisioning your ideal trip and asking one simple question: "What do I need to feel?"
Do you want to feel inspired? Free? Empowered? Brave? Nurtured? Confident like Robin? The answer can offer incredible insight into your planning process—from the location you choose to the activities you plan.
On my trip to Europe, I chose to spend most of my time in Kosovo. I needed to feel connected and nurtured, and since I'd been there before, I knew it would be a safe, familiar place to find healing. I also chose to stay for a longer period so I could have a lot of down time.
---
Read "The Truth About Starting Over After Divorce at 45."
---
To prioritize my connection and well-being, my itinerary and activities reflected my desires. I opted for a direct flight and booked the same Airbnb as before to ensure familiarity. During my post-divorce solo travels, I relished peaceful mornings writing in coffee shops and enjoyed extended dinners with friends, old and new. Self-care was paramount, including indulging in soothing massages while avoiding complex travel plans that could evoke overwhelming emotions. Every decision revolved around nurturing my soul, as I knew precisely how I wanted to feel throughout my journey.
Enlist your support team
Experiencing divorce and then doing the work necessary to create your new future involves a lot of grief and difficult feelings. While traveling can be exhilarating and open our minds in new ways, we also need people in our lives who know us well and who can support us as we process our thoughts, feelings and fears along the way. 
While I was away, I scheduled a weekly phone call with my friend Lisa. She knew all the details of what I was going through, and she understood the clarity I was hoping to find on my trip. Having that weekly check-in gave me a specific touchpoint each week that encouraged me to reflect on what I was experiencing. In this way, the lessons I was learning were able to sink deeper into my heart, soul and mind, and internalizing them helped me when I returned to put my new discoveries about myself and my capabilities into action. It also meant I had another person cheering me on and keeping me accountable in my continued growth.  
Whether you have a long-time friend, a family member, a therapist, or a few members of a divorce group, a support team is essential to feeling supported while away and growing into a deeper understanding of yourself upon your return.
Embrace curiosity
While you're away, prioritize curiosity. If you see something interesting while you're out, move toward it. Practice listening to that still, small voice of wisdom inside that knows you best. Check out that cute little seaside cafe. Talk to your server and ask about their life or what they like to do on their day off. Buy a snack from that street vendor and enjoy it while sitting on a bench. Jump off the bus and hike up to that castle on a hill. Take that tour or walk down that side street with quaint little shops. Allow yourself to simply be in the moment. Be curious about your surroundings and notice what draws your attention—what makes you smile, even. You can learn a lot about yourself and the things that bring you joy this way.
Each evening, note what you're learning about yourself in a journal, or like Robin, you might instead sketch the things that catch your eye. Over time, you'll start to notice patterns. Maybe there are experiences and situations that make you feel more alive, more like that younger version of you that's been long forgotten.
When you return home, be intentional about remaining curious and finding similar activities that evoke those feelings so you can continue to discover even more about yourself.  
---
Challenge yourself. Start checking off these…
"100 Must Do's for the Newly Divorced Independent Woman."
---
Be kind to yourself
Finding healing after divorce is hard work. And while traveling can facilitate that process, your journey might not always be as serene and easy as you'd like. During my time in Kosovo, there were days I didn't want to get out of bed. Even the idea of figuring out what to do felt stressful, and it was difficult not to get frustrated with myself. I'm wasting my day, I remember thinking. 
Robin also had similar times in which she felt paralyzed by fear. But because she had a support team at home ready to remind her it's normal to feel overwhelmed sometimes when in unfamiliar surroundings, she was able to offer compassion to herself and simply allow for doing less on those days. 
By going slow on hard days, Robin and I were both caring for ourselves. We were making room for our feelings and our grief—and in that process of taking care of ourselves, we were also inviting long forgotten parts of ourselves to return.
You'll find that being far from home might be difficult some days. But it can also be healing and magical. 
Taking your canvas from blank to beautiful
During my last week in Europe, I traveled to Kotor, Montenegro. One morning I was at the beach feeling frustrated that I hadn't yet found all the answers I wanted. I felt as if that white canvas was still taunting me.
Mostly out of frustration, I dove into the water. Surrounded by mountains, I began to float and try to imagine what my new life might look like when I returned. With my ears underwater and all the sounds around me fading into the background, I focused on my breath.
As I did, I heard a still, small voice inside simply ask, "What if you just choose one color—and begin?"
I nearly gasped at the simplicity. I popped my head up out of the water, realizing I thought I needed to know exactly what my canvas, my new life, should look like before I returned. But the reality was that I just needed the courage to simply start. I needed to pick one color, one interest, one inkling, one idea, one feeling, one dream, and begin there.
In the months that followed, my canvas slowly took shape in ways I never expected or imagined. Like me, you might not come home with all the answers either. But you will return with a fresh perspective and new insights about yourself—all of which you can use to create your own new, beautiful canvas. 
NOTES
Dawn Pick Benson is a self-discovery travel coach who helps divorced women create travel experiences that inspire them to rediscover who they are and reimagine their best possible life. Through her small group coaching program, Brave Journey, she helps women plan their dream solo trip alongside a squad of like-minded women who all cheer one another along in the process. Schedule a free consultation with Dawn to start creating your own extraordinary journey or download her free 3-Step Guide to Creating Your Solo Travel Experience.
Since 2012, SAS for Women is entirely dedicated to the unexpected challenges women face while navigating the divorce experience and its confusing afterward. No matter where you are, SAS offers you six FREE months of email coaching, action plans, checklists and support strategies for you and your precious future. Join our tribe now and stay connected.

*We support same-sex marriages. For the sake of simplicity in this article, however, we refer to your spouse as your "husband" or a "he."