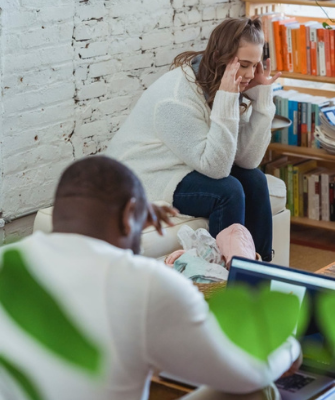 How to Separate from Your Spouse While Living Together
Perhaps your marriage is at a tipping point. It's not working, but you're not quite sure divorce is your end-game. You know you have choices (kind of). For one, you can keep living as you are and hope a coconut of wisdom will fall on your head. You can go ahead and file for divorce. You can separate and move out (or have your husband move out). Or you can separate from your spouse while living together.
At a time when the difficulty of making decisions is amplified by emotions and potential consequences, you are forced to choose.
Even not choosing is choosing.
Every situation is as unique as the people in it. The presence and number of children, financial status, employment, age, health, family and friends who can help, amicability—they all weigh in.
Regardless of what's driving your marriage toward potential finality, you and your spouse have to decide about your living arrangements during the decision process.
This may seem on the surface to be a personal decision that belongs only to you and your spouse. But what you do and how you do it can have legal (and financial) consequences.
---
You may wish to consider "What Percentage of Marriages End in Divorce?"
---
So, we're going to talk about an option that is largely misunderstood but often necessary.
If you're going to separate from your spouse while living together, there need to be rules in place.

And everyone needs to follow them.
Obviously, an in-house separation, also called a "poor man's separation," won't work if everyone doesn't "play nice."
The irony?
The very mindsets and behaviors that have taken a backseat in your marriage now have to take the wheel.
Healthy communication, respect, keeping your word, sacrifice — you can't have a successful marriage without them.
You also can't successfully separate from your spouse while living together without them, either.
Obviously, this kind of separation works only when spouses have a functional amount of amicability and mutual respect. 
---
Read "What is an Amicable Divorce? And 5 Ways to Ensure One."
---
If there is abuse, active addiction, and/or constant fighting going on between spouses, safety (physical and emotional), it most likely calls for full separation.
The Benefits of Separation
Let's talk about legality for a moment.
Separation can serve a variety of purposes.
Generally, it's a "trial" period that gives spouses a "break" from their marriage to determine how to go forward.
Instead of simply pulling the plug during a high-emotion, high-conflict time, separation gives you an opportunity to cool down and reflect.
Separation can also give you enough distance to get a glimpse of what single life would be like beyond just the "freedom." If absence makes the heart grow fonder, then, theoretically, two spouses who still love one another will resolve to make things work.
This is, at least in part, why some states have mandatory separation/"cooling off" periods before beginning the divorce process or before the process can be completed. The courts want to know that couples are making the life-altering decision of divorce with forethought, clarity, conviction, and necessary information.
Therefore, if you plan to separate from your spouse while living together, you still need to treat that time as a separation. 
Even if you're unsure about divorce at this point, you can't be wishy-washy about your separation–at least if you want it to "count."
Here are some guidelines for creating an effective in-home separation:
Hire a family law attorney to help you draw up the details of a binding, legal separation.

This may feel like an awkward step when you're still living together. After all, who's going to monitor you behind closed doors?

But, if you are still in a place of uncertainty, you both need to protect all potential outcomes.

Having an official, legal document in place will give you both a point of accountability.

It will also start the clock on any mandatory separation (unless your state requires separate domiciles).
---
Be careful with the lawyer you meet with. Check out "Why You Don't Want to Search for Cheap Divorce Lawyers."
---
Be clear about the purpose of this separation.

Are you going through all this hassle so you can inch your way out of your marriage? Or are you truly using this time to work on yourself and your marriage?

Are you doing this to save money or for some other reason like children, health, or convenience?

Will you be attending marriage counseling together? Individual therapy?

Or will you both be preparing for the divorce process from the convenience of the same home? If so you may consider reading "Women Share How to Survive Living Together During Divorce."

Set a starting and ending date.

Dates are important for a couple of reasons.

For you and your spouse, it's a way of making sure everyone is on the same page. It gives you a timeframe in which to do your "separation work."

And it keeps you both on track for reconvening in order to determine the next steps for your marriage (or divorce).

Legally, dates let the courts know that you have met any requirements for an uninterrupted (i.e. no accidental hanky-panky on a vulnerable night) separation.

Separate your sleeping spaces.

If you're going to separate from your spouse while living together, sleeping arrangements will be the first pragmatic to tend to.

You may not have the luxury of unoccupied bedrooms, but there are always creative solutions. Converting a basement, attic room, or office are all options.

You may even decide to take turns sleeping in the common home and staying with a family member or friend.

Taking turns in the home can preserve some sense of normalcy and constancy for children. But it will take clear boundaries and scheduling by the parents.

Separate your finances.

Whether you and your spouse come through this separation phase together or are destined for divorce, finances will play a major role.

This is the time to open separate accounts, even if you keep a joint account open for common bills like mortgage, rent, and utilities.

By having an attorney work with you on the terms of your separation, you can establish clear guidelines about who pays for what.

If you've been out of the workforce because you've stayed home to care for children, you will need that financial clarity.

If, in the end, you decide to divorce, financial records from your separation will be an important contribution to your settlement documentation.
---
Separating or not, you might want to read "36 Things to Do If You are Thinking About Divorce."
---
Establish clear boundaries around everything.

Are we going to eat together as a family? Who is going to cook on what night? Are we going to shop for our own food and take turns buying for the kids?

Who will be responsible for what chores and what expenses?

Are we going to talk when we're in the house together, or only briefly in passing?

Are we going to have defined times to be in and out of the house?

How are we going to handle the kids' functions?

Who can know about our separation?

Establish custodial guidelines for caring for children.

Telling the kids. Ugh. It's inevitably one of the most difficult, awkward steps of both divorce and separation.

And yet, if you're going to separate from your spouse while living together, you need to handle this step with great care.

Younger children, despite their natural ability to pick up on everything, may adapt well. As long as their world remains constant in terms of provisions and care, they aren't likely to need deeper explanations.

Teens, however, are in their own relationship-development phase and are more likely to internalize your relationship choices.

Children of any age don't need to know the details of your marital issues. But they do need to understand changes in the family dynamics.

Even an assurance of your love for them and an explanation of the "rules and layout" of the separation can suffice.

Be clear about who will be responsible for what aspects of child care – what days, what events, what needs.

Will you divide up the week for things like cooking, bedtime story-reading, and homework assistance?

Honor the schedule you create. Your children's comfort depends on it.
---
Consider "How to Coparent When You Absolutely Hate Your Ex."
---
Don't start dating during this time. And definitely don't bring dates or new love interests into the house.

Some experts will acknowledge dating as an inevitable part of the separation. But think about it with the long term in mind.

First of all, you are still legally bound to your spouse. Your assets, your children and custody, your freedom to remarry–everything is still bound in marriage.

Second, you are living in the same house as your spouse, even under terms of separation.

You may or may not reconcile, but why add the awkwardness? Why complicate a potential divorce process? Why put another person in the middle of your personal situation when you can't offer the same relationship perks you want?

And, especially, why confuse your children or add extra hurt to your spouse?

Separation is supposed to be a time of reflection and decision.

Even if you know you're bound for divorce, both of you will still have a lot of work to do on yourselves, for your children, and for your healing.
---
It's natural to wonder.
"Will Your Marital Separation Lead to a Divorce?"
Read more to understand where you're at.
---
Respect the rules.

In-house separation will ultimately be what you make it.

If you and your spouse can't be within a mile of one another without fighting, then you may need to move at least two miles apart.

Hopefully, you have enough compassion and respect left between you that you can navigate this difficult arrangement successfully.

If you're divorcing a nice guy, you may find it difficult to keep the lines from getting fuzzy.

If that's the case, you may discover the motivation to work on your marriage instead of using separation as a prelude to divorce.

Just be sure to respect the rules you have agreed on, for the time period you have established.

You can always come back together to change them.
Separation, just like the marriage that led to it, is unique to every couple. It's deeply personal, and its reasons are often more a series of blurred grays than a distinct black-and-white.
Choosing the option to separate from your spouse while living together offers both conveniences and challenges.
Ironically, the success of this separation arrangement relies on what may have been fading in the marriage in the first place: respect and communication.
---
Join us for Annie's Group. 
SAS for Women's powerful, three-month group coaching program for women thinking about… or just beginning the divorce process.  
Our goals are simple but life-changing in Annie's Group. We want all participants to learn about their rights and their life options so they make decisions from an informed place. Making decisions from an informed, and thus empowered place, fosters healthier outcomes for everybody. 
Discover more about Annie here.