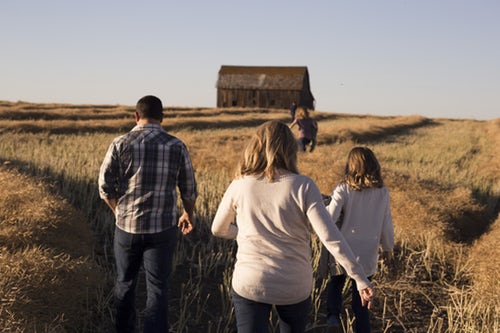 8 Skills for the Best Coparenting
Figuring out the best coparenting skills while dealing with your Ex isn't always easy. After divorce, routines are disrupted and then pieced back together. Emotions are strained. Energy levels are low to nonexistent. And while kids bounce back quicker, on some level, they may be sharing some of these feelings too—a breeding ground for the sort of emotions that cause children to act out or hide themselves away.
The good news is that the some of the best coparenting skills are similar if not the same as those parenting skills you were practicing before your divorce. The key is to not let them fall to the wayside after divorce and to brace yourself and your children for the ways in which your lives are about to change. That sort of honesty and vigilance will shield you from some of the worst of your post-divorce recovery.
Below are eight of the best coparenting skills we wish to share. Keep these in mind as you navigate your divorce and post-divorce journey with your children's other parent.
Putting your children's interest first, always
This might sounds simple, but it's effective—you might not always feel like you're making the right choices, but if you're making decisions with your children's best interest in mind, then you're already doing your job as a parent. When faced with a tough choice, take a deep breath, push petty concerns out of your mind, and place the image of you children center stage. Just focus on doing right by them because the rest of it is outside of your control.
Communicating with your Ex without using your kids as messengers
Children often become middlemen when it comes to divorce, but in today's world, there's just no excuse for it. With cellphones, email, websites, and court recommended apps like Family Wizard, there's no shortage of ways to speak to your Ex without actually having to hear or see him*.
Using your children as messengers places an undue burden on their shoulders—a burden that becomes even heavier when those messages are nuanced and weighted. Your children may forget to pass one along, or they may be scared of how you or your Ex will react. To avoid this, it might help if you use a professional tone when you speak with your Ex. Make sure you listen even when you disagree, and keep your conversations focused on your children.
Being patient
Patience is a virtue any day, but you'll have to stretch this skill a lot during your divorce recovery. When we aren't patient, we can snap like rubber bands. Sometimes that looks like an eruption festering inside us: we sulk. Sometimes it bursts out: we shout. But research shows that yelling at your children actually makes their behavior and your relationship with them worse not better. When you shout at your kids, they can feel a sense of rejection which might result in low self-esteem and self-control.
---
Read: What to Do When Your Child Acts Like Your Ex-husband
---
Rather than berating yourself for lashing out at your children (even when you told yourself you wouldn't), try to come up with a strategy to use next time. Part of your plan might be giving yourself some distance from the situation, if possible. Take a short walk. Get some fresh air. You might also do your best to put yourself in your children's shoes—what's really upsetting them? Is it the divorce or something else? Could you have played a part in it, even unintentionally? What can you do to make sure your children feel seen in this moment?
Creating a sense of consistency
Yes, you and your Ex live in different houses and spend time with your kids on a different schedule. But when it comes to "the rules" and how to discipline your children, attempt to develop consistency. When's bedtime? What constitutes a healthy meal? Is snacking okay? How much screen time, if any, is allowed? If necessary, what's an appropriate punishment for breaking these rules?
When one parent has to bear the burden of being "the fun one" or "the strict one," it's never a good thing. Your children need to understand that they can't take advantage of either of their parents or play them against each other. You are all on the same team even though you live under different roofs.
This is one of those best coparenting skills that you'd likely been practicing before your divorce, but after, the discipline needed to keep it up increases. Which brings us to our next point.
Respecting the differences between you and your Ex
Maybe your Ex loathes watching movies but loves the outdoors, or maybe he's soft-spoken when it comes to the small stuff but great when it really matters. These aspects of your Ex's personality may be different from yours—and while that's okay, your children may go through an adjustment period when they realize that who you and your Ex were as a couple and who you both are as individuals might not look exactly the same.
So if your child comes home complaining that Dad took her hiking. Again. Or that his idea of a home-cooked meal is always some variation of meat and potatoes. Remember that this is not an opportunity for you to buddy-up with your child, chiming in with, "I know, I always hated that about him, too!" For overtly or subliminally badmouthing your Ex will only backfire in the long run. Instead, try using this moment as an opportunity to explain to your child that every person is different and that every experience is valuable. Your daughter might not appreciate hiking now, for instance, but when she's older, she'll likely look back on these memories fondly. Differences can be fun too. Together, you and your children can have "your own thing" that's unique to your relationship.
Making the transition between visitations smooth
When you and your Ex pick the kids up from each other's homes, are bags packed and ready to go? You can keep certain basics at both homes, like toothbrushes, underwear, or hairbrushes, to cut down on the amount of packing that needs to be done each visit and to make each place truly feel like it's "theirs" rather than a place they only sometimes occupy.
When they arrive in your home, give them time to adjust to the atmosphere and expectations that exist under your roof. It's different from your Ex's house—and kids need time to adapt. At the end of your visits, are the kids really prepared to leave—have they made their goodbyes and had a proper meal? Try to create a sense of calm around these arrivals and departures. When children are rushed out the door abruptly, it feels more like they are being torn away from their parent rather than merely saying goodbye for now.
Speaking positively about your Ex
In fact, we'd take this one step further. If you hear your children talking about your Ex negatively, try to communicate your displeasure (obviously this does not apply to situations involving abuse or neglect, in which you should 100% listen to your children). Put on a frown, and encourage them to put themselves in your Ex's shoes. Each and every one of you is going through a difficult time—a transition period—and being kind to one another is one way you can help see each other through it. And respect for each parent is important.
Children can quickly get in the habit of using you as a sounding board to complain about their other parent, but it's a habit you should try to curb as soon as possible. Your kids need to understand that you and their other parent are not enemies.
Being boring, when the time calls for it
Research shows that children need time to do regular things with both of their parents and not just stuff that's entertaining. That's true whether you're married or divorced. For one, boredom can even lead to creativity and self-sufficiency. It also keeps expectations realistic.
When your divorce is still fresh, for instance, it's easy to get into the habit of wanting all your time with your children to be fun and exciting. You might try to fill up each and every moment so that time passes by faster and there's little to no time for dwelling on the past (or the fact that one parent is now missing from these activities). This type of non-stop action doesn't lead to the natural pauses in conversation—ones that might in turn lead to parenting opportunities—or allow your children to develop a normal routine. You start to become less of a parent and more of a friend.
Your relationship with your coparent doesn't need to be antagonistic (although we understand if you're past finding ways to get along and more focused on how to simply get by). Together, you can develop a plan that benefits both you and your children. These may be some of the best coparenting skills, but they're even more tools to add to your coparenting utility belt out there. There's no way for you to master each of them all at once, but with practice, you can get there.
If you are seeking an education on best practices for coparenting as you support your children through one of the toughest moments in your lives, you will want to know about Gaia's Group, SAS for Women's virtual group coaching class for coparenting mothers. We all need a thoughtful, committed plan for helping our children weather and move beyond separation and divorce. Doing it the healthiest way is a choice. 
*This piece was written for SAS for Women, an all-women website. At SAS we respect same-sex marriages, however, for the sake of simplicity in this article we refer to your spouse as a male.