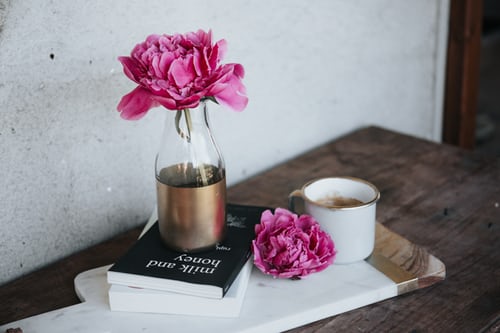 8 Ways to Practice Self Care During & After Divorce
We can never know what life has in store for us. As we live through a historical global pandemic, many of us have been forced to reckon with this reality. But regardless of what's going on in the world right now (or perhaps exactly because of it), what many of us do know is that we want to be happy, and when it comes down to it, we are willing to go through heartbreak to get there. So, when we've done all that we can to hold on to our marriage, we often realize that divorce is the only path forward. Even so, it's normal to feel down, stressed, and like you're not fully yourself while you're very much "in it."
Divorce represents an agonizing but necessary life change that will lift the weight your marriage has left on your shoulders and help you feel free and lighter again. Practicing a little self care during divorce will allow you to take that freedom one step further—you're about to become a more joyous and stress-free woman.
If you're currently self-isolating, there are limitations on just how much you can put yourself out there right now, but what you can do is hit pause, slow down, and make plans for your future. Just like anything in life, even divorce, this too shall pass. When it does, you'll want to be ready to hit the ground running. Start your divorce recovery journey with the following steps, and you'll soon be on your way.
1. Alter your routines
To feel whole again, you must get back in touch with your inner self. One of the best ways to revive your sense of inner peace is to change your habits. Married life can make you feel like a wind-up toy—each morning you set yourself in motion, following your well-worn patterns and routines until the clock runs out. It likely wasn't just your relationship that no longer served you when you decided to end your marriage. It was the entire routine, too. Now that you've freed yourself of it, you must implement new routines that will make you feel like yourself again. Instead of cooking every day, for instance, try going to a restaurant for lunch. Avoid washing and ironing, visit a bar or club after work, or to put it plainly, just slip out of the familiar and try something new on for a little while.
2. Say farewell gracefully
Easier said than done, right? It can be hard to let go of the problems that overwhelmed you during your marriage, but to feel at peace once again, you must let go of some things. Don't let anything stay unattended, and try to remember that past you knew what they were doing when they decided to end your marriage. Make sure you've gotten everything out in the open with your Ex and that both of you have mutually come to an understanding. Only then will you be able to continue your lives without looking back on the past.
3. Get active
Heading to the gym right after divorce may not sound like the best idea. However, getting physically active can help you move on from divorce more efficiently than anything else. (There are also plenty of exercises you can do from home!) Exercise can productively revive your spirit and relieve you from stress as it stimulates the production of "happy" hormones. Exercise is vital if you have joint and muscle issues as well, so you can work on upgrading your mental and physical health at the same time. If you have joint or muscle pain that may impede you from doing regular exercise, make sure to find good heating pads that will ease your sore muscles and help you stay on the right track.
4. Revive your spirit and soul
Another way to practice self care during divorce is to set your mind at ease and awaken all of your senses. You might be overwhelmed with constant thoughts of how life will look now and how you'll cope with challenges you may face on your own, so practicing classic mindful exercise is crucial. Meditate, read a book, visit a spa, get a massage, treat yourself to a manicure, or do something else equally relaxing. Yoga has also proven to be extremely helpful as you can work on clearing out the mental clutter that has been piling up inside you and improving your physical health at the same time.
5. Do the things you love
Nothing is more vital than finding your inner peace and learning how to love yourself once again (or maybe even for the first time). People who have been stuck in a bad relationship can never truly discover what it feels like to be free and loved. That is why the best way to practice self care during divorce is to spend time doing the things you love. Go to the movies, visit the theater, read a good book, go clubbing, find a new hobby, or travel somewhere new. Take advantage of all the new-found time you have to yourself to do things that suit your desires and dreams—chase new experiences and anything that makes you hopeful about the future.
6. Change your environment
Divorce means that either you or your Ex need to move out and that alone can be a daunting experience. Practice self care during divorce by changing up some things around the house after they leave. Don't throw out things that you have mutually used, necessarily, but rather, practice some feng shui by playing around with a different living room or bedroom layout. Change out the curtains and sheets, purchase a new lamp or carpet, move your furniture around, and in this way, move forward.
7. Get support
Another crucial thing to comprehend when you are going through a divorce is to realize that you are not alone. Fight off the loneliness by surrounding yourself with loved ones. Your family and friends will never leave you behind, and they are the ones who you can count on to give you love, care, and support without expecting anything in return.
There are times, though, when your loved ones just don't understand what you're going through, and their well-intentioned words just don't feel relevant to your life. This is a time to ally yourself with others who are on the same path of growing—with people who know exactly what you've been through and who can help you move forward, together. Check out Paloma's Group, a virtual group coaching class for women seeking to reinvent themselves and create their best lives post-divorce.
8. Reconnect with nature
With time, you will learn that this divorce has, perhaps, been one of the greatest twists in the story of your life—one that helped you live more freely and authentically. But until that happens, you should clear your thoughts and do your best not to think about the past or "what ifs." Go out in nature, get some fresh air, and find other ways to set your mind at ease. Travel to a new country, discover interesting places, go camping and hiking, or just let your hair down and loosen up a little. (Did you know you can have a dance party any time in your own living room?)
To move on, be open to new opportunities and relationships, and remember that time really does cure everything.
Since 2012, SAS for Women is entirely dedicated to the unexpected challenges women face while considering a divorce and navigating the divorce experience and its confusing afterward. SAS offers women six FREE months of email coaching, action plans, checklists and support strategies for you, and your future. Join our tribe and stay connected.