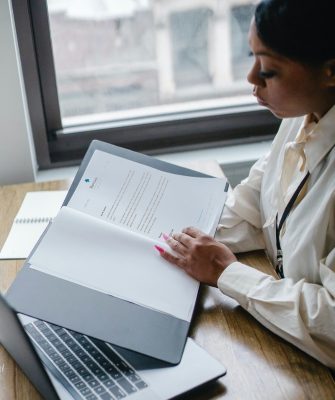 Divorce Papers: I Have to Fill Out What?
Perhaps the attorney you consulted (or a friend who has already been through divorce) mentioned that one of the divorce papers you will need to complete is a "Statement of Net Worth," a "Case Information Statement," a "Financial Affidavit," or a "Financial Disclosure."
Huh? Don't panic, they are all basically the same thing.
It means you will be required to share all of your financial information with your spouse and the courts. There is no getting around it; divorce is a whole lotta paperwork.
Of all the divorce papers you will fill out, this financial one is critical, so keep these things in mind:
Every state is different
Many states have a form you can download and fill out, others simply give you a list of things you need to gather. Look online for your county courthouse website and find out what your state requires.
This document is important
It determines how you will split up your money, belongings and debt, as well as determine child support and spousal support. It literally determines your immediate financial future, so take it seriously.
You and your spouse will each have to fill out your own
If you are on good terms, you may be able to complete this task together. However, if not, you will fill it out and give it to your attorney, who will share it with your spouse's attorney.
Everything must be accurate and complete
Be very detailed when you fill it out. Comb through your bank statements, credit card statements, household bills, online accounts, etc. Don't guesstimate on numbers! If you don't know the answers, do some detective work and find out the correct numbers.   If you find out new information after you have submitted it, be sure to give an updated form to your attorney right away, at any point during your divorce.
Your attorney will not be double checking this for you
So it's vital that you are careful and thorough. He/she may look for obvious mistakes, but that's about it.
This is a "sworn" document
Which means when you sign it, you swear you are telling the truth. If either one of you lies on this document, you will face legal action. SO TELL THE TRUTH.
Don't wait until the last minute
It's a lengthy and involved process to track down every dollar and cent you've saved or spent for years. So don't try to fill it out in one sitting; plan on completing it over a few weeks.
Don't hesitate to seek help on this
If you don't feel fairly confident that you understand your finances, if your finances are complicated, or if you suspect your spouse is not being honest, get help. A divorce coach or certified divorce financial planner will be able to help you.
Since 2012, smart women around the world have chosen SAS for Women to partner them through the emotional, financial, practical and oft times complicated experience of divorce and reinvention. If you are looking for perspective, validation, and healthy next steps, we invite you to schedule your free 15-minute, private consultation with SAS. Whether you work further with us or not, we promise you'll learn a resource or two as you begin clearing the debris and seeing what else is genuinely possible for you.