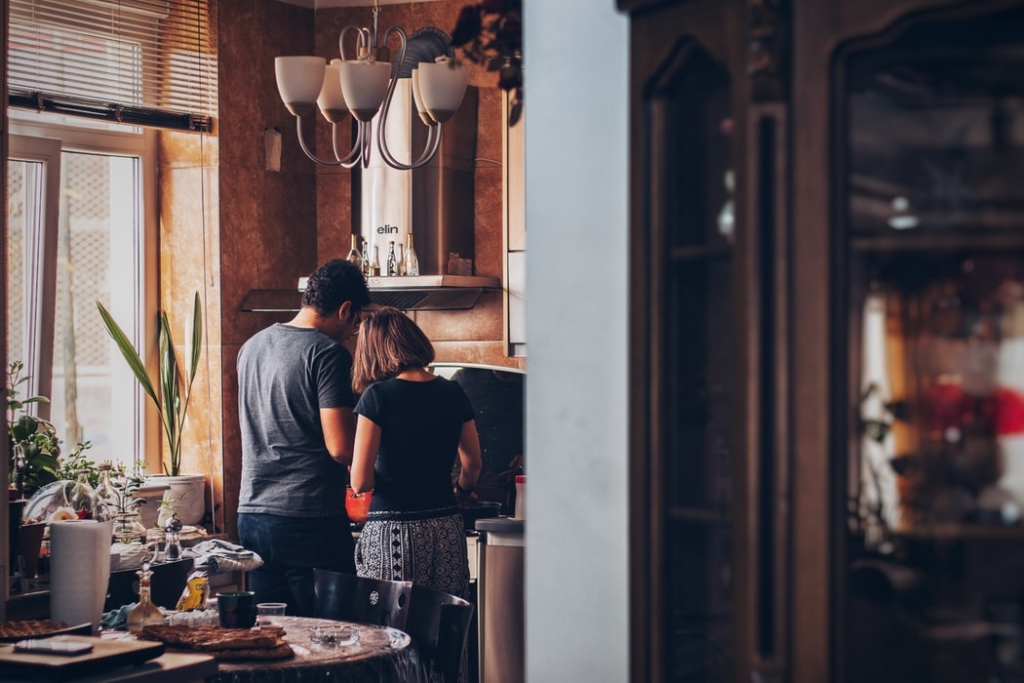 Love After Divorce: How about a "LAT" Relationship?
It was love after divorce. But when my BF and I bought a house together — but chose not to get married — we found ourselves under a lot of pressure from a variety of people to reconsider, to bind the financial risk with marriage, thereby rendering the choice that much more difficult to wriggle out of. But we remained unmarried in large part because we each had a strong sense that saying "forever" was unrealistic. We are organic individuals, we change. That's the only way we grow, and there is no guarantee you'll grow in the same direction, you and your spouse. Choosing marriage – as we all know — doesn't guarantee that. But we did know that we loved and respected each other, and we wanted to make a life together in a setting beyond our respective apartments. We wanted more scope, we wanted to find it together — but we also knew we had big antlers. With too much territory overlap, there would be clashes.
Recognizing that, we chose a home that gave us each plenty of space for each of us to have our own zone. He, with his drums, was at one end of the rambler; I, with my journals and books, was at the other. Not realizing it at the time, we had done our own version of "living apart together" (LAT).
It was our version of the adage that the best thing for a marriage is a duplex.
Love after divorce and what others feared for me …
My parents were concerned. My mother in particular, I think, wanted me to have what she perceived to be the security of marriage, both financially and in terms of fidelity; and while it was a far less important motivation, I suspect that she – an exuberant and gifted party-thrower — also wanted The Wedding. (I think a fair number of the "fairer" sex want the wedding more than they actually want the marriage, especially with social media's multiple venues for splashing ourselves about socially). The mortgage broker – who moonlighted as a wedding officiant – pointed out in a cheerily coaxing voice that even the software wanted us to be married, as she found herself having to leapfrog back and forth between computer screens in order to complete the application process. Friends expressed skepticism, dismay; my boss brought me wedding magazines.
This pressure comes in part from the perception that "real" commitment only comes with rings and documents filed at the courthouse, as well as a shared roof, and that marriage is somehow more secure than remaining unmarried. This perception is rooted in many centuries of tradition, but anyone who has come through a divorce would probably say it's an illusion of epic proportions.
Now that I am in my own space again, I have the perspective that lasting love does not need a shared roof and that romance can actually fare better if it doesn't share a mailbox. Commitment isn't a two-car garage; it's a choice to be in the world together, but the LAT trend embodies a growing recognition that this can be done from two different addresses.
Women in particular no longer need to marry in order to survive; we are generally better educated that we used to be, and most of us make our own living, at the very least. And more than a few women make a far better living than their male counterparts. If we marry, we can do it simply for love. Additionally, religion doesn't overshadow marriage – or underpin it – quite the way it used to, though a shared spirituality may still play an important part in whom you choose to be with. Therefore, many of us – whether we're Baby Boomer and Generation X divorcees or millennials just entering our first long-term partnerships – are recognizing the advantages of living apart from our partner or spouse. If divorced couples can coparent from separate addresses and in many cases get along better than they did while sharing one, why join under one roof to begin with?
Does your love after divorce lend itself to a LAT relationship?
Whether you're in love after divorce and considering a LAT relationship (or considering one as you emerge from widowhood, or as your first major partnership), the advantages can be as simple as not having to clean up after someone, or not having to share a bed if you have wildly variant sleep cycles. Maybe you can listen to your own music (of which he is not a fan) as loudly as you like when you work out at 5 a.m. Maybe he finds relief in the fact that his gaming isn't keeping you awake. Less simplistically, though, is that living apart together means that your marriage/partnership might have a better shot at feeling like it did when you first met – even 10 years later. When you see each other, it's a treat, something you anticipate, that makes your eyes sparkle. Being at each other's homes gives you the luxury of two locations, which means there's different parks to walk through, different stores and restaurants to frequent. It feels a little like a vacation when you go to his place, and vice versa.
The cons to a LAT Relationship
The disadvantages, though, aren't necessarily that your personal address doesn't come with a fenced backyard and a carport, or that you don't argue about where the laundry goes or whether each other's art actually qualifies. There are moments you experience more richly with that person that you may miss out on when you live apart; these moments are as bonding as the dates you have more of when you don't. When you see something on television that makes you laugh out loud, he's not there to hear you, to delight in the sound of you snorting. When he finds something profound in a book he's reading, he can't lean in to you and read it aloud. There will be dreams you wake up from alone that you wish each other were there for, sun and moonrises you'll not breathe in together. For couples living apart together in the midst of the Covid-19 quarantine, this is probably a lack you are feeling acutely.
A fresh take on love after divorce
Looking back on the choice my ex and I made not to not marry, I'd say it was one of the smartest ones I've ever made, on my own or with someone else. And it may sound paradoxical, but I'd also say that partnering with that particular man was one of the smartest choices I've ever made. I realize I'm very lucky that he turned out to have been a great risk, so to speak, both emotionally and financially; he's a good man and didn't change those stripes or behave badly when we decided to sell the house, though we had put nothing in writing, made no contracts.
With effort, we end up with invaluable self-knowledge after a divorce or significant break-up. We add layers of fresh wisdom and perspective, independence that has rounded out into new levels of resilience, and often, a more actively constructive relationship with ourselves and our process.  As we consider new relationships, commitments and love, we have far more than the choice of who to accept a date with, who to love and who to marry, if that's what we choose. We also have the choice to remain in our own haven, happily partnering ourselves and free to do as we please – just with the added delight of pursuing the journey parallel to someone else.
Jennifer Bent is a freelance writer, former print journalist and feature writer living on the West Coast. Nicknamed Verbose at a young age, she loves word craft but has to keep a short leash on her fondness for the profane. Jennifer enjoys compelling content and the liberty to write about interesting contributors and innovative ideas. Connect with Jennifer at verbosej@hotmail.com 
Since 2012, SAS for Women is entirely dedicated to the unexpected challenges women face while considering a divorce and navigating the divorce experience and its confusing afterward. SAS offers women six FREE months of email coaching, action plans, checklists and support strategies for you, and your future. 
Join our tribe and stay connected
.