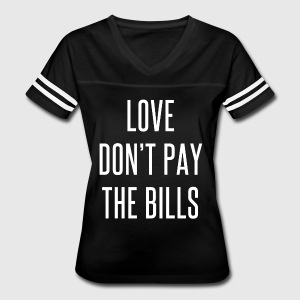 3 Steps Women Can Take to Get Smarter about Money
Too many women bury their head about money matters.
I have banged my head on my desk over and over again, just not understanding why women still place money on the back burner. Overall, women just don't make money issues a priority in their lives.
As a financial advisor and a woman, I feel it's important to empower women through free financial education. Along the way, I have discovered that it's a huge challenge to try to convince women that they need to know more about their money.
Don't get me wrong. Women do think about money. Our gender is very good at worrying about it all the time.
According to the American Psychological Association report "Stress in America," women are much more stressed than men, and our biggest stress is money. Dr. Helen Coons, president and clinical director of Women's Mental Health Associates, explains. "It's the socioeconomic and relational context of women's lives here in America," she said. "A high percentage of women have dependent children, work outside the home and then come home to a second shift, often with inadequate support.
"We still see gender inequity," she adds. "Women earn less, and if they're employed part-time, they're less likely to have health benefits and financial resources."
A recent Prudential study on the "Financial Experience & Behaviors Among Women" shows, unfortunately, that women have not come a long way when it comes to money. Women feel no more prepared to make smarter financial decisions today than they did three years ago — or even a decade ago.
When asked about their confidence in themselves to achieve their financial goals, women had responses that startled me. This so-called "confidence gap" has not improved over the past 10 years, either. Really? No improvement?
"Women have been disenfranchised," said Dr. Kate Levinson, psychotherapist and author of "Emotional Currency: A Woman's Guide to Building a Healthy Relationship with Money."
"Society doesn't empower us," Levinson said. "We've been acculturated to stay dumb about money — legally, and culturally, for generations."
After reading these studies, I was quite shocked.
The studies did get me thinking, and they helped me understand why women have what I call the "ostrich effect" when it comes to money. Women, overall, refuse to accept reality, preferring to ignore the truth that we need to know about money. Instead, we bury our head in the sand.
We don't get in the money game, because we do not want to get messy, and money can be a little intimidating. You could make a mistake or two, and you probably will. Heck, I would say that I have made at least that many mistakes. This is coming from a woman who thinks, breathes and lives her life learning as much as she can about money.
And while I will admit that I have made many mistakes along the way, I have made many more fantastic money decisions. The goal is to take action and take control of your financial life.
I would like to share three simple steps you can take now to become smarter about your finances.
1. Get educated
Learning about money is important, and the more of a role you take, the more enjoyable it becomes. I started off taking a few classes at New York University and loved it so much that I have devoted my entire life to educating others about finances.
This might be a little extreme (I admit that I am a total nerd), but I can guarantee that you will be better off if you start to get a handle on your finances. There are hundreds of books, podcast, blogs and videos that can help you gain a better understanding of your personal finances. Dr. Levinson insists that we can't "stay dumb" about money. "It limits our options in the world, not to mention feelings of self-worth and competency."
2. Track and budget
In order to make smart decisions about your money, you have to understand where your money is going. Start by tracking your expenses for one to two months. Once you see where your money is going, you can start to weed out the unnecessary expenses. Use this information to create a budget that reflects your needs instead of your wants.
To help make tracking and budgeting easier, you can download smartphone or tablet apps such as Mint, GoodBudget and Expensify. Creating and keeping your budget is one of the simplest ways to not only learn about your finances and spending habits but to be more informed and involved so that you can make smart decisions about money.
3. Start saving now
Retirement might seem like an eternity away — especially for women in their 20s, 30s and even 40s — but saving for it is incredibly important for financial security. The earlier you start saving for retirement, the better your financial picture will look in the future.
If your company offers a 401(k) plan or 403(b), make sure you contribute as much as you can. This is especially important if they offer to match your contribution. Remember, this is essentially free money going into your retirement account. If your company doesn't offer a 401(k) or 403(b), consider opening a traditional or Roth IRA. The sooner you start saving, the longer you are allowing your money to grow.
Women can be very smart with money. All we need to do is start getting in the game and stop believing that financial issues are too complicated for us to understand.
(This article was originally published on CNBC.com and has been reprinted by permission of its author, Stacy Francis.)
Early in her life, Stacy Francis witnessed how devastating life could be for women who were not empowered through financial education. Her grandmother stayed in an abusive marriage because she did not have the skills to effectively deal with money. That experience changed Stacy's life and drove her into the finance field.
Stacy is president and CEO of Francis Financial, a fee-only boutique wealth management, financial planning, and divorce financial planning firm, and the founder of Savvy Ladies, a non-profit that has helped over 12,000 women across the spectrum of ages, life experience, and income levels identify their goals, make proactive choices about their finances, and lead richer, more rewarding lives.
Although SAS for Women® periodically features links to and writing by other professionals on the SAS website, SAS for Women® is not responsible for the accuracy or content of that information. As for what is best for you and your future, SAS always recommends you speak to a professional to discuss the particulars of your situation.