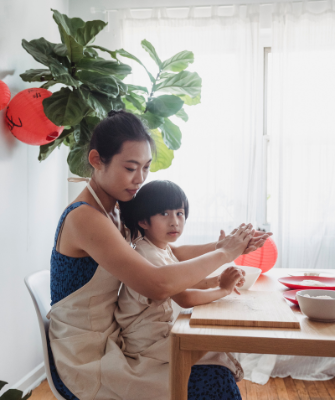 Child Support: 5 Things Mothers Must Know
Divorce involves a lot of financial questions – will I get maintenance? How will we split up our assets? What about my children's expenses? Child support answers that final question.
Child support is the financial aspect of divorce that focuses on which spouse will pay a monthly amount to the other spouse to help raise the children. This form of financial support is typically awarded to the custodial parent. The custodial parent is the parent who the child lives with most of the time. The non-custodial parent usually owes the custodial parent financial support. This support varies from state to state, but there are still certain facts about child support that run true no matter what state your divorce proceedings are in.
As a mother, here are the top 5 things you need to know about child support. 
Steps to Receive Child Support 
First things first, anything regarding children in a prenup, including child support, is not enforceable. So, if your Ex tells you that something in your prenup stops you from receiving any financial support for children, ignore them! You are entitled to financial support for the sake of your children, regardless of any prenuptial agreements you made with your Ex.
It may sound obvious, but to qualify for child support, you need to have a child with your Ex. That does not, however, mean you need to be married to receive child support; you just need proof of who the biological parents are. There is an assumption that the married couple are the biological parents, and a simple signature on a birth certificate can usually alleviate any issues that may come up with this. Either biological parent can be on the hook for child support. After determining the biological parents (aka who can legally pay child support), there are a couple of different ways to go about determining the specific amount your Ex would have to pay you in financial support.
SAS TIP: When interviewing divorce lawyers as a means to getting educated on what your rights are as an individual woman, wife, and mother, consult this article for the best questions to ask a divorce lawyer and how to prepare for that meeting.  You'll want to ask the lawyer to give you a best-case and worst-case scenario for your claim to child support, or what you might be on the hook for paying to your spouse. This will help prepare you for what must be negotiated with your spouse.
Negotiation and Mediation
If you and your Ex are involved in any mediation, negotiation, or settlement proceedings, you can negotiate and figure out child support between the two of you. The benefit to this method is that negotiating or mediating this issue costs less than litigation (or going to court), and that the two of you can figure something out between each other without getting a judge involved. Negotiating or mediating this allows the parties to have a little more wiggle room when it comes to financial support determinations. If your divorce is amicable, this is a great option for you and your Ex. That being said, the court is very predictable in awarding child support, which makes it another tool you can use during your divorce if there is no settlement agreement between you and your Ex.
If a couple wants to take up the issue of child support with the court, any financial information and parenting schedule is crucial information that your attorney will ask for. After the court receives that information, the judge will plug your information into a formula and figure out the monthly support amount.
In Illinois, for example, the judge will sign a Uniform Support Order. This order states how much, and how long someone needs to pay support. The Uniform Support Order is sent to the obligor's (this is just a fancy way of saying the person who needs to pay) place of work, and the child support payments can be taken out of their paycheck automatically. The Uniform Support order will be included in your final divorce judgment from the court stating that you are in fact divorced.
What Child Support Covers
Child support is interpreted pretty broadly. Essentially, it is designed to take care of a child's everyday necessities. This includes shelter, food, clothes, etc. There are some things, however, that it does not cover.
For example, in Illinois, there is a completely separate provision in divorce law that talks about paying for college. Child support does not cover higher education costs. Families have to either negotiate this financial aspect, or are ordered by the court to pay these fees separately from any financial support obligations entered.
SAS TIP: It is important to ask your attorney what is and is not covered under child support so there are no future financial arguments over the children's future expenses. This may have you choosing or trying to negotiate things elsewhere in the legal document as a way of bridging any gaps.
How Child Support is Calculated 
As divorce laws vary from state to state, different states have different methods for determining financial support for the child. There are three main ways states will determine child support: the income sharing formula; percentage of obligor approach; and the Melson formula.
The majority of states follow the income sharing formula approach. The great news about this is it's a formula, so the outcome for what your child support amount will be is a pretty predictable aspect of your divorce. The income sharing formula is pretty simple. First, the court must figure out you and your Ex's combined income: (gross monthly income of parent 1) + (gross monthly income of parent 2) = the parents' combined income.
What is an Obligor?
Courts take this combined income and multiply it by a child support percentage, which is the percentage of income spent on the kids. Then, the court will look at the relative income of the parents and figure out who has to pay what. This is just one reason why your financial affidavit and other financial documents that your attorney asks for are important during your divorce proceedings.
The obligor income approach is also straightforward.  Obligor is just a fancy way of saying the parent who owes the other parent money. The oblige is the parent who will receive the child support payment. The court first decides who has to pay financial support for children. From there, the court determines the percentage that parent spends on the children pre-divorce, and then orders the non-custodial parent to pay that.
The final approach, the Melson approach, is specifically designed for parents with low income. This approach allocates a small portion of income to the parent for their own basic needs. Once that basic needs number is met, the next chunk of change goes to the children. Once discharged, the formula approach applies to the money left over.
---
What else do you need to know about or start checking off regarding your divorce? 
Read our "55 Must-Do's on Your Modern Divorce Checklist" to make sure you are not neglecting yourself or your future.
---
How to Change Child Support Obligations 
Child support, as the name entails, ends when the youngest child turns 18, as they are no longer children in the eyes of the law. That being said, child support can change throughout its lifetime.
The magic word to change child support before a child turns 18 is a substantial change in circumstances. If something substantial happens – for example, one parent loses their source of income – a parent can go to the court and ask the judge to modify the child support order. The most common example of this is the parent paying support loses their job. This parent would go to the court, prove that there has been a substantial change in circumstance, and the judge will decide from there if, and how, financial support should be modified.
---
It's not just about the laws in a divorce, it's also about what will make the most sense for you financially.  Check out this important piece, "Smart Moves for Women: A Financial Consultation for a Divorce."
---
National Child Support Facts  
Child support should be nothing you should be ashamed of. Most women who go through divorce receive some sort of support from their Ex, and child support is no exception. In fact, in the year 2015, the aggregate amount for child support for the United States was around 33.7 billion dollars. It is something that you are entitled to, and it is something that helps you be the absolute best parent you can be. Child support is designed to allow children to maintain their lifestyle as it was before the divorce.
Conclusion
Overall, child support is something that a lot of divorced couples need to maneuver through. Courts are very reliable and predictable in awarding child support. The judicial system is there to make sure that if you have the majority of parenting time with the children, your spouse is entitled to partake in financial obligations as they relate to your children.
NOTES
Alexa Valenzisi is a rising 3L student in Chicago who is committed to child law and education law. She aims to work in education law or family law after graduation. 
Whether you are thinking about divorce, dealing with it, or recreating the life you deserve, one thing we see making a significant difference for women is the conscious choice to not do it alone. Since 2012, smart women around the world have chosen SAS for Women to partner them through the emotional, financial, and oftentimes complicated experience of breaking up and reinventing. 
SAS offers all women six free months of email coaching, action plans, checklists and support strategies for you — and your precious future.