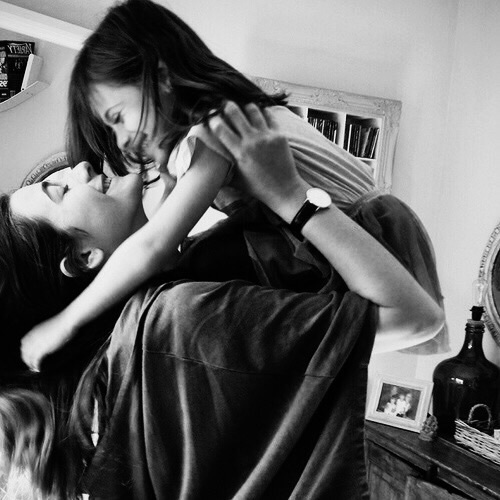 Coparenting Tips: 4 Ground Rules All Divorced Parents Should Live by (For Everybody's Sake)
So that's it. Game over. You're all talked out, and the writing on the wall is clear. Something has to change, and you and your partner have decided divorce is the best answer. If you share children with your Ex, then before you can even think about how you'll fumble through the world of dating (because, at first, there's sure to be at least a little fumbling while you figure out what you want) you have to come to terms with your new situation. You need coparenting tips and someone to shine a light on the path that leads forward and beyond. So, let's begin.
You could sit on the couch watching episode after episode of Ray Donovan (cliché carton of mint chocolate chip ice cream included). You could go to the gym and spin yourself silly with endorphins. Or, you could head to Vegas for a divorce party and toast your new beginning. Whatever you do, don't settle for old stereotypes—images of women plotting their Ex's demise in the shadows. You've got too much to look forward to and to discover. Concentrate instead on creating the best life possible for your children, and redrafting the shared connection you will always have with your Ex. Confront those negative feelings about your Ex, and work on building a successful coparenting relationship. When you realize the positive impact doing so has on your children, nothing else will matter. Trust me.
Stay focused
Remember those negative feelings I mentioned? (Of course you do—right now those feelings are still fresh and raw.) They're your first hurdle to jump on your journey toward successful coparenting. Everyone needs to vent. That's what friends, and coaches, and therapists, and groups are for. Sharing your experiences with and supporting others, can help you move past your own feelings and gain perspective. Your emotions can be obstacles when enforcing the following four coparenting tips, so learn to let go.
Focus on creating a warm and stable environment for your children. It's a difficult time for them too, of course. They need their parents now, possibly more than ever, and they need you to be united. Not distracted by personal squabbles that have nothing to do with your role as parents. When talking to your Ex, try not to bring up the past or allow yourself to be drawn into arguments. Stay on topic.
You are bound to have more than a few disagreements about your differing parenting philosophies. Stay focused on your main goal: doing what's right for your children. They need time with both their parents without disrupting their entire lives and routines.
Stay positive
Staying positive can be tricky, right? The end of a marriage can feel like the end of your world, but it's only the start of something new. Your marriage may not have turned out as planned, but that doesn't mean you have nothing to be grateful for. Your children, friends, extended family, and pets should all add to not detract from your life. Maintaining a positive outlook is one of the best coparenting tips out there. Negative experiences are what you make of them. How you react to those experiences determines whether or not you learn from them.
Being positive helps you proactively pursue an ideal coparenting setup. Explore the potential of mediation, therapy, and counseling, and take time to learn about the processes involved in creating a parenting plan or custody agreement. There's a lot of information out there. The legal aspects involved in creating a custody agreement can make it seem like a daunting task, but really, forming an agreement can be simple.
Get organized, but be flexible
Staying focused and positive are two coparenting tips that will help you create the consistency every family needs, especially those going through divorce proceedings. Having a set visitation calendar helps both you and your coparent understand your responsibilities with little room for conflict or misunderstandings.
Something I've touched on in a previous article is respecting your coparent's differences and parenting style. It's great to have shared values and rules about how to properly raise children, but there are bound to be points you simply don't agree on. Structure is crucial, but being rigid is a barrier.
For the initial transition period, it can help if everyone (parents and children) has a routine. The routine will change—that's just life! If you still need to iron out the kinks in your routine and lock down schedules, a temporary custody agreement might be the best option for your family.
Be prepared to compromise. I know this isn't easy. You love your kids. Your feelings for your Ex, on the other hand, are complicated (to say the least). But just remember any feelings you have for your Ex can't compare to the love you have for your children. Any compromises you make are for them.
Communicate often and effectively
In my last article, I also spoke at length about keeping the channels of communication open. Nothing has changed since then. Avoid misunderstandings by communicating often, and be a positive role model for your children (and your Ex).
Keeping your Ex in the dark about important matters will only jeopardize your ability to stay positive and focused. Be civil (even when they aren't making it easy). Being civil helps control everyone's emotions, and you will leave exchanges feeling all the better for it.
If you have children, it's not news to you that your Ex will most likely always be a part of your life. These coparenting tips will help you set aside your feelings and do right by your children. A rocky marriage does not have to translate to a rocky childhood for your kids.
Whether you are navigating the experience and aftermath of divorce, or in that confusing but fertile place of recreating the life you want to lead, one thing we see making a significant difference for women is the conscious choice to not do it alone. Smart women around the world have chosen SAS for Women to partner them through the emotional, financial, and oft times complicated experience of "After Divorce." "A successful divorce requires smart steps through and beyond the divorce document." Learn what we mean and how it will benefit you in a FREE 15–minute consultation.
This article was authored by Krishan Smith: senior editor and content specialist at Custody X Change, a custody software solution. Custody X Change provides software for developing and managing custody agreements, parenting plans and schedules.