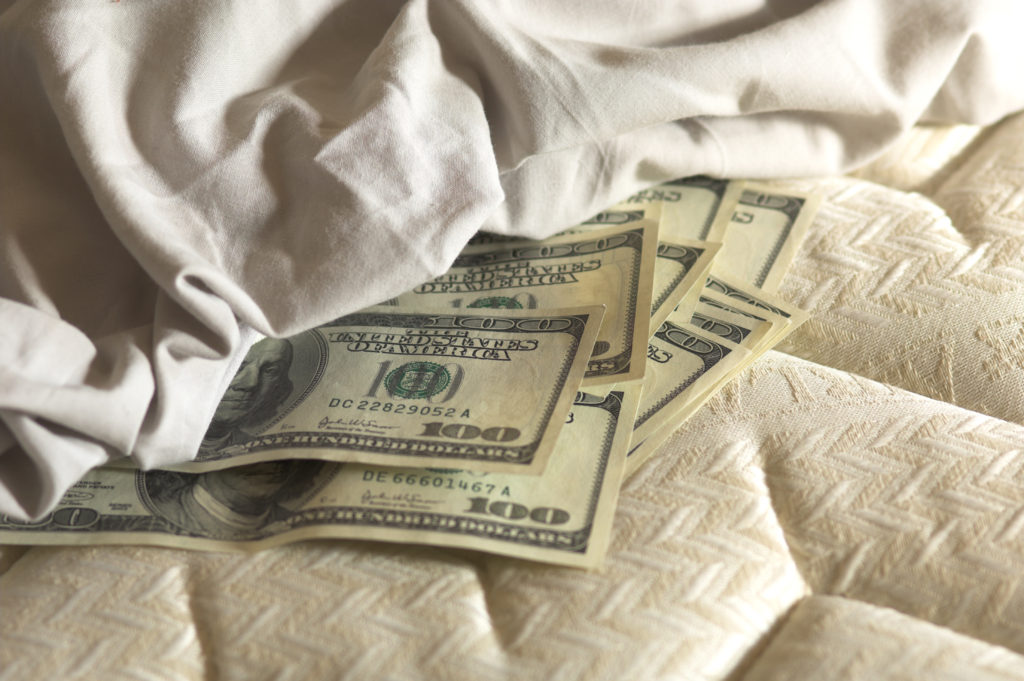 How to Pay for Your Divorce
When I was growing up, every Friday night, my father would give my mother her "weekly allowance" when he came home from the office.  It wasn't really her money, but rather the cash she needed each week to pay for groceries, gas, her hair dresser, and whatever other necessities she had for herself and for the family. Out of these funds, my mother always put aside some undetermined handful. This was her "Piska" money, she told us.
Don't ask me what the real translation of "Piska" is, but my mother also referred to it as her Rainy Day Fund
Years later, when my sisters and I were cleaning out our parents house before moving them into an apartment, my mother told us to make sure we looked for an old suitcase in the attic. When we found it, we were to look inside and find its pocket and not just throw the suitcase away. When we did, we found stacks of dollars. My mother at the age of 85 was still saving for her rainy day. When we brought the suitcase downstairs to our mother, she immediately confessed that Daddy didn't know about this money and there was no reason to tell him.
Knowing about saving for a rainy day since childhood, and growing up in a traditional family where mom stayed home raising three daughters, and cooking, cleaning, car pooling in support of the general welfare of our family, when I started working and later married, I, too, always had a designated account for my own use.  While not afraid of a rainy day, I also wanted money for me, money, which I did not have to account to for anyone.
Today, there are many highly educated and functioning women who are fearful when their marriages are falling apart. They wish to leave the marriage but panic because they have no "war chest" to fight their spouses with if it turns adversarial; or they are afraid they will be cut off from marital resources and not be able to afford a divorce.  How to pay for divorce is keeping them in an unhealthy place.
Regardless of the state of your marriage, it's important for you to consider yourself. Today's electronic banking and tracking system does not mean there is not a viable method for a woman to secure funds to pay for a divorce. Even if it means taking $50 from the ATM and stashing the cash at your office, a drawer, or your best friend's house, there are ways for you to know you will have the security to engage a lawyer and will be able to eat if your vindictive partner cuts off the monetary funds.
If it is too late to start "saving " money, there are other ways to engage counsel
Many lawyers or mediators accept credit cards these days. Alternatively, most credit cards have cash advance limits if you prefer not to leave a paper trail. If your spouse has more money than you, you can request that your spouse pay some or all your legal fees. If your spouse does not agree to this, you can ask a lawyer to help you initiate the legal means to securing your representation. Before credit cards, there were always other ways women helped themselves. These means are still viable. You can turn to a good friend or family for loans (offer to pay them interest), or sell assets, like jewelry or art that may belong to you. The important thing to remember is to not stay in a hopeless place because you think you can't afford your exit.
For more than 18 years, Nina Epstein and law partner Elyse Goldweber have helped individuals and families in the New York City metropolitan area with the full range of legal issues associated with creation and dissolution of personal unions—including divorce, separation, and child support, as well as employment challenges and related business matters. 
Since 2012, smart women around the world have chosen SAS for Women to partner them through the emotional, financial, and oft times complicated experience of divorce and reinvention. Join our smart, but discreet community and benefit from 6 FREE months of email coaching, action plans, check lists, must know's and support strategies . No junk, just smart support for you, your family, and your future self.