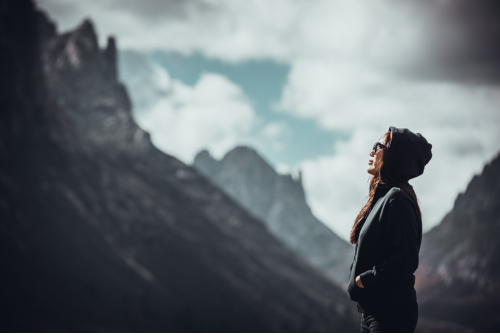 Divorce for Women: Why It's Different
For more reasons than we can explain, when it comes to the crisis of a marriage breaking up, divorce for women is different. 
We all know the tired cliché about a couple driving on the road and what happens when they become lost. The man will keep driving, even driving in circles, says the  cliché. He refuses to stop and ask anyone for directions. While the woman, willing to admit to being lost, wants to hit the brakes and go back to the gas station and ask for help. Of course, the cliché does not hold true for all men, all women, all people who identify with either or neither gender, but as divorce coaches who've been helping women for more than a decade, we know there's some truth behind the dusty windshield. 
Women come to us admitting they are lost. They are looking for guidance and want perspective so they can get to their destination – a place of healing, faster than learning things the hard way. Compared to men, women tend to fit into one or more of the following six categories.
As for the men? Well, ask yourself, would your husband, Ex, brother, or male friend admit to functioning in any one of the following scenarios? Then ask yourself, do any of these scenarios resonate with you?
Divorce for Women: Why It's Different
1. Women are ready to accept they are dealing with a difficult partner/spouse/husband/mate. And more often than not, they can explain why he is the way he is
Often women realize they can no longer turn to the person they used to turn to. Their partner may have become unpredictable, shut down, or someone who is waging a war. The person these women thought they married is no longer there, or, was never there.
But because these women are usually first-class caregivers, practiced in putting themselves last, they can frequently explain why their spouse is like this or that: his family of origin is like this or that, and as wives, they have likely made excuses to compensate because of these things for him. Until now.
2. They've been thinking about divorce (over and over again) but are not sure what it would really mean. Many view "getting informed" as the critical step they must do next — before declaring they want a divorce. They realize they "don't know what they don't know"

Women wonder what the criteria is for deciding for sure… or if their kids will be okay. Or if they will have the ability to live independently, get a job, or a new job, or manage their money. They wonder if they have it in them to start over and rebuild their lives.
Men also contemplate starting over, yet women face a higher fear bar since they have frequently been out of the workforce, caring for children.
3. They've begun the divorce process and are feeling overwhelmed. These women are feeling the magnitude of their emotions, but they ALSO realize their emotions cannot lead the negotiation

Women like this know they need to make certain decisions, put certain things in play, prepare documents, and give answers, but the flow and timing is confusing. Stress is muddying their ability to prioritize and see. They wonder what comes first, what comes next? And what if something gets messed up?
These women are often open to hearing how to do things. For those in the midst of divorce, we'll often recommend private coaching or Frida's Group as an anchor for support. If they are just starting out "thinking about D" then we will direct them to Annie's Group, our program for women contemplating divorce.
4. Compared to men, women lack confidence in themselves and their knowledge about finances. Or they worry rightfully. They've been carrying everything for a while

Some women may not have handled the money or only a part of the finances in their marriages. They may have read the brutal statistic that life is more difficult economically for women post-divorce and they want to do their best to foster their future financial health – but feel stuck or don't know where to begin.

Or, they are the primary breadwinner in their family, and they worry about everything they've worked for and now, may have to give up.

---
Read "Breadwinning Women Face an Uphill Battle When Married and When Divorcing."
---
5. They want support for making everyday decisions as well as the big decisions in divorce
Very different from how men view their own capabilities typically, women may not trust themselves. They want seasoned feedback – they are open to hearing and learning others' perspectives from divorce coaches, therapists, lawyers, financial planners, to parenting experts and spiritual leaders.
Above all, we find most women feel alone and are looking to be understood. They want a community of other women like them, mothers, breadwinners, stay-at-home-moms, women who get what they are going through. 
6. On some deep, core level, they want help understanding and learning how to divorce in the healthiest way
A lot of women don't think in terms of winning or losing (do you know a lot of guys wired that way?) They look for a divorce coach because they want to ensure their divorce (if it happens) will not turn into "The War of the Roses." Perhaps it has to do with being moms (and let's face it, in the United States, 80 percent of single parents are mothers), women are quick to think of the impact on the kids, and as a result, seek to divorce or change things in a peaceful way.
On the other hand, with the advancement of women's rights and education, women are increasingly certain: they want to handle the divorce as amicably as possible, but they will not be a doormat.
7. Women who have completed the legal process of divorce or separation are willing to admit their lives are not magically corrected. There is still work to be done. Women don't feel automatically "recovered"
In this scenario, the research is very telling. Most men, says the studies, are likely to partner up soon after a divorce and get married. On the other hand, women are less prone or slower to remarry and importantly, report that they are happier compared to men after a divorce.
Women who have completed the legal process of a divorce recognize there is still work to be done to be fully healed. Typically, they are not looking to replace their mates right away. Instead, as they begin to rebuild their lives, they are more interested in doing the work to uncover who they really are. For these women, we offer Paloma's Group for thoughtful women seeking to create their best next chapter after divorce.
Conclusion
Now you know some of the dilemmas other women are going through. And what about you? Which one(s) seem to be talking about you? For all of us women, let's remind ourselves. Divorce is not something we studied for in college. It's not something we ever forecasted or planned for. So, we need to let up on ourselves and appreciate that it's normal to feel alone and ill-prepared. We also need to stop comparing our experiences and emotions to those of men.
Let's get educated on our choices. Let's own what we are experiencing and appreciate that divorce is different for women.

NOTES
What will help you get educated and pull it all together, ultimately? 
We invite you to tap into our decade-long practice of supporting women like you and schedule your free 15-minute consultation with us, SAS for Women.  We'll will look forward to giving you a nice cool drink of lemonade as you pull over by the side of the road.
*We support same-sex marriages. For the sake of simplicity in this article, however, we refer to your spouse as your "husband" or a "he."