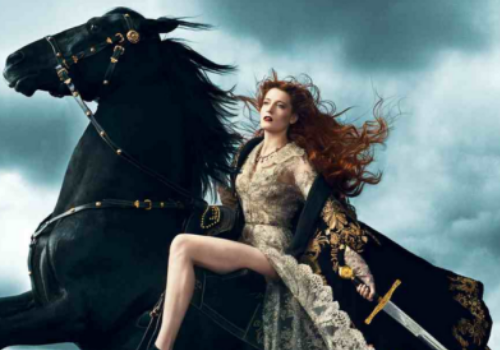 Fearing the Change of Divorce
Think back to when you were a small girl and how, when you were little, the prospect of change was exciting. Perhaps you were scared but excited about losing that first tooth. But it meant growing up and that the tooth fairy was coming to reward you for being brave. Do you recall when you were invited to do grownup things? Like stay later at the table with adult guests, or accompany a teenager on an outing and how thrilled you felt? Larger than yourself, and suddenly bigger, more important than your peers. Change signified good when we were younger, and perhaps even faced with the shock of menstruation, a part of us welcomed it (maybe) with a particular horror fascination. It symbolized certain doors opening, and a private world of unexplainable mysteries and womanly secrets now to be yours. Most likely, though, fearing the change of divorce was not included in those early imaginings.
When we were little, we understood change as natural. We still do. However, with age, we have come to fear it. Older now, "wiser", we resist change, we ignore it, and we pay to not see it. And in no place is change more fear-inducing than in our post-divorce, apocalyptic future, somewhere out there, in an unknown galaxy of life after separation.
This "resistance" begs a few questions. How do we look at the change that divorce inevitably brings in a healthy way? 
How do we make friends with it? 
And how do we prepare for it when we can't know what's out there?
Change and Its Thorny Opportunity
Sometimes it takes hitting rock bottom or losing our marriage, or losing ourselves in a marriage for us to see that something's got to change because there are no alternatives. There simply is no other choice. That's the gift for some of us, the catalyst: we have no choice. So, for those who are change-averse, sometimes it takes hitting the wall for change to be accepted. Others say they have no problem with change and embrace it with every opportunity. 
And yet there are degrees to change.
Genuine change is not about getting Botox or our hair colored. It takes work to learn what is changing, what needs to change, and what we want from the change. Put simply, it's uncomfortable. Fearing the change of divorce is natural, but can also be seen as a huge opportunity for growth and yes, even improvement on the way we are currently living.
Change on the Inside
To understand change, we need to appreciate how our bodies are hardwired and what genuine hard work it is to change. We resist doing something different because it is physically difficult. The brain has hard-wired networks and paths. Any kind of change to our homeostasis or what our networks know as "normal" causes stress for the body. The body has to work extra hard to override old patterns and create a new response.
The fact is we're not just lazy, or cowards when we're looking at change: we are conditioned NOT to make it happen.
And society certainly reinforces this, or so it seems at first blush. If we look at myths and fairy tales around the world, they tell us, don't leave home, don't wander out of the village, don't amble into the woods. Don't change. For there, lurking is the Great Unknown, the wolf, the ogres, the dragons, they'll get you. No, stay local and do what you're supposed to do, what's expected of you. If you don't change, you'll stay safe and out of harm's way.  
But those myths are never about the common folk, the villagers or townspeople who continued doing they always did. The great myths are about that one unusual, individual who chooses to not heed the "stay-safe" words. The hero. The hero is called by the beyond and the hero pursues. S/he leaves the familiar stay safe world and goes off to face the unknown. And it's that journey, that epic quest of twists and challenges, struggles and fights, that transforms the hero into a changed person, a leader for all. 
The lesson in those myths is not to stay with the same and what you know. If you want to lead a passionate life, it requires you to face change and its harrowing obstacles. It will not be easy, but in the failing, stumbling, and caterwauling on the ground, you will learn anew. As well, the lesson reveals that failure is a profound opportunity for learning.
Rather than focusing on fearing the change that divorce brings, ask yourself: What have you learned from your marriage? 
Preparing for Change When We Can't Know Our Future
Perhaps you are feeling your fear about divorce, or battling dragons right now in the midst of the legal process. Maybe you're facing your battle-weary self in the mirror after divorce. Wherever you are in the process, begin by taking stock of the pain you know so well. And then ask yourself, what do you want to do with this pain? Stay with it? Or, use its energy for something that will end it?
Scary, we know. But remind yourself, you've been afraid before. Fear has always been with you, ever since you were a child. It's how you respond to it and what you do with the fear that matters most. 
Ask, what are your genuine choices today? Map them out. Will doing nothing and staying in your status quo end the pain? Or is it another path, where you will have to do uncomfortable things, like explore your options, learn about them and their long-term playouts, that offers a better chance of ending your pain?
Make Friends with Change by Making Friends with Others Facing It
Feel yourself fearing the change of divorce, and then begin. Take small steps. Find the right mentors and communities who can bolster your commitment to facing the fear of divorce in your life. These people hold the knowledge that will help ease your journey and liberate you.
In myths, the hero is always visited or inspired by otherworldly creatures, whether it was Pinocchio's Blue Fairy or the god and goddesses in the Odyssey. Open up to finding your source of inspiration, your specific light that pulls you forward. This power may come from your spiritual practice or your therapist who's helped other women leave difficult marriages. It might come from private meditation or the words of a divorced coach. Perhaps your guidance comes from another divorced woman who, further along her journey and healed, is turning to help you be guided from the demons, mishaps, and pitfalls along the way. 
Lean On Group Support!
Don't overlook the power of the group. Maybe it's a community of like-minded women, each seeking to learn if she should or should not divorce. Or maybe it's a group of inspired divorce survivors who have similar values to you: they too are learning what they want from change as they support each other rebuilding their lives. The contagion of the group is powerful. Think of the successful, recovery model of peer-to-peer support in Alcoholics Anonymous, or the triumph of Suffragettes in the early 20th century. Being with others will inspire you, and you, with all your flaws and strengths, will inspire them. Together, there is group momentum. Together, there is greater success in numbers.
Accepting Change Involves Action and Calculated Risks
Though you are allied and supported, you must accept that there is no one else who can change your life. It will come down to the action you must take, and here, your body needs you to do something. You will meet with a lawyer to hear your legal choices, you will evaluate them. You will worry about the money, but you will find out the best business transaction for yourself. If you have kids, you will remind the children, once it starts, this is not about them, and that their daddy* and you love them very much. You will keep taking steps to prepare and integrate change, and to foster your best post-divorce life. You will remind yourself, you will continue to face fearing the change of divorce throughout your journey.
---
"I never heard of anyone regretting being brave."  ~ SAS for Women Co-founder, Liza Caldwell
---
In spite of your ongoing fear, all of your steps will be in alignment with your best post-divorce life. Yes. If that is hard for you to imagine, then spend time visualizing what you want in your sweetest life. In the safety of the visualization, go big! Think about your ideal landing ground after divorce. Visualize peace and safety, think about the people whom you'll have more time for, consider how your body will feel not being constantly triggered by your spouse. Allow change to be an inspiration for you. Don't hold back. Nurture that vision and infuse it with healthiness and compassion, but also steel-edged resolve for honoring who you must be, who you truly are. Hold that vision front and center and ensure your steps, small or large, are directed toward that vision.
You will fumble. You will fall. Likely, you will find yourself on your knees, and on occasion, your children will be watching. Forgive yourself. You are human, not a god. But your body is an incredible thing. It's seemingly hardwired to keep you small, and yet, you are learning it can also catapult you into new, exciting places and situations, where you can and will learn anew. You can adapt, and in this adaption, discover unpredictably beautiful things. There are risks with your moves, but there are often greater risks in doing nothing. You've accepted "something's got to change" and you are giving it your all. This is the one precious life you were meant to live. 
Notes
Whether you are navigating the experience of divorce or that confusing place of recreating the life you deserve, one thing that makes a significant difference for women is the conscious choice to not do it alone. Since 2012, smart women around the world have chosen SAS for Women to partner them through the emotional, financial, and oft times complicated experience of divorce and reinvention. SAS offers all women six free months of email coaching, action plans, checklists, and support strategies for you—and your precious future. Join our tribe and stay connected.
*At SAS, we support same-sex marriages. For the sake of simplicity, however, we may refer to your spouse as "he" or "husband."