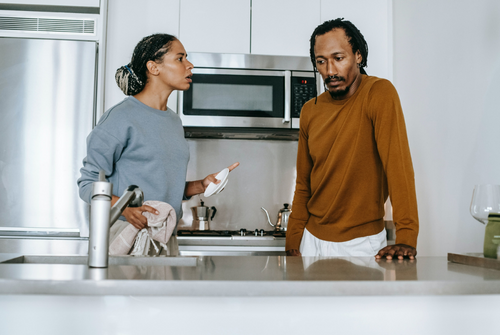 What Percentage of Marriages End in Divorce?
No matter what it is, we tend to find what we're looking for. A hypochondriac will develop symptoms of an illness they think they have. A dubious spouse will find "proof" of infidelity even if it doesn't exist. Water molecules bloom or decompose depending on the nature of the thoughts directed at them. And if we are looking for a "growing trend" in what percentage of marriages will end in divorce, we will find one.
The Glass is Half-Full… AND Half-Empty
Anyone who has had a conversation about marriage or divorce in the last 20 years has probably heard the statistic that 50 percent of marriages take a dive into the Big D deep end. It's really not that cut and dry. There are variations from study to study, depending on the wording of the questions and who's paying for the study. Which region of people are providing the answers, how many live there, their religion, their socioeconomic status, the freedom of speech and education they have access to, and many other factors will color the results—whether the analyst is a census bureaucrat or a Seventh Day Adventist. Or both, for that matter.
When it comes to the question of whether lasting marriage is the horse to bet on, inconclusive examples abound. We can hopscotch through the Internet with one hand over an eye, singing our high school fight song, and find "evidence" one way or the other.
One recent search results page contained the title "Ireland's divorce rate remarkably low compared to wider world," followed by the May 2019 assertion that Ireland has the lowest divorce rate in Europe. Stereotyping Catholicism and its adherents, which make up 78 percent of Irish citizens, one might find this easy to believe. Glancing a few lines down the page, though, a browser finds another link title that scoffs, "Wedded bliss? Don't think so!" This is followed by the claim that the number of Irish marriages shriveling in divorce jumped by 800 percent in the last 15 years.
Dogma and Divorce on a World Tour
Traditionally, Catholicism does not embrace divorce. And in fact, divorce is illegal in the
Catholic country of the Philippines. The only other place in the world where divorce doesn't exist is Vatican City – for obvious reasons since Catholic priests can't marry in the first place.
However, religion alone does not indicate strict devotion to staying married through depravity, poverty, dismemberment, nuclear war, and bringing home the wrong kind of lettuce.
Catholics seem to have cornered the grim devotion market, to be sure, but again, the data isn't crystal clear. Taking a quick online world tour of a few different countries, we can see divorce rates increasing noticeably in some countries and staying remarkably low in others.
Guatemala and Sri Lanka have the lowest divorce rates in the world, but Guatemala has an almost even split between Catholic citizens and Protestant—the Catholics numbering at 45 percent and the Protestants at 42. In Sri Lanka, where 70.2 percent of the population is Buddhist, only 0.15 percent of marriages fall to the ax of divorce.
Africa
In Kenya, though, where 85 percent of the citizens identify as Christian, the number of marriages dissolving in the chemical bath of divorce has jumped from 40 percent in 2017 to 70 percent in 2020. Kenyan women, not men, are the ones filing, and the reasons they're giving are the same reasons stated by women all over the globe: domestic violence, neglect, drug and alcohol abuse, and infidelity.
Asia
There is no lack of divorce among Muslims and Buddhists. In China, the top four religions are Buddhism, Taoism, Islam, and Christianity. None of them are stopping the divorce rate from swelling like a gangrenous toe, nor are they making a Chinese marriage easier to obtain. The China Europe International Business School (CEIBS) calculated a 75 percent climb in the country's divorce rate between 2010 and 2019—from 2.7 to 4.7 million cases.
---
If you are looking for an anchor, or way to evaluate if you should or should not divorce, Take a breath and read our "36 Things to Do If You Are Thinking About Divorce".
---
And in the Maldives, a string of islands south of India's tip that form a Muslim republic, so many marriages end in divorce that the country earned a spot in the Guinness Book of World Records. With 11 divorces per 1,000 people every year, Maldivian women average three divorces by the time they are 30 years old.
A luscious place to vacation and ironically, one of the honeymoon capitols of the world, the Republic of Maldives embraces a Muslim dogma with a big bark and almost no bite. While it dictates a taboo against pre-marital sex, it has no taboo against very fast marriages that need only last as long as a great vacation.
Even in less destination-luscious countries, divorce rates are rising. In Iran, where 90-95 percent of the people claim Shia Islam as their religion, 2021 saw one in three marriages driving into divorce's dead end. While the number of Iranian marriages also increased by 4.4 percent between 2019 and 2020, the divorce rates rose by 3.6 percent.
Tying and Breaking the Knot Stateside…
Meanwhile, back at the American ranch, there are quite a few of the Bible Belt states where a lot of marriages dissolve in the chemical bath of divorce. Arkansas, for example, has a high divorce rate at 10.7 divorces per 1,000 people. Other Southern states frying their marriages in the Crisco of divorce include Kentucky, Alabama, West Virginia, Tennessee, and Georgia.
North Dakota, though, has an exceptionally low divorce rate at 2.5 per 1,000 people. And that's even a decrease from 3.6 per 1,000 in 1990.

Of course, not very many people actually live in North Dakota. There are about as many North Dakotans as there are Seattleites. The entire Badland state had 762,062 residents as of 2019, while the city of Seattle had 724,305.

Other states on the low end of the divorce spectrum include Hawaii (where everyone is too happy to bother), New York (where geological eras move faster than the divorce courts), Illinois, Vermont, Minnesota, Wisconsin, Iowa, Pennsylvania, and surprisingly, California.
But again, the "facts" run counter to each other. Notably, Massachusetts and New Jersey are listed on BOTH the list of "states with the highest number of divorces" and the list of "states with the lowest number…"
And if education is a factor in whether people say "I do"—and it is—the fact that Connecticut is one of two states with the lowest number of marriages may have something to do with the fact that the relatively small state has 44 universities and colleges in it.
What's in a Trend?
As you may see, answering the question of how many marriages end in divorce can get complicated. However, there do seem to be a few factors that we can be sure of. One is that fewer people are getting married in the first place. In 2018, American statisticians calculated the lowest number of marriages in 118 years.
The main factors leading women away from the altar and the dubious promise of "forever" are education and labor force participation, economic independence and greater gender equality. In other words, if we don't have to marry to survive anymore, as explored in "Divorce and Women: One Woman's Journey," we're not nearly as inclined to do it.
Boomer divorce numbers are high but leveling out. In contrast, Millennials born of their parents' high divorce rates are being smarter about marriage than their predecessors. They are either not marrying at all or waiting until they are older and more established in their careers and their finances.
Incidentally, Boomers were the last generation of women still operating under a general assumption that marriage was "just what one did." (Check out "The Truth About Divorce for Women.")
More people are living together first.
While marriage numbers for straight couples are generally down and straight couple divorce rates are generally up—with notable exceptions and counter-trends worldwide—same-sex couples are finally allowed to marry. Many are doing so. The Netherlands was the first country to legalize same-sex marriage in 2000. Thirty countries have followed that example since then.
The data may be pointing in a general direction. Then again, it may not. All any of this really tells us is that an awful lot of people are asking an awful lot of questions about the real value of marriage. It's essential to remember that trends are made of individual choices—billions of them. It may be interesting to know what the Joneses are up to (or not), but it would be a superficial life that depended on definition by everyone else.
Hopefully, as we search, what we will find is that we value ourselves enough to claim our own happiness—no matter what that looks like.
Notes
Jennifer Bent is a freelance writer, former print journalist and feature writer living on the West Coast. Connect with Jennifer at verbosej@hotmail.com 
Since 2012, SAS for Women is entirely dedicated to the unexpected challenges women face while considering a divorce and navigating the divorce experience and its confusing afterward. SAS offers women six FREE months of email coaching, action plans, checklists and support strategies for you, and your future. Join our tribe and stay connected.