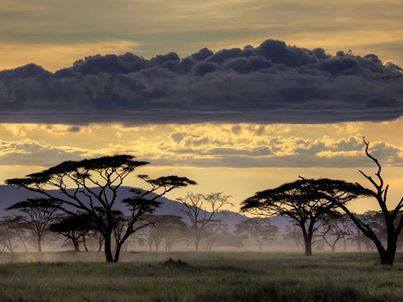 Midlife Volunteering for Women: Listening for the Wild Things
The air felt hot and dry against my face, but the breeze felt cool and fresh. I listened to the steam of air released and watched what unfolded below.
A long time ago, I flew over Kenya's Masai Mara — in a hot air balloon. Aloft the wind currents, my new husband and I marveled over the sweeping plain filled with buffalo, wildebeest and impala. And we shuddered with the thrilling descent over a river clustered with hippo. I still see the hippos' jaws extended as we drifted down. Then landing elsewhere, we smashed into a towering red termite mound. I was amazed to see a pride of lions resting nearby, watching antelope when I stood up; and not far away from them, the outrageous — a luxurious champagne brunch prepared for us. The contrast — the height of civilization, complete with white linen tablecloths, crystal goblets and chinked silver service — and the "Super Natural" of Africa made for the consummate, romantic and fully colonial experience. Aside the birth of my two daughters, the safari honeymoon, filled with hope and possibility, would be the highlight of my marriage.
It has taken me 27 years to return to Africa. This time, I've come on my own.
I am in IMFolozi National Reserve in South Africa, serving as a volunteer with Wildlife Act – an organization dedicated to the preservation of endangered species.
What brought me here was an awareness of my own ticking mortality and things I must still do. Last summer I was forced to stay in New York City where I live in order to receive treatment, having been diagnosed with breast cancer. I worked a lot, rarely took time off, and reported daily for my "tanning bed." I knew I was incredibly lucky to be diagnosed and treated early, to endure only a lumpectomy, and above all, survive. But on some level, too, I understood as well that if I were lying on my deathbed I would not be going quietly. I still had things to savor and getting back to Africa was one of them. Though the honeymoon safari would be forever imprinted in my head, there was something about its privilege and naiveté that rubbed me the wrong way now that I was older, wiser, and divorced.
Imfolozi is the oldest national park in Africa, and one of the most dazzling or so I am told. I discover this for myself as I scan the horizon holding a transistor and telemetric equipment from the back of an open-air truck. My colleagues and I are tracking African wild dog, cheetah, lion, and vulture (yes!) and it's 5:00 am. The air is not warm but icy. This may be South Africa, but it feels like Patagonia.
For hours each day, we listen and measure the strength of signals given off from different collars certain animals wear. We hear the beeps and charge off to track, photograph and record a sighting. The routine is simple and not unlike a meditation. But each day brings the unexpected and the show-stopping that I feel singled out to witness.
From the rising of the orange disk sun to the sounds of the Cape Town Turtle Dove or roaring lions in the riverbed, I feel my life anew. Africa has a way of handing you "first-times," like the climax I experienced yesterday, when the Reserve's vet handed me the shot to revive a tranquilized wild dog. "Just grab the muscle in his haunch, pinch and wait for the signal. Then stick the needle in." I certainly had not planned on touching the wild dogs, or smelling them. But I am still vibing and privileged in an altogether new way: to be in a place in my life that has me listening and at last acting on what my inner voice says I must do.
Turns out, that inner voice can find its choir, for I am surrounded by other powerful voices here; a group of women who have come from all over the world. Though each one's story is unique, they are like me in many ways. They have transitioned through something and understand time is finite. If there is a calling of the wild, one must listen.
In the hope of inspiring you, I asked a few to share what it was that had them leave the familiar and find themselves immersed in nature, here in Africa, too.
Cathy Dawson, 45 years old, Hudson, New York: 
"I have always been passionate about the wildlife in Africa. It's been a lifelong dream to go and see all the magnificent creatures, especially the big five. However, there has never been enough time, money or courage to make the trip.
And then, my husband left me. I hit rock bottom for a few days, and then realized in my deepest, darkest moments that this was an opportunity, something I had been denied. I could create a new life for myself on my own terms.
So, not only did I cut ties with my ex-husband, I also quit my job and sold my house. Africa was calling! I had to respond, but I wanted my experience to be different than a safari. So, I decided to take direct action and help threatened species. I made plans to go to Zululand as a midlife volunteer and to join WildlifeAct to honor that part of my soul that has been neglected for so long."
"I like to think about what Wayne Dyer once said,

'I don't want to die with the laughter still inside me'"

~ Penny M. from Vancouver Island, British Columbia
Dr. Diana Doolittle (not her real name), 45 years old, London, U.K:
"In 2015 I went on safari to the Serengeti with my husband and fell in love. In love, with the magnificence, the power and sheer presence of the lions! They inspired me in a way that was totally alien. I went back to London and explored ways that would lead me back.
I stumbled across Wildlife Act. The NGO struck me as an ethical organization. There was no "cub petting." They monitor the lions from a distance! When I told them at my job I needed to go to Africa, management was very supportive. They agreed to an "unpaid leave." And my husband was supportive. He was surprised of course, as I normally travel with an extra suitcase – just for my hair products. But he said I must do what I must do.
The culmination of my experience so far has been the drawing blood from a wild dog. By training I am a doctor, but yesterday, I felt my whole life had geared me for this moment. And perhaps I should have become a vet. I understand now why people give up everything and undertake conservation work. It is a privilege to work towards protecting the vulnerable and the innocent."
Penny M., 63 years old, Vancouver Island, British Columbia:
"The wild dogs called me. I'm 63 and had knee surgery 5 years ago. Both my knees are titanium! — Believe me, you can't lose me in the airport. You hear me coming through security …. As for coming here I figured it's not gonna get any easier. Now, is when I have the time and I couldn't wait around anymore, or for those people who said they 'might do it with me one day.' I like to think about what Wayne Dwyer said, 'I don't want to die with the laughter still inside me.'"
Marumo Nene, 33 years old, Wildlife Monitor and Volunteer Manager, KwaZululnatal, South Africa
"Growing up under Apartheid policies, I didn't know anything about conservation or much about animals. The reserve and other national parks in South Africa were off limits to blacks unless we worked there. Only sometimes, when I was tending my father's goats, would I even go near this reserve, IMfolozi. When I did, I'd catch glimpses of white men riding horses supervising black men fixing the fence. So when my father suggested I apply for an internship at IMfolozi where he had been working as one of the first blacks on the inside, heading up a project on alien plants, I told him, "No! I am not fixing any fences!!" But he insisted I check it out and so I applied to please him. And I found myself! I love animals and nature. After the internship I gave up what I had been studying — Public Relations — and became a field guide and then I got a job to monitor wild dogs, an endangered species. This is where I want to be — in the middle of it. Nature gives me peace of mind or what we say in Zulu, Kunothula – a quietness. I plan to stay involved here forever."
Dr. Ivana Cinková, 34 years old, Litomyšl, Czech Republic/ Researcher Completing her Post Doctorate on White Rhino Communication: 
"I've wanted to come to Africa since I was around 6 years old. I was little and saw Joy Adamson's "Born Free," and then some time after, I read a children's book about a Czech who moved rhinos from the Sudan to a Czech zoo. I liked his stories and in particular about a female Rhino who would smash the cell she was held in, just so the baby rhinos could get to her. She didn't smash the rest of the pen, just the barrier to the babies. The workers would repair the wall, but every night she'd smash the barrier again to get to the young rhinos. I loved that. And now that I am here, approaching two years, I love being in the bush with them. Everything is so much simpler here, though it's primitive and can be a struggle. It makes me appreciate everything I have. In Europe, life is easier, but you take it for granted."
Kerry N., 56 years old, Tasmania, Australia:
"I'm two years out of an eight year relationship. I discovered my ex was living a double or should I say, triple life, with relationships all over the globe. Not only was he cheating on me, he made me feel like a fool. Like I was the one who was crazy! It was the classic "gas lighting." But I am older now and wiser, and I've managed to survive.
I want my new life to be filled with color, fun and experiences. I want to know and love myself. I started with Africa, coming here as a midlife volunteer because of a near death experience I had more than 30 years ago – before any relationship troubles. It's something I've never been able to shake off.
In that twilight space years ago, between life and death, I was in a tunnel on a dirt road. Along the road, there were brightly dressed African women, wearing reds and orange. The women were singing, chanting and jumping. It wasn't happy singing. It was something else. Maybe they were telling me it wasn't time for me to die. The image has stayed with me. I am here because of them."
What is your soul aching to do? If you'd like to learn more about overcoming your fears and honoring who you really are, consider joining SAS Cofounder Liza Caldwell in 2019 when she returns to Africa to lead a small group of women to Cape Town, Johannesburg, and the Bush. The Asambe Tour (Zulu for "Let's go!") will be dedicated to self discovery and adventure and will include such highlights as Soweto, Robben Island, Table Mountain, and safari. Particularly special will be the unique opportunity to live and be with South African women and leaders as they share historical insights and the local ways to nature treks, cultural fourrees, wine tastings, braais (barbecques), and yoga in the wild. If you'd like to be considered for the group, please read more here.