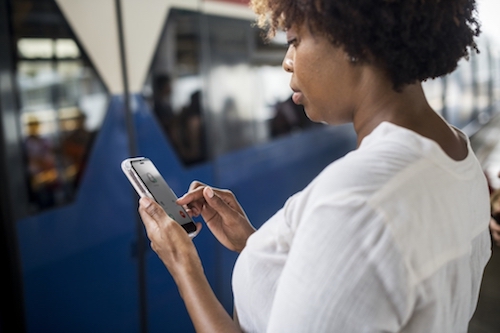 Online Dating: 5 Must Do's for Staying Safe After Divorce
Online dating makes us feel like we're being proactive. If you're "on the market," you don't have to wait for a friend to introduce you to so-and-so's best friend's brother or throw back one-too-many cocktails as you wait for someone to catch your eye at another bar or party. No, now you can swipe left and right as you wait in line at the grocery store or sit in front of the TV. But there are just so many dating apps out there—Tinder, Bumble, Coffee Meets Bagel, Match.com, eharmony, OkCupid, PlentyOfFish. So many, in fact, that you shouldn't be surprised if you see some of the same faces on multiple platforms!
The world of online dating is so popular that it's almost impossible to keep away from, but it's a world that has a dark side. Using a dating app to "get out there" can feel like learning a whole new language to a newly divorced woman, especially one who married long before the internet was up and running (like me). I've had many dates and some relationships through dating apps, and I've found most of the men* to be very kind and polite. But that's not always the case.
I was glad to not have shared my full name with a couple of the men I've met online—if I had, I might not have heard the last from them after the date flopped. Some men insisted on knowing personal details early on. Harmless? Maybe. But these men are strangers, and you should always put your safety first.
Although this is a blog for divorced women, men can also benefit from using the online dating safety tips below. So don't be shy about sharing these suggestions with some of the men in your life. A recent story in Arizona illustrates the importance of staying safe when online dating.
If you are a divorced woman, there are several thing things to keep in mind when gearing up to date online. But for this post, I'm going to focus on keeping you safe when using dating apps and interacting with strangers. These recommendations are in addition to basic safety practices like…
Always meeting in a public place
Letting a friend know when and where your date is
Not revealing personal information, like your full name, too early as this can easily be linked to your home and work addresses
I want you to explore and have fun—you've been through a lot, and your divorce recovery has been hard-won. But putting you and your safety first is nonnegotiable, even if it means a bit more work and assertiveness on your part!
So here are 5 Must Do's for staying safe when online dating.
1. Set up an email account just for people you're interacting with on dating apps
Don't set up the account with your full name. For example, create a new Gmail account, and instead of using the name "Jennifer Parker," use an email address that no one would recognize, like sailingincorfu@gmail.com.
Some dating apps require you to link your account to Facebook. Pay attention to what information is being uploaded to the dating app. You may need to set up another Facebook account with less information (not a "phony" account full of fake information—just less) than your primary one.
2. Do not give out your "real" cell phone number
Instead, set up a Google Voice account (you can do this while you're setting up your new Gmail account). Many times, a cellphone number can reveal the name of the person who owns the account. If you don't believe me, type a friend's cell phone number or your own into Google.
A guy once asked me way too many questions about my cell phone number. Why was it a different area code? (Google Voice can run out of numbers in certain area codes, but you can choose one from anywhere in the country.) Was it a real cell phone number? Why couldn't I give him my iPhone number? Could I "please, please, please" switch to my real cell phone number so we could FaceTime? This was all prior to even meeting for a date! I politely declined, canceled our date, and blocked him. (Blocking someone on Google Voice is even better than on the iPhone as even voicemails will not come through. They simply get a message that the number was disconnected. Done!)
3. Don't give out or use your full name on the app
This is especially true if you have an unusual name. For example, if your name is Marietta and you live in Glen Cove, NY, running a search for those two facts alone will likely reveal your full name and address. So, instead, perhaps use Mari and put down a nearby town or large city.
---
Related:  100 Must Do's for the Newly Divorced Independent Woman
---
4. Don't include pictures of yourself that you've posted elsewhere
Thanks to Google reverse image search pictures can be traced back to other sources. If you use your LinkedIn or Twitter profile picture, there's a good chance anyone looking hard enough could find you there.
But even without Google, posting images you've shared elsewhere can be dangerous. I have a friend who used her Facebook profile picture on a dating app. One guy looked through Facebook for people in her town, found her picture, and showed up on her doorstep. So don't do it. Be safe.
5. Limit what you reveal
If you're a pediatric dentist and live in Pasadena, that information can help someone find out your full name, address, and more. Be vague about the details of your life and profession. I'm not talking about someone you've gone on several dates with but someone who you've only just started seeing.
Trust your gut (don't demand that your gut give you a logical reason). If anything seems off, walk away. If your date reveals his actual name, a simple internet search may tell you some things about him. (Google for yourself to see.) I took this a step further once when a guy I was planning to meet had 12 criminal records, according to my Google search. I told myself, if I couldn't figure out what that was all about, I was going to cancel the date due to a permanent case of "the flu." Instead, I bought a one-month membership to Instant Checkmate and found out he's just a really bad driver (all traffic violations—nothing actually criminal).
There are men out there who will be insulted or annoyed that you won't reveal what they want to know before you're comfortable. (I should know—I've met a couple of them.) In my experience, when a relationship moves past the first few dates and I develop a sense of trust, telling my date that my name is Elyse and not Ellie isn't a big deal. Your date will understand and think: Why, what a smart woman she is. Hiding your full name or your phone number is hardly the same as, say, refusing to reveal your real age. Any date who would make a big deal out of you staying safe when online dating is not worth another moment of your time. So don't take it personally—just move on!
Since 2012, smart women around the world have chosen SAS for Women to partner them through the emotional, financial, and oft times complicated experience of divorce. Whether you navigating divorce or already rebuilding your life after the overwhelming experience, one thing making a significant difference for women is the conscious choice to not reinvent alone. We invite you to schedule a FREE, 15-minute consultation with SAS to hear feedback, next steps, resources and best practices for creating the life you deserve.
*This piece was written for SAS for Women, an all-women website. At SAS we respect same-sex marriages, however, for the sake of simplicity in this article we refer to your spouse as a male.