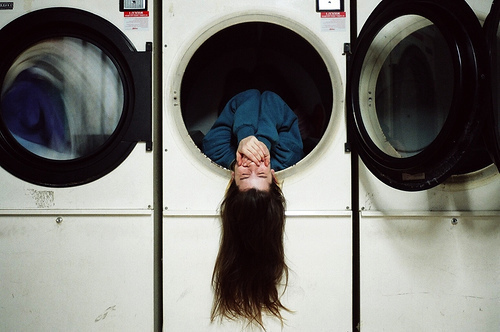 Contemplating Divorce Can Keep You Spinning
Recently, when I was unpacking boxes and settling into my new house, I came across something that seemed to speak to me from a different lifetime.  It was my old journal, written years ago, during the months leading up to my decision to get divorced:
 "I feel as if I am living in the twilight zone. I'm sooo lonely, scared, trapped in this weird world where I don't know what will happen next."
"I'm angry at him. I pity him.  I miss him. I love him.  I hate him."
"I could make a choice. I could leave.  I could choose that."
"Part of me wants to run far away. Part of me is scared and worried. How will the bills get paid? Do I need to protect myself? Part of me is sad. Sad that we have grown so far apart. Part of me feels guilty and part of me is just MAD."
For months (maybe, if I am honest with myself, for years) I was spinning in circles. I was desperately unhappy and feeling torn, and scared.  I couldn't get clarity or figure out what to do, or what I wanted. I was caught in a vicious cycle of "should I, or shouldn't I?" like the clothes in a dryer, getting tossed, twisted up in a knot, and slammed again against the door. Even after I left, I still went round and round. I worried and wondered if I made the right decision. And I remember feeling physically awful too…my back ached constantly, I had unrelenting headaches and weird episodes of dizziness that would come and go. My confidence was at an all time low. Literally, ZERO. At one point I wrote in my journal, "Am I capable of that?" wondering if I would be able to pay the bills by myself, which seems so unbelievable to me now. Why didn't I think I would be able to pay the bills? I'd done it before. How had I become so unsure of myself?
"Really, I'm stuck. What do I do?" 
"I'm half afraid that if I tell someone I want to get divorced, they'll talk me out of it." 
"I am GOING to leave!"
"My heart hurts."
I know now that what I needed then was someone to open that door, to stop the spinning and help me get everything sorted out.  It is hard to acknowledge to yourself that something is wrong, let alone talk to anyone else about it. And it seems like once you tell someone you are thinking about getting a divorce and it's no longer just in your thoughts, you have to actually do it. What you need is someone to be a witness to what's happening to you in your head and in your heart.  You need someone to help you see things more clearly, to help you understand what you are going through, and to tell you what to do. And most importantly, you need someone to help you find your confidence again.
As divorce coaches, we know considering or even coping with divorce can keep you spinning. This feeling of repeat, repeat, and revisiting what you know and don't know is a sure sign that on some level, you do know something is critically wrong.  We also know that you can stop — or at least, PAUSE — the spinning by making small changes.  Start by asking yourself, what do you most fundamentally need? What do you really want, deep down?  Write this down somewhere and look back at it regularly to keep it fresh in your mind. This is about getting and staying in touch with you.  Push PAUSE again and find a friend or professional whom you can trust and feel comfortable confiding in.  Talking with someone will help you process everything that's going on in your head, heart and body.  Then, and only then, outside the wretched revolving dryer, will you be able to stop the spinning and start moving forward with your life.
Whether you are considering a divorce or already navigating the experience and aftermath of divorce, one thing we see making a significant difference for women is the conscious choice to not do divorce alone.  Since 2012, smart women around the world have chosen SAS for Women to partner them through the emotional, financial, and oft times complicated experience of Divorce. "A successful divorce requires smart steps, taken one at a time." ~ SAS for Women.