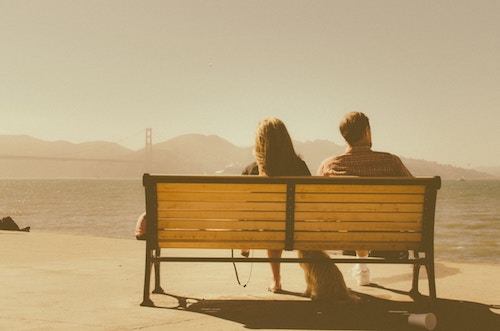 Divorce is not—no matter the circumstance—going to be an easy subject to bring up with your soon-to-be Ex. While you might be fed up with your husband* and, without a doubt, want a divorce, you're afraid that using the dreaded D-word is going to hurt or shock your partner. You want to bring up divorce, but walking down that path seems as terrifying as Snow White running through the woods, all your fears clinging at your skirts. Once you mention divorce, as soon as your partner hears that word, you know you'll have to stop running and confront those fears one by one.
This post is for you, the woman who's ready to stop running. Because maybe you've tried counseling. You've used your words. You've turned the other cheek (or not). You've looked past his faults and have worked on your own. But you still aren't happy. "Happy" is a long way off.
It's time to stop dwelling on exactly how to bring up divorce because there is no one right way, and instead, reach within yourself for the strength you'll need to have a frank and open conversation with your partner about what is real and the decision you have come to.
We have some general tips on where, when, and how to have this conversation, but remember, divorce isn't a one-size-fits-all process. You understand your situation and your soon-to-be Ex best. The tips below are merely suggestions—it's up to you to decide how to best adapt them to your specific situation.
The setting
This is a tricky thing to think about, but it is one of the best places to start: where are you going to bring up divorce? Going out might seem like a good idea—a way to minimize your partner's ability to have a big, possibly dramatic reaction—but that can often backfire. You can make your husband feel as though you've tricked him by bringing him out on a date only to drop the D-bomb on him.
As divorce coaches, we do recommend going out to have this conversation but to a neutral place so you are not reminded of domestic triggers or distracted by routine interruptions. A neutral place is not a restaurant where you can be interrupted by waiters or even friends who might see you. Instead, we like the idea of sitting on a park bench or taking a walk on a quiet path. Breathing fresh air and moving around helps you gain perspective and lowers stress levels.
If you are in counseling or have a couple's therapist you can speak to, a session would also be a safe and appropriate place to bring up the D-word. Your counselor's office is both a public and private place where you'll have someone available to help you along during the conversation.
If you choose to bring up divorce at home, make sure your kids are in bed or—better yet—out of the house with a trusted loved one or at another activity. If there is yelling or crying, you don't want your children to witness your fight. You might want to have a meal prepared and a space you feel comfortable in before you speak to your partner. Your talk with your spouse might be long and involved, or it might be short and simpler than you think—either way, choosing a space where you feel safe is crucial.
The timing
While you can argue that there really isn't ever a great time to bring up divorce, there are plenty of very not good times that you should probably avoid, like an anniversary, a major holiday, a child's birthday, or while your kids are applying to college. ("Thanks, Mom, I didn't get into Harvard because you — and your springing divorce on Dad!")
With all of that said, sometimes the conversation needs to happen sooner than later—sometimes ending a relationship feels especially time-sensitive, rightfully so, if your soon-to-be Ex has had an affair or brought an STI into the bedroom. Is there domestic abuse? The timing of the divorce really depends on the urgency and necessity of divorce.
Even the time of day should be taken into consideration. If your partner is leaving for work in 15 minutes, for instance, it's not the right time to bring up divorce because you won't have time to thoroughly talk it through and, instead, he'll be at work all day ruminating on divorce. He'll come home upset and in a state of mind that isn't helpful when having a serious conversation like getting a divorce. Similarly, bringing up divorce right before bed can lead to a night of restless sleep in which you and your future Ex spend the night discussing the same issues over and over again rather than actually sleeping.
One of the best times for bringing up divorce might be over dinner on a Friday, or really any day when you and your partner don't have to get up and go to work the next morning. This way, you can talk, rest, or think without worrying about putting on a good face for others.
The script
When the setting and timing is right, it's time bring up divorce. Your tone, overall, should be empathetic—you know this isn't going to be an easy conversation, and you aren't asking to get a divorce out of anger or malice, so let your tone convey that.
Try to remove any accusatory language from the conversation. Don't try to assign blame to your Ex, either, even if the divorce was brought on by something that he did or maybe even many things that he's done. Instead, use "I" language, like "I feel like we've tried various way of getting our relationship back, and it's not working. I don't want to live like this anymore. It's time we talk about divorce." This makes the conversation about moving on and not about assigning guilt or blame for the end of your marriage.
While you want to have an empathetic tone and you want to use "I" language to avoid assigning blame, you also want to stand firm on what you want and follow through with your plan to pursue a divorce. Your husband might be upset and plead with you to give him another chance. He might promise you that he'll change—but hold firm and let him know the time for change has passed. While you might be sure he can work on himself and improve in the future, it will have to be for himself or his next partner, not you.
More on tone
As divorce coaches, we like to recommend to clients that they also reassure their partner, because the word "divorce" induces all kinds of nightmare scenarios. While we believe you do not have to have all the answers on how you will divorce (what you will ask for, how you will split the 401(k), etc.) to have this difficult conversation, it is wise to endeavor to set a certain tone for the conversation and your interactions going forward.
Reassure your partner you don't want to end your marriage as their adversary. You might say, "I don't have all the answers. I don't know how we're going to do this exactly. But let me reassure you for the sake of both our lives (and our children's), I want to do this the healthiest way possible."
This may bring the temperature down between you and your partner, who may worry you will try to keep the children from him or you will try to be vindictive or cruel, resulting in a divorce that costs a lot—both financially and emotionally.
When you feel that you've said what you must say (keep it simple) and that your soon-to-be Ex understands your feelings and what this means for your relationship, it's time to end the conversation. This can be a really difficult spot to feel out, but once you do, it's time to set a future meeting date to talk about how you might separate or divorce — traditional approach, mediation, using the "collaborative divorce model" or DIY.
Caution
This conversation—the one in which you bring up divorce—shouldn't be the lets-get-it-all-done-now conversation. That's far too much to talk over at first. You and your soon-to-be Ex need time to process what just happened before you take the next steps in getting a divorce.
It's an important thing to remember that it's taken a lot of time, pain, and thought to arrive at this place of discussing divorce with your partner. On some level, you've been preparing for this day for a long time. But your partner has not.
Chances are things have not been good, but if you are saying divorce first, it's important to give your partner time to really take in the fact that you are serious. If you've said "divorce" before but then caved, remember that he's been conditioned to believe you don't really mean it. If you do mean it (and we do not encourage you to use it as a threat unless you really mean to follow through) expect your partner to have an emotional reaction to your truth. He will need time to metabolize what you've said and what it really means.
The aftermath
After all is said and done, you have just taken a big step toward making your divorce real. It's not an easy journey, even if your conversation with your Ex goes well. Even if you and your Ex seem to be on the same page during the start of your divorce, you will likely need ongoing support discovering and staying focused on your most meaningful goals—and not getting caught up in the emotional drama.
At SAS for Women, we like for a woman to be educated on what her rights are and what getting a divorce might look like BEFORE she decides fully decides to divorce or has this momentous conversation with her partner. A good divorce coach can help you not only figure out if you want to end your marriage, but what your choices genuinely are, and how to bring up divorce with your partner. A certified, seasoned divorce coach can help you figure out all the little and big decisions throughout the divorce process, too. You'll want the right support shepherding you through these challenges to the new place you're headed to, the place where you actively pursue your happiness and rebuild your independence.
Since 2012 smart women around the world have chosen SAS for Women to help them through the emotional and often times complicated experience of divorce. For emotional support and structured guidance now, helping you move forward the healthiest way possible, consider Annie's Group, our virtual divorce education, support and coaching class for women thinking about divorce or beginning the process. Learn what your choices and goals really are. Schedule your 15-minute chat to find out if this education is right for you, where you are in your life, and most importantly, where you want to go.
*This piece was written for SAS for Women, an all-women website. At SAS we respect same-sex marriages, however, for the sake of simplicity in this article we refer to your spouse as a male.