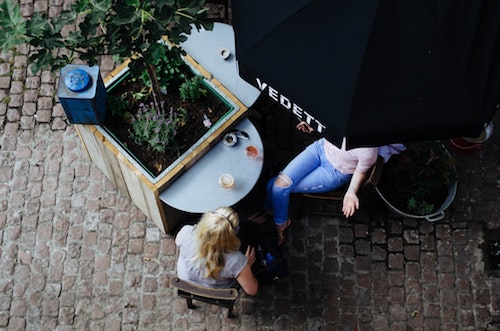 Life After Divorce: Getting You and Your Money Together
Before, during, and after divorce, one thing that's on everyone's mind is their finances. The following is an imagined conversation, but as a financial advisor, I've heard variations of it all too often amidst women struggling to rebuild their life after divorce.
An all-too-common conversation between divorced friends
FRIEND: So, how are things going with the divorce? Are you close to finalizing everything?
FRIEND 2: Believe it or not, I can see the light at the end of the tunnel. My attorney has been wonderful—as far as attorneys go, I guess.
FRIEND: That's great.
FRIEND 2: Yeah, I guess.
FRIEND: What's wrong? I thought you said your attorney was good.
FRIEND 2: Yes, she is, but, well, this other part is embarrassing.
FRIEND: What do you mean? Are you OK?
FRIEND 2: I'm fine—but it's hard for me to talk about this. I feel ashamed. You probably won't understand.
FRIEND: What is it? Are you OK? Please, let me help you.
FRIEND 2: Well, OK, OK. But please don't tell anyone, OK?
FRIEND: OK.
FRIEND 2: Well, my attorney is good. She got me almost everything I wanted, or at least everything I thought I deserved—to be fair.
FRIEND: So what's the problem?
FRIEND 2: This is hard for me. Well, I let my husband take care of all the money stuff. I never really kept track of what we had. And now the attorney is showing me all these accounts that I'm getting. And this may sound stupid, but I don't know what to do with them, how to read them or understand them.
FRIEND: Oh, don't worry, you'll be fine. I thought you were going to say you were sick or something! 
FRIEND 2: Don't laugh, please, this is making me sick. I don't know anything about investments. I've never balanced a checkbook, let alone managed our account online. I can't believe I let this happen! And now I have to take care of it for me and the kids? Mutual funds, 401(k)s, life insurance—what does it all even mean? It's overwhelming! To be truthful, I am scared. I thought life after divorce would be easier. I am going to mess everything up and lose what little I have.
FRIEND: OK OK. Calm down, everything will be fine.
FRIEND 2: How do you know everything will be fine? You went to college and studied economics! When you got divorced you already knew about all these things.
---
Learn what other steps you could be taking to promote your healthiest life after divorce. Read 100 Must Do's for the Newly Divorced, Independent Woman
---
FRIEND: No way—after I got married and had kids I forgot everything I learned in college about money because my Ex handled the finances too.
FRIEND 2: So what did you do with the money you got in the divorce? How did you begin?
FRIEND: I was lucky. My sister had a friend who's a financial person, a professional she referred me to. He began to teach me what to focus on and helped me learn how to invest money. The important thing is that this person guiding you is smart and a good teacher who can help you take care of everything as you rebuild your life after divorce. Do you want his name?
FRIEND 2: Sure, I guess. I'm assuming he's qualified and he knows what he's doing?
FRIEND: Yes, he's got all types of credentials, but that's not what impressed me.
FRIEND 2: Then why did you use him?
FRIEND: Because of how he interacted with me when I first met him. He took the time to get an idea of what I understood and figure out what I didn't have a clue about. It seemed like he knew when I didn't understand something, and he took the extra time to make it clear before we moved onto the next topic.
FRIEND 2: Sounds like someone who doesn't exist!
FRIEND: Too good to be true, right!
FRIEND 2: Yeah, but he probably deals with a lot of rich people and would't deal with small accounts like mine.
FRIEND: Nope, not the case—he only accepts referrals from existing clients so when I refer you to him, he will work with you if you want him to. By the way, he doesn't have a minimum.
FRIEND 2: But if I sign up with him is he ever going to call me after I give him my money?
FRIEND: That's one of the most important things! When I first started working with him, he spent a ton of time with me to come up with a plan, to understand what my goals are. He even helped me identify my goals. He's a very good listener. And he requires meeting with you as times goes on to review the plan and to see if it needs any changes. Oh, and one more thing, when you meet with him, he doesn't hand you off to his assistant or junior person on the team.
FRIEND 2: OK. But how will I know if he's doing a good job?
FRIEND: You will have online access so you can review the accounts at any time. Quarterly reports are also provided. And he also checks with my accountant to make sure I'm paying enough in taxes and stuff like that. I like having more than one person looking after me. Life after divorce is hard enough. I like a diversified approach. I am not putting my eggs in any one basket ever again. Neither in marriage or other things.
FRIEND 2: OK. I guess I can call him.
FRIEND: I have a better idea. If it's OK with you, I'll have him call you. He's very good at being proactive and following up.
FRIEND 2: Well that would be a big help. I think I feel better after talking with you.
FRIEND: Yes, that's a step in the right direction.
Life after divorce can be fraught with a sense of anxiety and, yes, even shame. If you find yourself here, then maybe you feel a bit more like Friend 2 in this scenario. Knowing help is out there can already make the weight on your shoulders feel a little smaller, but not everyone has a friend with a referral in their back pocket—how do you even begin to pick the right financial professional for you? What do you do when you find yourself suddenly in charge of your household's finances?
Keys to picking a financial professional
Get recommendations from people you know and trust. That means anyone from family members and friends to attorneys, accountants, divorce coaches, and therapists.
Interview the financial professional in person or by phone. You are looking for a personality that will work well with your personality.
Check the financial professional's background on the Financial Industry Regulatory
Authority (FINRA) BrokerCheck website.
Does the financial professional have account minimums?
Does the financial professional handle a lot of clients like you. By that, we mean people who are going through a transition due to divorce or widowhood.
How does the financial professional get paid? Do they earn commissions on each transaction, or do they charge an annual fee based on how much you have with him?
Does the financial professional have a communication plan for staying in touch with clients? How often can you expect a phone call or email from him? Does he have periodic reviews? If so, how often? Are they in-person or over-the-phone?
Who is the financial professional's typical client? You don't want to be overlooked for his bigger clients!
Life after divorce is a journey, and it's one made easier by having the right community by your side. The best part of starting over is that you get to decide exactly who's a part of that community—your friends and relatives, yes, but also smart professionals who empower you to make the best choices for yourself and your family. They are out there, and now you know how to find them.
This conversation is hypothetical and is intended for illustration purposes only. The article is for informational purposes only and it is not to be considered tax or legal advice. AXA Advisors (its affiliates) and associates do not provide tax, accounting or legal advice or services. You should seek advice based on your particular circumstances from an independent tax or legal advisor. Christopher Kelly offers securities through AXA Advisors, LLC (NY, NY 212‐314‐4600), member FINRA, SIPC. Annuity and insurance products offered through AXA Network, LLC. Individuals may transact business and/or respond to inquiries only in state(s) in which they are properly registered and/or licensed.  AGE‐ 146422(08/19) (exp.08/21)
Chris Kelly is a financial advisor with over 25 years of experience in the financial services industry. He specializes in what he calls "Financial Transitions" – helping families design and implement a financial plan to help deal with the loss of the primary income earner due to divorce, death, or disability. He is well-versed in a broad range of financial subjects including investments, cash flow planning, and estate planning. Chris has offices in Woodbridge, NJ, Wall, NJ and New York City.
Contact Chris at christopher.kelly@axa-advisors.com or 732-292-3357 to begin a conversation on how to make your post-divorce financial journey a smooth one.