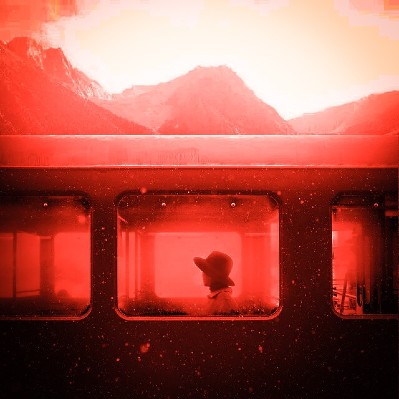 Table for One: My First Trip as a Single Woman
There comes a treacherous time when we stop feeling okay — divorced. Only yesterday, all seemed fine. We thought we were healed for the simplest of reasons: we've not been thinking (every minute) about our Ex. But at SAS, our divorce coaching consultancy, we know this stage too well — we call it "Stage 3". And it's a confusing, tricky time, colored by all sorts of emotions, but in particular, grief. We don't necessarily miss our Ex, but little by little, or all of a sudden, we start to learn we are missing familiar patterns, beloved or taken for granted rituals, certain routines, or the "good old times" that bound us together. In this phase, it's normal to be triggered, to suddenly feel an awful emptiness, a sadness, or a knockdown depression as we come to terms with realizing our life is never going to be like that again. In fact, our new life may seem completely NOT what we wanted.
I was triggered by the need to plan the summer vacation
In the past, like many families, mine got together for a special trip each summer. It was always my (now) Ex-husband, our two sons and me. There were many difficult, turbulent times in our marriage, but somehow, the summer vacation was a sacred time when we put differences aside and we agreed.
My Ex and I planned it all out in advance — together. Typically, we researched options separately, and together, we discussed the finer details of our potential trips. We talked so much about these potential trips, that oftentimes it felt like we took 10 vacations each summer, not one! Each one of them always had something interesting for the adults and something fun built in for the kids. When we finally began the trip, too, we were together in a different way than in our marriage. We calculated our budgets, we hustled around in rented cars, we struggled to ask for directions in a foreign language, we made sense of unknown parking machines, we negotiated toll roads, ATMs, and much more. We overcame these difficulties, these challenges, and savored the rewards, exotic beaches and startling new, wonderful food.
I have been divorced since January 2020
Now, it's my first summer alone as a single woman, and it's dawned on me that I don't know how to begin vacation-planning as a divorcee.
I keep asking myself: can summer be anything else but a shared vacation with my children and their father?
So many aspects of this trip planning I assume I must now do solo — and they are untrodden territory. How do you embark on this first trip as a single woman? How do you plan for it? Whom do you share the anticipation with? What about the actual experience of it? The highs, the lows? How do you deal with foreign ATMs or quick currency exchanges? Whom do you discuss what kind of pizza to order? Who's going to put the aloe on your back when you get sunburnt? Who will bail you out if the bank card gets blocked, or if you run out of cash? How do you rent a car on your own?
I don't think I've ever booked a single room for vacation. For a business trip — yes. But not for a vacation. Is it even possible to have a single room? How do you choose food from a menu in a restaurant if you are alone? Whom do you share plates with? Is that, too, out the window with the divorce? All those little niceties or ways of being in my old life, must I leave them behind, too?
These questions may sound ridiculous to someone who has traveled alone. But they are not stupid for many women who saw their summer vacations as a rare time that the family floated in another realm, where Papa and Mama was more relaxed away from the hustle of their jobs. There was something heavenly about it — and that man who showed up as my husband, and the woman I could be if only for a couple of weeks a year.
Family Vacations are a BIG THING
The importance of family trips is not to be discounted, I realize! It's a shared family experience that for many is the best time of the year. These vacations are so important that I've heard of people who have divorced – amicably – and who continue to travel together on family trips. Actress Mayim Bialik, famous for her role as Amy Farah Fowler in "The Big Bang Theory", talks of her "Divorced Family Vacation" and says, "There are things in life that should be experienced as a family because of their importance and significance."
As I write this, my Ex, for example, is boarding a plane with our younger son and my Ex's pregnant sister. I can fully understand his desire to replicate a family unit as they embark on their summer vacation.
What do I choose to do? What can I do? When it's my turn to travel with our two sons, should I organize friends to join us so we feel like a love-in, hippie family? Should I travel with a group of friends, stay in hostels and pretend we are students? (Maybe not in the time of COVID, but what about the future?) Do I volunteer my services somewhere and see who turns up on my path? Should I try to identify – amid my peers or friends — another divorced woman, and travel with her? Do I go solo, and when there, invite some random adults I meet on the beach to join me for at least a couple of dinners?
I am already feeling lonely, scared, and even embarrassed about my singledom. I am imagining how wrong it will feel to be going into a seaside restaurant and admit that I am one, yes, the only person. ("No, I am not waiting for somebody else. Please seat me fast so nobody sees.") It will feel awkward asking for a half plate of their famous seafood starter, or asking for a half-bottle of wine. (Maybe, I should order a full bottle and take it back to my room?) Will I need to have a book to read and hide behind? Or do I put on my headphones so I don't look so lonely and wretched?
The anxiety of not having the same summer vacation I've had for the past 17 years of my marriage was getting the best of me, until it stopped. Why? Because I looked honestly at my past. As I did, I began to feel grateful for the good things, those summer vacations, at the same time, I began to recognize it was time to own the bad times and say goodbye to them.
Below is my list of lovely things I am grateful for:
1) I was happy when my Ex-husband and I shared planning, anticipating and living through travel experiences as a couple
2) I loved spending time with the kids during these vacations, and giving them my full attention as opposed to being overwhelmed by my corporate job
3) I appreciated exploring new unknown places for me, like amazing Mediterranean resorts
4) I appreciated the convenience factor that came with sharing expenses and shared problem-solving
Next comes the list of things I will not miss and my takeaway thoughts:
1) In all honesty, I was the one who planned most of the trips, and had to lobby hard to get them. My Ex "graciously" accepted my plans always — but made sure I understood that he was doing me a favor by agreeing to them. Take away: I don't mind planning, but I want to be appreciated for my efforts and ideas
2) Whereas we always started talking about the vacations months in advance, we never actually had the trips planned or paid for in advance. My Ex always had job-related uncertainties. Takeaway: Maybe he even pretended to have uncertainties to feel more important and influential?
3) We often had to compromise … on the destinations, the budget, and the length of stay in each place. My Ex-husband had his pet hates of some places that I loved and he would never spend more than 3 nights in one spot. Takeaway: I prefer to have more time to fall in love with a place
Doing this exercise with myself was in no means intended to expose my Ex-husband as evil or bad, but rather to show me, and divorcing and divorced ladies, that there are always good and bad things about a marriage. It was the good that kept us together for so long probably. But while I may miss the good things, I am very happy to let go of the bad ones. Seeing the pros and cons of our romanticized vacations, brought me back from daydreaming to reality. This in turn allows me to go forward with my eyes open.
After I listed the good and bad things about the trips with my Ex, I realized more things that I can't wait to share …
1) Reflecting back I realize a lot of beautiful things have slipped by into history. There are many precious things that are no more — not because of a divorce — but because of life itself. For instance, there will no longer be vacations with my small babies or toddlers, or even young kids, because the kids have grown up — not because we divorced as their parents — but because of the fleetingness of life itself, and change
2) Looking back at the wonderful moments that I love and miss — the atmosphere, the warmth, the laughter, the smell of lavender, and the tickle of chilled sparkling wine —I ask myself, how much of this was my own making? For instance, our trips to France were fabulous. And I was the one who planned them in precise detail and paid for half. I was the one who spoke French and planned the routes and ordered in the restaurants. So maybe, just maybe, I'll be able to organize more lovely trips again?
3) I guess my new goal is to grow to love my own company on a vacation as much as I believe I loved my Ex-husband's
As I wait here in Moscow for international borders to open up again, I dream of my first trip as a single woman. What will it be like? Will I go on my own — to breathe in the air this time as my own person? Or will I take the kids to nurture our closeness in this new world we find ourselves in?
A new and appealing thought is to have a solo trip
I think I would like to go somewhere familiar and safe. I will stay in one or two separate places, not more, to give myself time for tranquility and to truly enjoy the place. I will not rent a car to save myself the money, the hassle of finding one, or the ink used on the expected parking tickets. Instead, I will travel by train, which I've always loved. The train is a Zen way to embrace life and look out the window in a very ladylike, film-noir fashion.
If I go alone, I can spend as much time shopping and window shopping as I like. I can go into any restaurant I like, dress up, or on the contrary, eat a takeaway sandwich while sitting on a pier. I can order a tuna pizza which I've always liked but which my Ex always hated. Heck, I can even take my watercolors on the trip and paint. I can have long, lazy breakfasts and take a bus to the village market. I can talk to people at the next table and appreciate the flirtations of the waiters.
In the evening, I can throw on a long floaty dress and comfortable flat sandals. With the most possible grace and self-respect, I can hold my head high. I imagine myself walking into a restaurant and asking for a table — for one. I will nibble half a dozen oysters as I consider the small but intriguing wine selection. And when asked, I will say without hesitation, "Yes, you can take away the other place setting. No one will be joining me tonight."
Anna Ivanova-Galitsina is an international expert in communications and storytelling based in Moscow, Russia. She is training to be a coach for women in transition. You can reach out to her via e-mail anna.i.galitsina@gmail.com for a test coach session or a discussion.
Since 2012, SAS for Women is entirely dedicated to the unexpected challenges women face while considering a divorce and navigating the divorce experience and its confusing afterward. SAS offers women six FREE months of email coaching, action plans, checklists and support strategies for you, and your future. Join our tribe and stay connected.