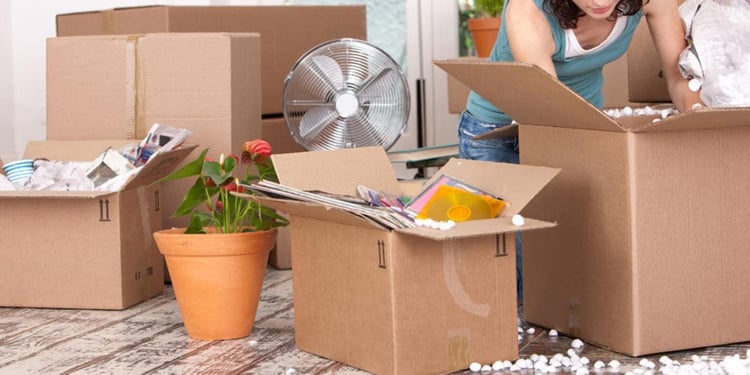 Who Moves Out of the Marital Home During Divorce, and When Do They Leave?
A question that comes up over and over again in my line of work as a divorce attorney is "When can I move out?" Or put differently, "When can I get my husband to leave?" Maybe the tension is so thick you can cut it with a knife. Maybe your children are experiencing screaming matches followed by long bouts of silence. You may find yourself unable to think straight—to figure out what your next steps should be and how to begin a new life. Or maybe, there are even elements of abuse in your relationship. I get it. You want peace. You want answers. And finding out who moves out of the marital home during divorce can seem like the first step toward solving these problems.
But the question, when can a spouse move out, is not a simple one to answer.
If you have children, the upside is that I recommend you do nothing until you've spoken with an attorney. Unless, of course, there's an emergency and you need to remove yourself from the situation for your safety. You don't want to affect your claim to custody or marital property.
It's complicated. Divorce laws vary state to state, but for this article, I will reference the laws of New York.
What does the law say about who moves out of the marital home during divorce?
New York courts are often reluctant to award one spouse "exclusive use and occupancy of a home." In nonlegal speak, that means ordering one spouse to move out of the marital home—something the courts can do no matter which spouse's name is on the deed or lease. The courts are especially reluctant to do so without a finding of violence or "marital strife." When the safety of household members or property isn't at risk, the courts require that your spouse has a place to live before moving out. That's not to say that the courts oppose removing one spouse from the marital home. They often prefer spouses separate. With that said, the decision isn't made lightly. Judges have seen it all. They haven't succumbed to the popular belief that it is simply better to separate you and your spouse. They understand that what is best for one family isn't best for all.
What if your safety is at risk?
But what if you can't wait for your lawyers and the courts to battle it out? There has always been the understanding that in any divorce, separation, or annulment, the courts can't require a spouse to move out during court proceedings unless taking such a drastic action is necessary to protect the "safety of persons or property." To take action, courts require evidence, anything from a testimony to something physical such as photos, medical or hospital records, and broken items.
If your spouse has committed a criminal act and needs to move out immediately, you can get a temporary order of protection (in other states these are often called restraining orders) from Criminal Court, Family Court, or Supreme Court. In fact, what many may not realize is that a person isn't limited to a single court when looking to get an order of protection. You can get orders from more than one court for the same act. If even one of the orders of protection granted is a "full stay away," then your spouse won't be able to live in the same home as the people listed on the order.
So, what if it's your sanity (not your safety) that's at risk?
Anger, resentment—they can chip away at any remaining civility between partners. The courts understand that staying together under one roof can be damaging for reasons that have nothing to do with violence. But again, you'll have to provide evidence for "marital strife" (and your spouse will need a new place to live) before you can expect the court to make anyone move out. Before you provide evidence, you'll have to file a petition in Family Court or a motion in Supreme Court for an order of protection in which you request a full stay away. In Supreme Court, you can file a motion for exclusive use and occupancy without requesting an order of protection.
And what about the children?
When it comes to children, how can fighting parents living in the same home be in their best interest?
In 2017, at least one judge addressed this concern. In one of the first judicial decisions to address the impact divorcing couples remaining together in the marital home has on their children, Judge Richard A. Dollinger of Monroe County found "that existence of a hostile home environment, during a divorce, runs contrary to the best interest of children."
What is the benefit of having a court order your spouse to move out?
The obvious benefit is that you'll finally have peace of mind and remove yourself from an otherwise difficult living situation. Some parties , however, often see a court order for one spouse to move out as a tool to gain an edge in custody battles. When both parents live together with their children, neither parent can claim to be the primary residential parent. When one spouse moves out, the parent who spends more time with the children will be entitled to child support. If you and your spouse share the children's time equally, then the parent who earns more may end up paying child support to the other parent.
How do finances affect the court's decision about who moves out?
The elephant in the room is the question of whether you and your spouse can afford to live in two separate homes. It is crucial that everyone involved reduces the effect of divorce on your children. Make sure you always work toward separating in a fair and reasonable manner. It can be more expensive and emotionally damaging for children to be in the middle of their parents' fighting. To be assigned their own attorneys or go through forensic evaluations and therapy.
Divorce is complicated enough already. As a parent, it's your duty to pick the battles you choose to fight with your soon-to-be Ex wisely. Who moves out matters less than how and why they move out.
Randi L. Karmel has had her own Matrimonial and Family Law practice for 19 years and been an attorney for 25 years. She practices in the Criminal, Family, and Supreme Courts in New York. Randi L. Karmel, PLLC focuses on matrimonial and family law litigation and settlements. Her practice consists of preparing and negotiating agreements from prenuptial agreements to stipulations of settlement: divorce, abuse, neglect and orders of protection matters, custody, parenting time, child support, maintenance, equitable distribution, and separation. She is also certified to represent children. For more information on how Randi might assist you with your concerns, visit her website or call 212.755.0224.
Since 2012, SAS for Women is entirely dedicated to the unexpected challenges women face while considering a divorce and navigating the divorce experience. SAS offers women six FREE months of email coaching, action plans, checklists and support strategies for you, your family, and your future. "Divorce can be on your terms."– SAS For Women"
Photo credit: Transport Executive