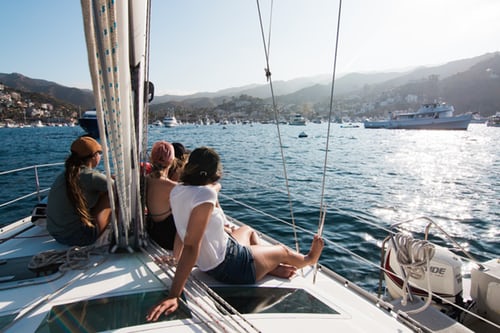 11 Truths Divorced Women Want You to Know
If you are thinking about or dealing with divorce, it's human nature to want to hear things from other women who have survived it. We want to compare our experiences of hell, and we want to know how they did it, ultimately, how they, women like us, championed through it. Hearing their story creates a bond that pulls us in and lessens the magnitude of our own story and the depth of feeling so very alone.
As women who work with women dealing with divorce, we know this to be especially TRUE, and so whenever possible, we like to share some of the insightful gems we hear when women open up and talk about their experiences. There's nothing like a smart woman for calling the issues out.
Here are eleven truths divorced women want you to know about and to be on the lookout for.
You can't Google-solve your divorce
"When my marriage was breaking up and I was trying to survive," says Kelly, an accomplished professional in her forties, "I tried to figure out everything using Google. But it became a rabbit hole! What helped me more was accepting that everything was in flux and not so easily solve-able. That divorce wasn't just a document, or a financial readjustment, or things I could learn on the internet. It was a life shocker involving me to get really clear on who I wanted to be now that everything in my life had been chucked. Once I got that it helped me realize the journey, what divorce recovery is. I realized I would not be put together for a long time."
It's normal to be afraid
"Once I accepted it was normal to be afraid," laughs Jessie, "it was freeing. Like it allowed me to relax a little. Being afraid doesn't mean you can't do it."
Lonely is not the same as alone
"All my life—even probably causing me to marry," admits Susan, a woman in her sixties, "I was afraid to be alone. And later it was definitely one of the things that kept me in a dysfunctional place—just being scared to be by myself. I was afraid I could not survive. But now I wake up by myself. I am alone, I realize being lonely is very different than being alone. Lonely means missing, feeling incomplete, wanting or feeling a lack of someone or something. Alone! Alone, I like being alone now and doing things I want to do. I don't find myself or my life lacking."
It'll be normal for your kids to hate and judge you
"One of the hardest things for me was hearing my kids say what they said," says Karen, a mother of three teens. "They really knew how to hurt me. Despite my efforts to do things healthily, I was human and at times I failed. And it's clear I failed BIG TIME sometimes! But what I tell my friends now who are facing divorce is that your children will not always understand what's going on—and neither will you all the time. But your kids don't have the life span on this earth to understand. Until they do, they need your sympathy and support, not their shoulder to cry on."
There's a big difference between signing an agreement and healing your heart
"To help you stay organized,' says Penny, a woman married for more than twenty-two years, "It can help if you think of the emotional journey through divorce like a roller coaster. And then outside the game park, your legal process. There's a really big difference between the two, and it's important to keep them separate. This means doing something for your emotions when you are triggered or upset or falling down. You got to find a safe place to go. Like my therapist was my godsend. And separately, you've got to look at the business transaction of the divorce and use a completely different part of your brain when you are making smart decisions there. Don't lead with your emotions in the business transaction!"
Let go of "right" or "wrong"
"Stop trying to view your choices as right or wrong," counsels Marcie. "The best decision making in divorce, is often not a question of what is right or wrong but what makes the most sense, what seems like the healthiest approach. Once you realize this, you become much more comfortable with the gray in life and a better problem-solver!"
There are great people waiting for you
An exciting, whole, new community of people are waiting for you. They understand what you've been through (they've got quite a few good stories of their own), but they don't want you to stay wallowing there. They want you to step into your new chapter like them, and to keep learning, to keep living. Let's start creating that life right now.
Stop listening to people who don't know
There's nothing wrong with you if you don't want to date after divorce. Don't listen to your well-meaning friends, family, or annoying neighbors who urge you to "get back out there" if it doesn't appeal to you now or ever. You've got a million other things to think about, feel and enjoy.
Your best days are coming
"I am convinced the biggest most expansive moments, happen post-divorce," says Jennifer who has moved to a new country. "I had no idea how finding out about me on a soulful level would automatically translate into my finding more and more situations that inspire me. I am not sure if it's because one is more grateful or aware, but listening to who we are, becomes self-fulfilling!"
You will learn much more
You know how you feel tired these days? How you feel like an old dog who could not stand to learn anymore tricks? "Well, I've got news for you," says Deshum. "As tired and baked as you might feel now, you can and you will still learn new things! It's called adaption, and Charles Darwin knew it's important for you to learn, change and adapt so you can stick around. So get excited because you're going to learn to Tango!"
Love is there
"Some of us are hurt. We're wounded," shared Maria quietly. "We don't know what to think of love, or if we will ever want a part of love again. I know I never thought I'd be in a relationship again. I just wasn't interested. After my divorce, I was building my business, and working so hard. I honestly wasn't interested even in dating…But then, love suddenly happened. Out of the blue! As if to remind me that love existed before my marriage, and during my marriage. And yes, it exists still…after divorce. Watch out, because love can find us."
Ongoing support
Change the course of your life — AFTER DIVORCE!
Join us for Paloma's Group™ and learn the Art of Reinvention.
For newly independent women, post-divorce, be in community with other women like you.
Over the course of 7 months, each virtual class ​will bring us together, building on a core theme required to ​design the life you deserve. In between, you'll take actions steps, connect with Sister Partners, meet with professionals, and come together as a collective during our fun (and deep!) Paloma Socials.
Read more on how you'll grow and how connecting with other women helps you heal.
But don't delay your connection. Schedule a free 15-minute chat to explore (and experience) what Paloma can do for you. Our next cohort is starting soon.
"It's simple. We choose not to do it alone." ~ SAS for Women
*At SAS for Women, we respect same-sex marriages, however, for the sake of simplicity in this article we refer to your spouse as a male.