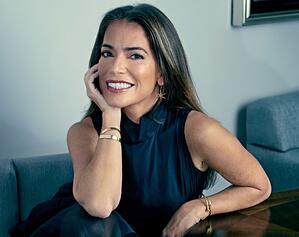 A Quick Online Divorce: Is It Right for You? Interview with Celeb Divorce Attorney Laura Wasser
Divorce is probably not one of your Pinterest boards, but given the hefty cost of dissolving a marriage, a DIY divorce is an option that could save you thousands of dollars, giving you a financial springboard into the next phase of your life instead of opening a drain under it. When you consider that the *median savings account for American households is about $11,700 and the average cost of an "attorney handled everything" divorce is about $11,300, it's a simple comparison to make, but it's also a complicated and emotionally fraught equation and, at first glance, a seemingly impossible choice.
It's not impossible, but it is tricky. Online divorce options are not for everyone. They are best for people who get along with each other well enough to communicate throughout the process, keep it uncontested, and have a handle on what they want for themselves.
SAS interviewed divorce attorney Laura Wasser about why she is now offering quick, online divorce as an option for her clients.
Q: Who are the best candidates for an online divorce?
A: "The best candidates  are couples who can exchange information and reasonably negotiate on issues like child custody,  spousal and child support, and division of assets and debts," said Wasser, who has handled high-profile divorce cases for Maria Shriver, the Kardashians, Ryan Reynolds, and Stevie Wonder.
With 20 years in the field of family law, Wasser established It's Over Easy (IOE), a quick online divorce option that enables people to have some flexibility within the platform, offers customization state to state, provides referral resources and help with filling out the forms.
Q: Can one have a private consultation with an attorney and then use her advice to complete the application?
A: "We structured It's Over Easy so that if  people need to take a break from the process,  consult with an attorney or mediator,  and come back to the site once they have gotten the information or the necessary arguments, they can do so," said Wasser.
What to be careful of…
As with any DIY project, with a quick online divorce you will be learning by doing. Check-in with yourself. Are you genuinely up for the task or learning what you don't know? There is research and leg work involved, not just about choosing the right online platform and what they offer, but about the legal requirements particular to your state, county, and household. One of the biggest mistakes people make in the online divorce arena is not doing enough research to make sure the right steps are taken, to make sure they're taken correctly, and to navigate the to-do list well enough to negotiate a fair resolution that works, especially for them long-term.
When you are going through a divorce, you don't know what you don't now. Chances are you've never been here before. So be careful of not rushing through a document so that you are "done."
You may not have treated your marriage like a merger and your household like a business, but preparing for a divorce is a good time to adopt that attitude. It doesn't mean you have to play an aggressive game of hard ball, but it does mean you have to maneuver and make decisions based on numbers, logic, and a realistic approach to what you need to live, not on romantic ideals or emotions. And it means you need to look out for yourself—not yourselves as a "team."
Q: What are the most important things to be aware of in the divorce process, and how do they relate to doing it online?
A: "Anything you can resolve on your own," said Wasser, "is better than having it litigated."
"We built this platform so individuals could use mediators or family law attorneys, or divorce coaches. But we also really wanted to make sure that there were referrals to such professionals. I have done the research and found that many of the other  online  divorce services simply provide forms  but no assistance in filling them out or resources or referrals that you can turn to if you hit a wall."
Penalty of perjury and transparency
If you are not the marriage partner who has been the bread-winner or in charge of the bills, budget, and retirement planning, you need to be prepared for a steeper learning curve, and for the solid possibility that your (Ex) spouse may not want to be as transparent about what they've been doing with "the books" as they should be—even if you do get along. He* is probably savvier about things like where to file, and if he has assets to protect, he knows how to hang onto them.
So a big question to ask yourself is, are you getting all the financial information you need? And who is helping you evaluate your financial choices? If you're not experienced with finances, you need someone you can trust (not your spouse) to help you evaluate what's truly fair.
Of course, you can fill out the financial forms on any online platform, but you need to make sure you have fact-checked and been appropriately guided on what is best for you financially.
Q: How do you complete the financial information on the forms if you know nothing about the finances?
A: "In many  cases, the forms and disclosures you each complete will almost mirror each other because the family only has a certain amount in income or assets, which have to be accounted for on the more knowledgeable spouse's forms, as well.  All are filled out under the penalty of perjury, which helps keep people honest," said Wasser. "But it is fine to seek help from someone on the outside who can coach you through the negotiations."
An expert third party with a well-versed eye on the significant financial and emotional cost of litigation can help you make sure that what you are agreeing to makes sense for you,  not only now, but 20 years from now.
Q: What do women in particular need to be careful of?
A: "Women, be wary of being taken advantage of," said Wasser.  "It seems that, whether we're the breadwinners or not, often women feel  it is our duty to be the caregivers. This extends  beyond  our children and sometimes to our prospective Exes. There is no reason to be bullied into a settlement to which you cannot  adhere.  Make sure that you put your emotions aside and handle this as a business transaction."
Q: If you are dealing with high end clients, why start a quick online divorce option?
A: "Creating It's Over Easy, and providing online support and availability for people to work through the process on their own and save time,  money, and aggravation is extremely important for me," said Wasser, "as I see the outdated ways of practicing family law negatively impacting our children. With the landscape of divorce changing comes new and outside-the-box thinking and ways for people to move onto their next chapters."
Jennifer Bent is a freelance writer, former print journalist and feature writer living on the West Coast. Nicknamed Verbose at a young age, she loves word craft but has to keep a short leash on her fondness for the profane. Jennifer enjoys compelling content and the liberty to write about interesting contributors and innovative ideas. Connect with Jennifer at verbosej@hotmail.com 
Since 2012, smart women around the world have chosen SAS for Women to partner them through the emotional, financial, and oft times complicated experience of divorce. Schedule your FREE 15-minute consultation with SAS. Tell us confidentially what's going on, and regardless of your working further with us or not, we'll give you black & white feedback, resources and suggestions for your next steps.
*(Statistics on average American savings accounts and the average cost of attorney-handled divorces were gleaned from CNBC.com and NOLO.com, respectively).
*We support same-sex marriages. For the sake of simplicity in this article, however, we refer to your spouse as your "husband" or a "he."