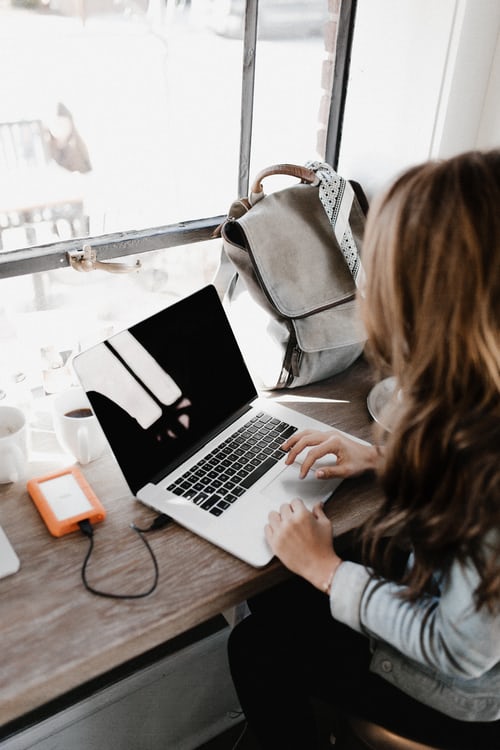 Get the Support You Deserve But Exercise Caution with Divorce Support Chat Rooms
There are so many reasons women turn to divorce support chat rooms. Divorce feels isolating. It can feel terrifying to open up to others, but when it's the right person, it can also feel like taking a deep breath after a long time spent underwater.
It's natural for women to seek out the solace of other women. You may have more friends and family than you can count or you may have come out of your marriage realizing just how many people you've left behind—either way, entering a divorce support chat room offers the chance to tap into a community of people who understand exactly what you're going through.
But as with most things on the internet and in life, there are two sides to every story. Exercising caution in these chat rooms is crucial.
Reaching out to others from behind a screen feels safe
When you talk about your divorce with friends and family, it's not always easy to be that honest. You might be afraid, rightfully so, that your loved ones will judge you or your Ex, who may still be a big part of your life, especially if you have children. Your friends and family will often have opinions you never asked for and questions you can't even begin to answer. Did you decide this together? Have you tried everything to save your marriage? What exactly? Aren't you mad? I know in my marriage I just had to …
Your loved ones are (usually) well-meaning, but their entire perspective is limited by which aspects of your relationship you chose to show the outside world. And as we know, that's not the full picture of your marriage. But beyond that, you won't have the answers, or maybe, you'll have too many answers. And as well, it's hard for your friends and family, who are not experts to hold back on their own stories, judgement or agendas.
If you are dealing with divorce and feeling frustrated or disappointed by friends and family (especially as you approach the holidays, maybe with dread!), you might prepare a script for yourself — one that blocks their questioning, but kindly: "You know, Karen, thank you for your interest in hearing what's going on. Let me assure you, I'm working on myself right now and if I think of a way you can be of help I will let you know. How are your cats?" You can redirect the conversation away from your divorce. You don't owe anyone anything, after all. Or, you can simply go online.
Divorce support chat rooms feel private and safe. By definition a "chat room" is a space on the internet that allows users to communicate with each other, typically limiting the conversation to a particular theme. Search Facebook for divorce support groups for women and countless choices will appear in front of you. Most, if not all, are not public. You have to request to join the group, and once accepted, it feels comforting to see other women posting about their own divorces—their stories might not be the same as yours, but you can see glimpses of yourself in them anyway.
Places like Reddit Divorce are full of people anonymously asking others for divorce advice, too, and because those responding are strangers, it can feel like the conversations are more honest than those you might have with someone who actually knows you in "real life."
But do you want to simply chat about your pain? And take in the anguish of others? Do your homework to find out which type of online support you really want.  Perhaps what you are looking for is something that allows you to share but also provides traction or structure to move forward and do SOMETHING with your pain so you get to a better place. This action could be doing something with your emotions or taking critical legal, financial, or practical steps. For especially these reasons, it's important to research what kind of online divorce support group is best for you.
The downside of easy access
Not all divorce support chat rooms and groups are the same. Many are unmoderated. Others are facilitated by professionals from large organizations with a standard set of materials to work from, leaving little room for addressing the specific needs of individuals. And other groups have their own personality, combining educational steps, guidance and support.
One problem with online divorce support chat rooms is that many of the conversations you have aren't guided. They are full of other people who are struggling and hurting just like you—people who might not be in the right headspace to offer you the kind of advice that will help you move forward with your divorce recovery.
Women first enter these groups to vent, but the venting can quickly turn into endlessly reliving of your trauma and that of others. Instead of feeling better about your situation, you end up spinning and wallowing, comparing your marriage to others and searching for meaning and connections. Does it really matter who's at fault? Is that a riddle you can even solve?
What if instead of looking for answers that still won't change your reality, you worked on finding yourself? You need a professional to facilitate your conversations and direct your energy so that you can release it and reach a better place.
You can revisit and tell your story until you turn blue in the face and grow sick of hearing your own voice, but if the person you're speaking to can't tell you which direction and steps are right for you specifically — "right" meaning healthy and smart — then you aren't getting the help you need. And you may only be reinforcing your spin cycle or your painful status quo of knowing and doing what you already know.
Putting an end to conversations that go nowhere
An expert, like a therapist or a divorce coach, is trained to guide you through conversations with specific goals in mind. If you need true and lasting divorce support, be selective about whom you reach out to.
When you're looking for a divorce support chat room or group, do your research. Be aware that there are people out there who lead programs without proper training. The group you participate in should not simply be an endless series of conversations where each person takes her turn to complain about her life and funnel negative, contagious energy. Are you learning and growing? Chances are great that this group format is not serving you and is a waste of your time. Ask yourself, do you have a lot of energy to spare right now?
Getting support when you need it is good and positive and necessary. When we bottle up our emotions, they weigh us down. The world feels heavier and darker, and we can get lost in our own sadness, unable to see a way out. But if the support you're getting isn't the right kind, then conversations move sideways instead of forward. They feel circular, and progress is halted.
Believe us when we say that you have so much life left to live—your best memories are not behind you. They are in front of you! Now is the time to step outside yourself. Indulge in some self-care. Take up kickboxing or find a local hiking group. Find your way back to an old hobby or explore new ones. If you are recreating after divorce, join a productive women's divorce support group to find other people ready to heal and move forward. If you are in the confusing state of not knowing if you should divorce, or are beginning the process, find the right group that focuses on the legal, financial and emotional needs you have in this stage. It's healthy and natural to reach out to others, even in a divorce support chat room, but the wrong kind of help can lead you to the wrong place. You need a leader to guide you, as you create a genuine vision of what healing looks like for you and the concrete actions steps you must take to get there.
Since 2012, SAS for Women is entirely dedicated to the unexpected challenges women face while considering a divorce and navigating the divorce experience and its confusing afterward. SAS offers women six FREE months of email coaching, action plans, checklists and support strategies for you, and your future. Join our tribe and stay connected.
"Divorce can be on your terms, one step at a time." ~ SAS for Women.