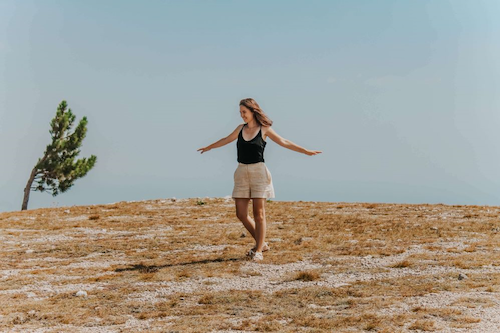 What Does Finding Ourselves After Divorce Mean & Is It Actually Possible?
The concept of "finding ourselves" crops up time and time again in life. When you're a teenager getting to know yourself, when you're exploring your tumultuous twenties (and possibly completely reevaluating that teenage version of yourself you invented), and later on in life, when you experience a life-changing event like divorce.
We are often told as divorcees that the end of our marriage is a good opportunity to really "find ourselves" and connect with our inner selves. But what is the intention behind this saying? Is it just a useless platitude meant to reassure us that there is a larger meaning to life, or is it a zen-like state of self-awareness that is actually achievable?
In this post, we'll be taking a closer look at the idea of finding ourselves after divorce, asking ourselves what that really means, and discovering whether or not it's even possible.
Being comfortable spending time with yourself
When you're married, you spend a lot of your time as one half of a whole. That's the thing about married life; whether you have been together for decades or just a few years, whether you have children together or not, your lives become intertwined. It can be hard to remember where one of you begins and the other ends. You start to ask yourself questions like, do I even like hiking or bowling or any of the other activities I once did as a couple, or do I just think I do because my husband does? Why do I keep putting off x, y, or z? Do I actually like the person I've become? When you are forced to see yourself through your own eyes instead of someone else's, your entire perspective can shift.
As a divorced person, you go from being constantly with someone else—if not physically then at least consciously having to take that person and their thoughts and goals into consideration—to being on your own again. And this transition can be extremely difficult. After all, the person you once shared everything with is no longer there by your side. Add in all those questions cycling through your mind, and it can feel a bit like an identity crisis.
In this situation, it can be tempting to either hide away from society completely (thus becoming intensely lonely) or bury your problems by surrounding yourself with the hustle and bustle of everyday life—like white noise that drowns out any pain or loneliness you may be feeling. Some people throw themselves into crazy behaviors as a means of experiencing their new, wild freedom.
Instead of doing this, seek comfort from yourself and find it within. It's so important to be comfortable spending time with yourself, whether it's for the long term or if you end up in a new relationship. Regardless, you need to be happy living your own independent life with your wellbeing at the center of everything you do.
Go to the movies on your own; go out for dinner and relish in your table for one. Have fun and enjoy your own company. Run yourself a relaxing bath, pour yourself a glass of wine, and settle in with a good book. Start to view your time on your own as a luxury; don't let it pass you by. There are hundreds of things you can do as a newly-divorced, independent woman. When we talk about finding ourselves after divorce, this is how we get there.
Being happy with every aspect of you—including your body
Finding yourself means being comfortable and confident in your own skin, feeling free and happy enough to do whatever you want to do.
Becoming content with every aspect of yourself—including your body—is a tricky thing to achieve if you're going through or have gone through a divorce. If the reason for the breakdown of your marriage is infidelity on your Ex's part, then it's all too easy to feel like your body isn't good enough. It's not skinny enough or curvy enough or young enough.
---
Read How Long Does It Take to Get Over a Divorce? And 4 Signs You are on Your Way.
---
Or maybe it's that you went into your marriage during a different time of your life. Back then, you were younger and your body looked different. Maybe it was before you had children. It's no secret that childbirth changes our bodies, and many women struggle to deal with their postpartum body and find themselves beautiful again.
Embracing your mom figure and seeing the beauty in your body again can be tough, especially if you're going through a divorce as well. Perhaps you've put on weight, or your mom tummy won't go. Or maybe you're self-conscious about your stretch marks.
Whatever your body hang-ups, underwear brand Knix is helping to challenge these self-hating thoughts and celebrate mom bodies with their inspiring Life After Birth Project. Partnering with online initiate The Empowered Birth Project and doula collective Carriage House Birth, Knix has launched a powerful visual project celebrating the strength and beauty of postpartum bodies.
As this project shows, finding happiness with your body isn't about looking to the past and aiming to get back to the previous version of you: it's about redefining yourself. Celebrate where you are now and what your body has achieved, whether that is growing and nursing healthy children, staying active and healthy, or carrying you through life's challenges. You are fabulous and so is your body.
Making sense of your past
Making sense of our past is an important stepping stone to finding ourselves after divorce. It helps you to understand yourself, your behavior, and your actions more, which is what really helps us to define ourselves.
It's not always easy to make sense of your past—especially if you've been sharing that past with your Ex and you are no longer together. Looking back at our history can be hurtful and challenging.
For many of us, we got into a relationship with our Ex (or Exes) at a completely different stage in our lives—and sometimes, very very young. Maybe too young, even. Perhaps this "forever" relationship papered over some cracks in your life that you haven't thought about in a long, long time, such as your upbringing. Whatever happened in your past, now is a good time to make sense of it all. By doing so, you will start to understand yourself wholly and do the work that is deeply necessary for your divorce recovery.
This could be your own solo exploration of your past—perhaps writing a journal to become more self-aware or doing exercises involving looking back on your memories and previous life without anger or bitterness. You may even find fondness and gratitude, but if this is too hard, then at least try to find neutrality. The rest will come with time.
If you are struggling to make sense of your experiences and feelings from before, you might want to speak to someone. A kind and trustworthy friend or family member may help, but sometimes the most help we get comes from people removed from a situation—that perhaps don't know you or your past that well—like a therapist. They will help you explore and make sense of your past safely, helping you find peace.
Recognizing your own power
Ultimately, finding yourself comes down to feeling fulfilled because you found the courage and the power within yourself to create the person you always knew you could be.
Think about what you want and who you really want to be, and recognize your own power to make this happen. You are in control of your life and your fate.
Sometimes, this means getting out of your comfort zone and trying new things. After all, if you're going through the same old routine every day—going to the same job, eating the same food, and coming home to the same evening staying in and watching television—you're never going to grow and challenge yourself.
Give yourself time and permission to try new things: take up a new hobby—something you've always wanted to do, like painting or dancing. Push yourself to meet new people. You'd be amazed at the new friends that come into your life when you're going through a big change like a divorce. Of course, life is all about balance. By all means, be a thrill-seeker and experiment, but remember to be reliable for the sake of your family.
Putting yourself into new (and sometimes challenging) situations gives you a chance to grow, explore yourself, and most of all, have fun.
Life doesn't stop just because you are divorced. Your new life begins—and it's full of possibilities and excitement. Remember, you have the power, and recognizing this brings you a step closer to find yourself and finding fulfillment.
Finding ourselves after divorce means feeling content and fulfilled by the person we are and the life we lead. And the great news is that it is definitely possible.
In fact, it's actually one of the positive side effects of going through something as huge and life-changing as a divorce. This is your chance to really connect with your inner self, recognize your power, and make changes to your life that will give you true happiness and confidence. Maybe finding ourselves after divorce isn't so much about dusting off an old version of yourself or even inventing a new persona so much as having the courage to redefine your reality.
About the author: Kayleigh Alexandra is a writer, editor and influencer coordinator that regularly pens lifestyle advice for a range of inspirational brands and thought leaders around the world. Follow her work via Twitter @MentionMeio.
Whether you are considering a divorce, navigating it, or recovering from the challenging experience, one thing we see making a significant difference for women is the conscious choice to not do divorce alone. Since 2012, smart women around the world have chosen SAS for Women to partner them through the emotional, financial, and oft times complicated experience of divorce.
SAS offers women 6, FREE months of email coaching, action plans, checklists and support strategies for you and your future. Join our tribe now.