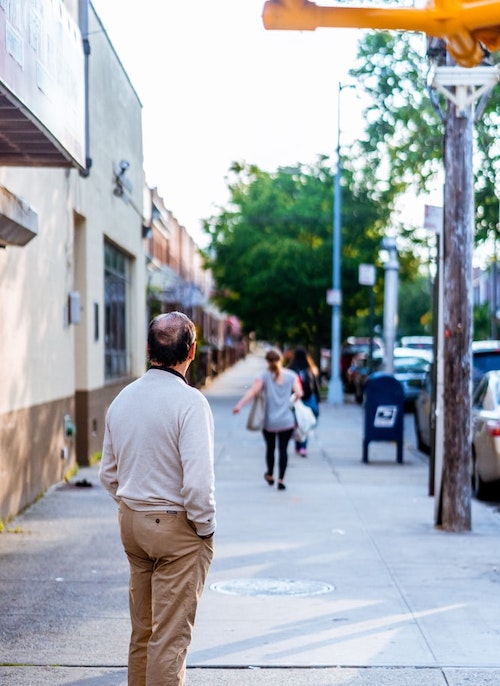 If we're trying to understand why women leave men they love—often digging up their roots after years of emotional cultivation—maybe we should first ask what we're seeking from a long-term, committed relationship to begin with.
Both women and men seek marriage and other forms of partnership. The search isn't exclusive to those of us with two X chromosomes, as if we were anglers trying to coax a wily trout who'd rather not be hooked to bite our line. We are attracted to stability and certainty, and when we find it, the relationship can benefit not only our mental health but our physical health as well. In a recent report, Harvard Health Publishing cited a 2010 survey of 127,000 American adults that found married people, overall, are healthier when compared to the unmarried, divorced, or widowed. "People living with unmarried partners tend to fare better than those living alone," the report said, "but men living with their wives have the best health of all."
The long-haul nature of marriage gives both people time to get used to each other's responses to life's smaller hiccups and larger catastrophes. Ideally, we already know each other by the time we get married or buy a house together. It's one of the most important bets we ever place—predicting a future based on someone else. But within the (presumably) lifetime scope that marriage offers, we have time to understand each other and respond symbiotically. In other words, we learn to make choices that benefit both ourselves and our partners.
That healthy emotional ecosystem is what we're trying to create when we enter into a marriage or long-term partnership. Like any good ecosystem, it takes time, cooperation, and the health of all its life forms. So why do women uproot themselves from relationships they've invested so much of themselves in?
Women leave when the emotional ecosystem they're living in stops supporting their growth or, from a lack of satisfaction or unhealthy communication patterns, when both they and their partner begin to toxify the relationship's soil. We can outgrow relationships or, more alarmingly, the partner we thought was compatible can turn out to be a kind of invasive species, choking out our nutrients to benefit themselves exclusively.
In asking the question of why women leave men, we hear a lot of different answers. From the women I spoke to in person to the perspectives I found online, the answers ranged from the clear-cut to the complex. But generally, they all funneled down into a few categories.
The invasive partner
This is the kind of relationship that might have us wishing we would have never trusted the person with our well-being, and the sooner we can pull up and move to new ground, the better. (Although, it's important to note that people don't always set out to do harm or suffocate but do so from a lack of self-awareness: their behavior isn't always malicious.)
These women give answers like, "he started controlling me through finances," "he was cruel," or "he told me I'm not smart enough." Often the attempts to cut or burn are less obvious, too. An insecure spouse can use passive aggressive behaviors (a raised eyebrow, a smirk, a tone, sarcasm, etc.) just as easily as a fist, and these methods are much more difficult to detect. They wound while avoiding responsibility or visibility, which makes them harder to fight and harder to get protection from.
This might be a good time to point out that men are not always the "invasive plant" in this scenario. Women can be as well, and a good example of how we can inadvertently allow a strength to create a weakness is in our well-touted ability to talk (women are said to speak up to 13,000 more words than men every day). It stands to reason that some of us could learn to listen better. (For those of you who have trouble using your voice or standing up for yourself, please ignore this). Women often speak of wanting to be seen and heard, but do we want to hear men on their terms? Self-expression is critical and our ability to speak our minds is something to be proud of and foster in our children, but we do need to take care not to drown our men in words—or to use language as a weapon.
Growing too far afield
Sometimes we start branching out in a new direction in our work, a new project, or in our own self-development. It may also be the most positive reason women leave men, not only because we've already got some forward momentum going and something to look forward to, but because it's no one's fault. This makes it easier on both people—the person leaving the partnership doesn't feel as guilty and the person remaining might be less likely to have the "I wasn't good enough" blues playing in their head.
Growing big or growing up while our partner does not
Women who leave for this reason give answers like, "I got too successful in my career and my husband couldn't handle it" or simply "I was too happy for him to be around me." Or, sometimes, "I got tired of working the same number of hours at my job and then coming home and being the only one who was taking care of the household chores."
If our partner isn't listening to our requests for help around the house, with the kids—basically, if they don't want to contribute equally whether it's financial or not and we keep reaching for our best selves (as well we should)—eventually we will outgrow them.
The emotional ecosystem stops supporting our growth
Simply put, things stagnate, dry up, or through the accumulation of too many disappointments and miscommunications, we toxify the soil. For a while, this is avoidable, especially if both partners are willing to work on communication. But we can and do reach a critical mass, and women—who are twice as likely to file for divorce as men—often decide enough is enough.
These women give answers like "he took me for granted," "there wasn't any romance anymore," or "he cheated."
I was part of a conversation recently where a group of women were advising one friend on how to decide whether or not to leave her man. They told her to make a list of pros and cons, and if the cons list was longer, she should leave him.
We hear gardeners talk about soil ratios for certain plants—likewise, some of us thrive in different environments. We have our own styles of communication and our own ideas about the life we want to lead. Relationships are about balance. You will have both positive and negative interactions with your partner, and even the latter can be healthy as long as they don't begin to overshadow the rest of your relationship to the point that you can't remember the last time you laid eyes on the sun.
So, make your pros and cons list, do some research, listen to your man, go to counseling, or talk to a divorce coach to find out what you're in for before you act. If relationships are like a garden, then pay attention to how you feel being planted in that soil. Are you wilting? Are you stretching your face towards the sun? It may be time to let go of the past, of what your relationship could or should be, and focus on what's right in front of you. Divorce is a big decision, but you may find that it's the right one for you and your family. Life after divorce, women often find, is better than they could have imagined.
Jennifer Bent is a freelance writer and former journalist living on the West Coast. Nicknamed Verbose at a young age, she loves word craft but has to keep a short leash on her fondness for the profane. Jennifer enjoys her cat's input on her rough drafts (talk about snark) and the freedom of being her own partner. Connect with Jennifer here.
Since 2012, SAS for Women is entirely dedicated to the unexpected challenges women face while considering a divorce and navigating the divorce experience and its confusing afterward. SAS offers women six FREE months of email coaching, action plans, checklists and support strategies for you, and your future. Join our tribe and stay connected.
"Divorce can be on your terms, one step at a time." ~ SAS for Women.