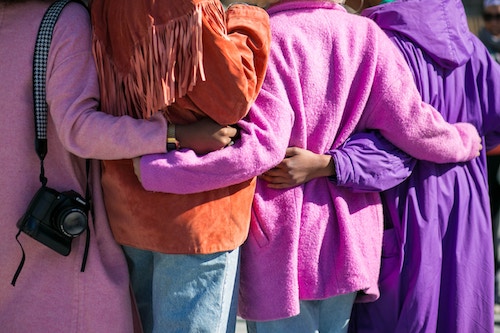 What All Divorced Women Have in Common
Years ago, when I was still shell-shocked from learning of my husband's infidelity and angry that I had become a divorced woman, I went out to dinner with two friends. Both were divorced women, so we had that in common. But one was talking easily about co-hosting her son's graduation party with her Ex and his new wife—the woman he'd left her for.
She barely even rolled her eyes when she said his name!
I couldn't believe it. "How can you stand to be in the same room with him?" I asked, thinking of my own Ex-husband and the knot of dread and anxiety I felt just seeing his name pop up on my phone.
"It's been five years," she said. "After a while, I stopped caring about the past. You'll get there too."
She said this casually, with so much assurance, that I felt I had to believe her. But how could I?
I couldn't imagine a day when I could be civil to my Ex
And I considered this pretty normal. Certainly, my other girlfriends who were newly divorced weren't planning parties with their Ex-husbands. Like me, their scars were too fresh. They were still reeling from divorce fallout that seemed unending: Sandy was constantly facing her Ex in court, while Roxanne's Ex refused to see or speak to her for more than a year. Linda was grieving not just the loss of her husband but the loss of her best friend, with whom he had an affair. Katie, in her sixties, had given up her retirement plans and savings for her second husband only to be abandoned and forced to navigate the harsh realities of a "grey divorce."
What I knew for sure was that my friends and I, and many women like us, had been thrust into situations we never asked for.
As divorced women, how could we stop caring about the past when the past wouldn't leave us alone?
I gave this a lot of thought. And I kept hearing my friend's confident voice saying, "You'll get there too."
---
For more suggestions on how to move forward, check out What to Do After Divorce: Your Top 15 Best Moves
---
Then a funny thing happened. The more I thought about the past, the more I began seeing it through a different lens. In the same way that I had never imagined getting a divorce, I'd never imagined doing other challenging things, like not getting permission from the judge before moving my children to a safer, less expensive apartment. Or buying my own car without consulting with my Ex. Or enrolling in a course to become an energy medicine practitioner. Or learning to say no (full stop!) when my Ex tried to control my life.
When I focused on all the strong, independent moves I made throughout my divorce, the past didn't seem so suffocating. In fact, I saw that I actually came through my divorce with the best gift imaginable: I met the best version of myself.
And this has been true for my friends too. We have something wonderful in common.
Divorced women have a secret superpower; it's the strength to rise again
Not all of us look wildly successful on the outside. All of us still face challenges and struggles, but we share an inner strength that we never knew existed.
Here's what that strength looks like:
Sandy spent so much time in court that she connected with someone who offered her a job as the office manager of an all-female law firm.
The extended cold shoulder Roxanne got from her Ex gave her the space to meet an amazing new partner.
Linda kept loneliness at bay by focusing on her education and career. She earned a doctorate degree and became a department head at a Big Ten university.
Katie, like me, wrote an award-winning memoir about surviving divorce.
Now, when I meet someone going through a divorce, I want to be the one offering assurances. I want to share what my friends and I have learned. I want to take that baffled, disbelieving woman gently by the shoulders, look her in the eyes, and tell her to have faith.
Divorced women are the strongest women you'll ever meet
A divorced woman knows that the best version of her has gone ahead and is pulling her forward.
A divorced woman has earned a seat at a table loaded with resilience, clarity, wisdom, and freedom. And yes, it's the very same table where she may, one day, have dinner with her Ex and her Ex's new wife.
And it will be no big deal. I promise.
Tammy Letherer is an author and writing coach. Her most recent book, The Buddha at My Table: How I Found Peace in Betrayal and Divorce, is a Gold Medal Winner in the Living Now Book Awards and in the Human Relations Indie Book Awards. It was also a finalist in the 2018 Best Book Awards and National Indie Excellence Awards. 
---
Change the course of your life — AFTER DIVORCE!
Paloma's Group™: Learning the Art of Reinvention.
For newly independent women, post-divorce. Over the course of (only) 3 months, each live-coaching, online class ​builds on a core theme required to ​design a life you deserve. Schedule a FREE, 15-minute coaching session to explore (and experience) how this remarkable group of post-divorce women will plan and act on creating a life they love.
We promise — whether you join us for Paloma or not  — you'll walk away from your complimentary coaching-session discovering a next step in your unique After Divorce journey. 
"We choose not to do it alone." ~ SAS for Women
* At SAS we respect same-sex marriages, however, for the sake of simplicity in this article we refer to your spouse as a male.