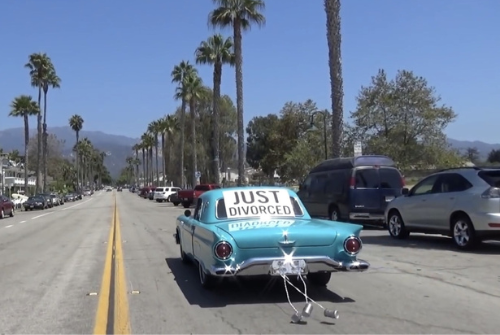 What's the Difference Between an Uncontested and Contested Divorce?
When most people think of divorce, they think of conflict. After all, that is the image of divorce that we see time and time again. According to pop culture, it seems like the only way to call it quits is to engage in an expensive, lengthy, and stressful fight in which nobody really wins.
According to the CDC, America's divorce rate has declined (in general) by 27.5% between 2000 and 2018, but it's still a common enough experience, especially if you are a woman of a certain age. So, shouldn't we find a better way to break up?
There are lots of great ways to skip the epic court battle in favor of a more peaceful approach. No matter the method, they all come down to one important key term: uncontested divorce.
What is a Contested Divorce?
Before we get into the details of uncontested divorce, let's learn a little bit about contested divorce. This is the model of divorce which the uncontested ethic seeks to avoid.
Before your divorce is finalized, you and your Ex will need to figure out what to do about issues like property division, alimony, child support, and child custody. Sometimes couples begin the divorce process with a spirit of compromise, but often divorcing couples face major disagreements.
A contested divorce is when a divorcing couple is unable to reach a mutual agreement and therefore relies on a judge or arbitrator to develop divorce terms that are fair in the eyes of the law.
In general, contested divorce should be a last resort. It tends to be a more expensive, lengthier, and more stressful process than developing your own settlement agreement.
However, if your relationship with your Ex remains extremely adversarial despite your best efforts, then contested divorce is the best and only way to dissolve your marriage and begin the next phase of your life, a phase that may be more exciting than you can possibly imagine right now.
What is an Uncontested Divorce?
When a divorcing couple manages to reach their own settlement agreement, either by themselves or with the support of legal counsel or a divorce coach, they avoid needing a judge to make the important decisions. We call this an uncontested divorce. This means your and your spouse (or team) successfully negotiate divorce terms like child custody, child and spousal support, and the division of shared debts and assets.
There are a lot of reasons why an uncontested divorce is often the better option. For starters, it's usually a lot less stressful than ending up in court.
It also tends to be faster than contested divorce, because you aren't at the mercy of an overloaded court system. Because less time means fewer billable hours, uncontested divorces are also usually a lot less expensive than their contested counterparts.
Finally, when you opt for an uncontested divorce, you and your soon-to-be Ex retain a lot more control. The two of you have the final say in the terms of your divorce, and nothing can happen without both of you signing off on it. This can be especially important for parents, because it can be really hard to accept a stranger making decisions about your child.
This probably sounds really appealing, but is it really this easy?
As it turns out, you don't actually have to like your Ex in order to cooperate with them.
How Uncontested Divorce Works
Uncontested divorce doesn't mean that you and your spouse have to agree on everything right off the bat. Initially, the two of you only have to agree that you both want to make uncontested divorce work. Once that's established, you'll work together to choose the best method for your family.
Some lucky couples have pretty good communication to begin with, they just don't want to stay married. These folks might be good candidates for DIY divorce. This means they fill out paperwork, draft their settlement agreement, and submit to their local court for the final approval.
If you and your spouse know what terms you want but are a bit intimidated by the process, we don't blame you! If this sounds like you, then you might be better off ending your marriage through an online divorce platform.
These services handle the paperwork for you at an affordable flat rate. Some more comprehensive divorce packages will even manage your divorce case from start to finish. This means you won't have to give it another thought after you finish answering their questionnaire.
Uncontested Divorce Support
You can also work with a mediator if you'd like. Mediators usually have a background in either law, psychology or finance, and they are trained to help you and your spouse negotiate more effectively. They cost more than an online divorce platform, but usually much less than a full-on court case.
Finally, you may rely on traditional divorce attorneys who have proven themselves as good negotiators. Hiring an attorney does not mean you are necessarily going to court. What is means is that you are relying on this traditional model to change the status of your marriage. Using a divorce attorney to advocate for you may wise if you have children, assets, or considerable debt.
Regardless of what model you decide upon as you seek your uncontested divorce, at SAS for Women, we recommend that every woman secure a private legal consultation with a divorce attorney (not a mediator, nor a collaborative divorce attorney first) to hear what your rights are and what you are entitled to BEFORE you and your spouse start splitting things up.
Is Uncontested Divorce Right for You?
For some divorcing couples, uncontested divorce is a no-brainer. They can agree on divorce terms immediately, they get along well enough, and they're ready to take on this new project with gusto or determination.
For others, uncontested divorce is a goal to work towards, but they're not sure if they'll be able to manage it. Well, I'm here to tell you that when both parties have the right attitude, this goal is utterly attainable.
When it comes down to it, the key to a successful uncontested divorce is not sweating the small stuff. You shouldn't let yourselves get riled up over every last piece of silverware, or you won't maintain the calm necessary to stay out of court.
Instead, focus on the big things like your home, car(s), and, most importantly, your kids. If you can sort out these complex issues, the rest will fall into place.
---
If you are thinking about or beginning the divorce process, consider Annie's Group, our virtual group coaching program for women looking for support, structure, and a safe community.
---
It can also be really helpful to take a deep breath and remind each other why you want to keep your divorce uncontested whenever you feel tensions starting to rise. It benefits everyone involved when you take a more peaceful approach to divorce.
When in doubt, re-focus on what matters.
If you and your Ex are parents, it might even help to keep a physical copy of your child's photo on the negotiating table. It's nice to constantly have that implicit reminder of why you're doing this. The more time and money you spend on your divorce, the less you have left over for your kid.
Breaking up is almost always a difficult prospect. When you said "I do," you expected it to last forever, and it can be really hard to give up on that dream. It can be hard managing a household alone, or sleeping by yourself, or not seeing your spouse across the dinner table.
However, just because breaking up is hard doesn't mean that the divorce process has to be. If you've been searching for a way to approach your divorce with a greater degree of mutual respect, consider this the sign you've been waiting for.
Notes
Moriel Berger is a Los Angeles native with a background in writing and marketing, primarily in the startup world. She is a J.D. Candidate at Loyola Law School and holds B.A. in Liberal Arts from Sarah Lawrence College. After watching her parents go through a prolonged and painful divorce when she was in her early twenties, Moriel became inspired to learn about more positive alternatives, which eventually led her to join the team at It's Over Easy.
SAS women are those amazing ladies you meet who are entirely committed to rebuilding their lives on their own, healthiest terms. If you are recreating after divorce or separation, you are invited to experience SAS for Women firsthand. Schedule your FREE 15-minute consultation. Whether you work further with us or not, we'll help you understand your next, black-and-white steps for walking into your brave unknown — with compassion, integrity and excitement.