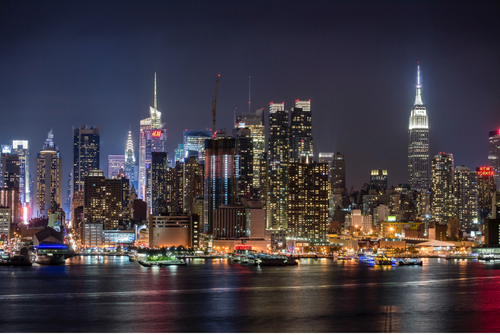 How Much Does a Divorce Cost in New York City?
Preparing for the total financial cost is one of the most critical and daunting factors in planning for a divorce. While the average price for a lawyer-led divorce in the United States is approximately $7,000 – $11,0001 (and usually stems from a more heavily contested case), the national average cost of an uncontested, Do It Yourself (DIY) divorce is $2002. That's a big span.  But where does New York City stand in particular with divorce costs?
How Much Does a Divorce Cost in New York City?
New York City is known for its high energy, high spirit, and high cost of living. This holds true for the high price of a divorce in the city, too. Check out "The Reality of Divorce in New York City" to understand more, but if we compare it to the rest of the state, the Big Apple boasts some of the most expensive legal professionals in the country. New York price averages reflect the large (and expensive) lawyers in metropolitan New York City, therefore a divorce in a different part of the state will likely be lower than the given averages3.
New York City-based lawyers are among the highest-paid in the country. The rough estimate for a lawyer-led divorce in New York City ranges from $13,000 to $25,000 (per person)4 at the base level. For an uncontested DIY divorce, the New York divorce filing fees alone cost $335.5 That's another big spread in costs.
This article will explore your choices for divorce in New York City and unpack how much it may cost you.
Different Types of Divorce
Different types of divorce will cost different amounts. Henceforth, their complexity and the time needed to devote to the case. An uncontested divorce will always cost less than a contested divorce because both parties agree (ultimately) on all aspects in an uncontested divorce. The price of a contested divorce will range based on complexity. Read this article to make sure you appreciate the difference between a Contested and Uncontested Divorce.
As for "how" you will divorce, or which model of divorce to use, there are four main types of divorces:
The Traditional, lawyer-led model (for Uncontested or Contested divorces)

Mediation (for Uncontested Divorces)

The Collaborative Model (for Uncontested Divorces)

DIY (or Do-It-Yourself, for Uncontested Divorces). To learn more about the

4 different types of divorce, check out this article that explains the specific models.
How Much Does a Divorce Cost in New York City for Traditional Divorces?
When you think of divorce, you often think of the traditional model, where a lawyer prepares your case. Most of your expenses in a traditional divorce will come from a lawyer's retainer and trial preparation (if you go to court). In New York State, the average hourly cost of a divorce lawyer is $175-325 per hour.6 However, New York City lawyers tend to be more expensive, averaging $340 per hour,7 but can cost you upwards of $800 or more per hour. This hourly fee is on top of the court filing fee of $335 and the in-court fee for litigated divorces, which is $120 per day in New York State.
Even when lawyers are involved, most divorces are uncontested, which means you and your spouse negotiate through your lawyers and eventually agree on most issues.
An uncontested divorce in New York City will run you roughly $5,500 per person8. This accounts for filing fees, lawyer consultations, and settlement agreements.
If your divorce is contested, meaning you and your spouse cannot agree on the issues and must go to trial, your cost will increase considerably. This is because preparing for court is costly. For a trial based on one issue, expect the price to increase by $16,000-$20,000, and for a trial based on two or more points, $22,000-$27,000. The total cost of your litigated divorce will depend on the complexity of your issues. This includes issues like property division, child custody, child support, and spousal maintenance. 
The average price of full litigation for a divorce in New York City is $50,000 — or $25,000 per person.
Finally, New York is one of the few states that still allows for a fault-based divorce. A fault-based divorce is far more expensive than a no-fault divorce. You can choose whether you want to file a no-fault, which means that your marriage is "irretrievably broken," or a fault divorce, which charges the offending spouse with physical or mental abuse, adultery, abandonment, or imprisonment. Fault-based divorces are far more expensive because they will almost certainly go to trial, and your lawyer must work to discover and prove evidence that proves fault.
Learn about Fault vs. No fault divorce in this SAS piece.
Wonder what "Irreconcilable Differences" are when it comes to divorce? Check out this piece "What are Irreconcilable Differences and Do They Apply to You?"
How Much Does a Divorce Cost in New York City for DIY Divorces?
For a completely uncontested divorce, you might consider a DIY divorce. This is possible only if you and your spouse agree on all aspects of the divorce. and you are willing and able to invest a lot of time and energy into your case. This is because you will be responsible for it all on your own. If this is the case, your main cost will be the New York Court's filing fee. Every state has a filing fee for filing your divorce with the court. This is the bare minimum, mandatory cost of a divorce. The New York City divorce filing fee is $335. This filing fee is added to the county's index number cost. The index number is the number for your case that you put on all the papers before you file (it's like a case identification number). The general index cost in New York is $210.
The absolute lowest cost for a DIY divorce in New York City is about $545 and accounts only for the filing fee and the index fee.
However, because the courts know how difficult it is to perfect the court process entirely on your own, New York offers an online divorce platform to assist you in your DIY divorce. This online system costs about $130. There any many reasons why a couple might invest in a New York Divorce Online service. A service would allow you to fill out the forms wherever and whenever you want, to take your time and be thoughtful with your information, to easily correct any mistakes you might make on the forms, and to have complete control over the process. A DIY divorce is the cheapest and the most personally labor-intensive type of divorce in New York City. Read "How Does an Online Divorce Work?"
SAS Tip: If you have the ability to dedicate time and energy and have an uncomplicated situation, then a DIY divorce is the least expensive option – but we only recommend it if you have little or no assets or debt and there are no children involved.
How Much Does a Divorce Cost in New York City for Uncontested Divorces? (Mediation)
Mediation, rather than litigation, is another option for an uncontested divorce. You might consider meditation if you and your spouse agree on all important aspects of your divorce (think property, child custody and support, and spousal maintenance). Mediation aims to save money by agreeing without having to enter the courtroom or go to trial. In most cases, this option will be far less expensive than a traditional divorce.
The average cost of private mediation in the state of New York ranges from $4,000 – $8,000,9 with New York City being on the higher end of the range.
Typically, mediation costs correlate to how complicated the divorce is (like with traditional lawyer costs) and the number of mediation sessions needed. Mediation fees typically include one to four sessions with a mediator, the preparation of the settlement agreement, and the cost of preparing and filing the divorce papers with the court.
Just like in traditional divorces, the more complex the case is, the more it will cost. The main cost factors in mediation are the number of issues in the case, the complexity of the problems, the cooperation of both parties, and the need for outside experts or specialists. If you use outside support, which is often a good thing, you will want to read this article on how "Hiring a Mediation Attorney in a Divorce Could Save You Money."
Collaborative Divorce
In New York City, collaborative divorces are still relatively new.
Divorce attorneys assist couples in resolving the contentious issues of divorce in a problem-solving manner.
Lawyers negotiate on behalf of their clients and do not prepare for trial, putting them somewhere between mediation and full litigation.
Divorces are typically less expensive than litigation and court battles, but they can occasionally cost even more. The cost of a collaborative divorce is determined by the complexity of the case.
In some cases, you might need to bring in a team of experts, like therapists, financial experts, or child psychologists, to reach a mutual agreement. Adding experts to a case will significantly increase the overall cost. If no additional experts are needed, then you are paying for the ease and peaceful problem-solving nature that accompanies a collaborative divorce.
Tip: If you have children and do not want to subject them to the litigious court process, you might consider mediation or budgeting for a higher-cost collaborative divorce – to keep the peace for the sake of your children.
Conclusion
Divorces are expensive. They take extensive planning and budgeting to ensure you can afford the type of divorce you want for the results you desire. Prior research and understanding of your options will ensure that there are no financial surprises or unneeded lessons learned the hard way. Make sure you advocate for yourself and ask questions before committing to any divorce model or legal process.
NOTES
Elizabeth Newland is a third-year law student in Chicago who is committed to children and family rights. She aims to work in a family-related non-profit firm after graduation. 
Since 2012, SAS for Women is entirely dedicated to the unexpected challenges women face while considering a divorce and navigating the divorce experience and its confusing afterward. SAS offers women six FREE months of email coaching, action plans, checklists, and support strategies for you, and your future. Join our tribe and stay connected. 
*We support same-sex marriages. For the sake of simplicity in this article, however, we refer to your spouse as your "husband" or a "he."
Sources