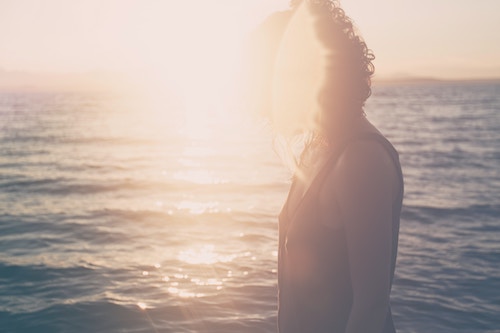 10 Critical Things I Wish I'd Known Before Getting Divorced
When you go through a catastrophe like a life-crisis alone, the ground shakes. You lose your bearings as the tectonic plates of your routine and What's Always Been crack and shift. As you struggle to gain footing, you realize you don't know what else is coming, what else you'll be faced with.
You simply don't know what else you don't know.
Getting divorced is like that, one full-blown life crisis where your "normal" breaks and collides with splintering parts—not only with what's happening outside you with your partner, family, friends and work—but inside too, with your mind, body, and heart in spiraling conflict. Sometimes it seems like stress alone is the only rope keeping these disparate pieces together—stress is the one constant as you try with all your might to get through and beyond.
But once things begin to settle and you start to emerge from the heat and protracted legal process, and you arrive on the other side, starting to live on your own, you often find yourself looking back, instead of forward. For time gives you a chance to search for reasons now, lessons that explain how you got here, and what's more, what's good about this new place, if anything.
Sometimes you'll wish, "Ah, if only I'd known this before while going through my divorce."
Hard-won lessons, below are a few that resonate with me, a divorced woman and divorce coach. Between my personal story and professional experiences hearing from other women, I've learned of many such epiphanies, Eureka moments that only reveal themselves farther down the divorce road. So, for those of you struggling — thinking about or navigating divorce — I share a few as a way of giving you perspective on what else you don't know and can't know based on your today.
Here are 10 essential lessons WE divorced women want you to know … not after the fact … but right now!
1. Eventually "New Rules" will rule
When you live one way for a long period of time—as in a marriage—you forget there are other ways of living. It's a feeling not unlike traveling to a new country or immersing yourself in a foreign culture—you don't realize how trapped you've become by familiar patterns and behaviors, things you can do and things you cannot, until you've stepped off the plane. As I stepped out of a former life, I discovered I'd be letting go of an entire worldview that, consciously or not, had been dictated by my Ex. That worldview (even my rebellion to or acceptance of it) had dominated my life. Until it didn't.
After getting divorced, I could begin again. I could create and make something else, a world ruled by my values. A place of peace, laughter, and the occasional shrimp cocktail (my Ex was allergic to shell fish). A place where I wanted to live. A place that genuinely existed. A place where there were New Rules.
2 . Don't strictly rely on a lawyer
Diversify your insights. Get feedback from various strategic people as you go through your divorce. It's too easy to get caught up in your own emotions and to keep telling your story the way you always have. The story can become like cinder blocks tied to your feet, dragging you down and preventing you from moving forward. Make sure you speak to multiple someones—who can help you understand the process (the legal, the financial, AND the emotional journey)—so you protect and take care of yourself. People who understand divorce can make the burden you're carrying feel lighter and make you feel less alone. They can help you see what you are unable to see, or even know what to look for.
Even more importantly, take steps to do this in the healthiest possible way so you and your family will heal. This means knowing whom it's okay to unload on and how much they can realistically handle before you overstep. Your friends, family members, and colleagues might be great shoulders to lean on, yes, but they are not therapists or divorce coaches. As well-intentioned as they may be, they often give you advice based on their own or someone else's story. Not yours.
3. You will lose
I thought I'd be losing a mate as a result of getting divorced. I had no idea I'd be losing so much more—friends, people who I thought were friends, extended family members, and acquaintances who stopped "seeing" me. Beyond people, I'd also lose a way of living. A lifestyle. I'd lose a way of being.
I also discovered the flip side. This long list of loss would usher in a cleansing. And in the wake of loss, there opened up a new space for all the incoming positive people and things my soul genuinely desired and especially needed.
4. It's how you leave your marriage that will hurt your kids the most
Even if you have a history of high emotions and conflict in the house, understand it's all about how you and your husband* behave now that will impact your kids the most. This is the reason to try to keep it civil, or restore civility and respect, as you struggle through divorce and do everything possible to recover from it.
You'll want to learn about "good coparenting," best suggestions and tools for boundaries, all directed to keep you and your children (and your soon-to-be Ex) sane and healthy. The fact is that if you are a mother, the father of your children will never entirely disappear. (So, you'll edit that "loss" from your list above.) Chances are, your Ex will always be in your life to some extent. How you reframe this relationship is key for your children and their divorce recovery.
5. Now's the time to learn about your financials
In particular, you want to find out what you own and what you owe—but don't let NOT knowing these answers keep you from getting divorced. You can still find out or identify the people who can help you read statements and documents so you understand what you have and what your choices in life really are. Get fully informed before you start making decisions. And commit to the idea that once you are independent you will begin learning more about protecting and growing your money.
6. Figure out ways to generate income for yourself
Some women leave their marriages with full-time careers while others find themselves reentering the workforce or fearing that they will have to. If you find yourself lumped into the latter groups, step one is to stop telling yourself you are unemployable because it's simply not true.
There are too many jobs out there to count, and every one of them requires something different of each of us. Take baby steps, if need be, but volunteer, hire a job coach, learn about iRelaunch, go back to school, start your own freelance business with a partner. Make a plan to support yourself and, in turn, seek the support you need to make it happen.
7. You can't figure everything out in advance of getting divorced
Nor do you need to have everything figured out to move forward. It is a blessing to have search engines like Google in our lives, but it's also a curse. Google makes us believe we can solve everything if only we research it well enough, if only we type in the magic keywords!
Phooey—at some point you have to get specific feedback about your personal circumstances from experts who deal with divorce and not just whatever articles, Facebook groups, and mind-numbing blog posts and forums you stumble across.
I get it—you're scrappy. You can teach yourself nearly anything. But you are not a divorce attorney and you can't become one fast enough.
8. What's waiting for you is probably bigger and better than anything you can imagine right now
I can't tell you what's in store for you after getting divorced, and even if I could, women like me living on the other side of divorce know our words could never do it justice. What we can say is that when women like you face your fears and move through them, you are capable of nearly anything! We know women who after getting divorced recreated careers based on buried dreams, and women who have found happiness in their new freedom and sense of peace. We've met women who were scared to death about being alone only to find their figurative dance cards full and that their friends, some of them long lost, were waiting with open arms.
Remember why ending your marriage happened. And know that your future is better than you can even think possible. Trust us.
9. You must learn what being "healed" from divorce will look like
There will come a time when you must evaluate the role you played in getting divorced so you can truly heal yourself and stop blaming your Ex for everything that went wrong and for the hellish journey you've been through. The earlier on in your divorce that you confront this the better—it's a necessary step for moving forward, for growing. It's what true healing looks like.
10. You can let it go now
That Little Voice in your head? The one keeping you in a dark corner, feeling especially stupid and unloved? You can let it go. Because you'll discover that divorce has a way of breaking you open, and as you watch all your messy insides spill out, you'll eventually get to choose which parts of yourself you'll keep and which you'll toss into the heap. Your shame? Your guilt? Your regrets? Let it all go. None of it has ever served you anyway, except for now, as a marker symbolizing your critical turning point.
Going forward, take heart and practice intention. We know you don't want to just divorce your husband—you want to end your marriage in the healthiest way. But that takes more than simply wanting something. It takes preparation and action. This is your life. This is your children's future. Get a map, yes, but then take the wheel and steer.
Change the course of your life — AFTER DIVORCE!
Paloma's Group™: Learning the Art of Reinvention.
For newly independent women, post-divorce. Over the course of (only) 3 months, each group-class ​builds on a core theme required to ​design a life you deserve. Schedule a FREE, 15-minute coaching session to explore (and experience) how this remarkable group of post-divorce women will plan and act on creating a life they love.  
We promise — whether you join us for Paloma or not  — you'll walk away from your complimentary coaching-session discovering a next step in your unique After Divorce journey. 
"We choose not to do it alone." ~ SAS for Women
*At SAS for Women, we respect same-sex marriages, however, for the sake of simplicity in this article we refer to your spouse as a male.