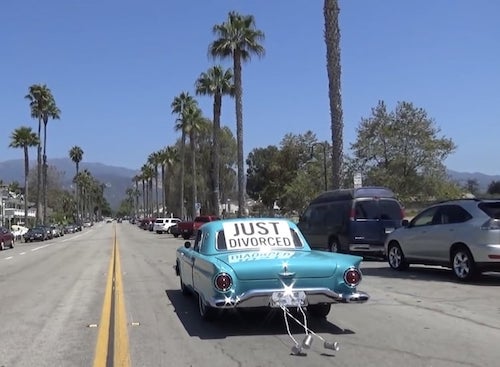 The Divorce Process: What You Must Know as a Woman
We work with smart women, and because you're here, we know you're one of us. During the divorce process, we also know that sometimes, smart women believe they can outthink their pain, outlogic it. If their pain were a landmark on a map, a deep river splitting the ground in two, they'd lose whole days planning a route around it. But with divorce, the river is never ending, and the only way to get around it is to jump in and swim through.
If you've gone through a particularly bad breakup before, it's easy to underestimate just how difficult the divorce process can be. It's not just the emotional upheaval it brings to your life—for you may "get over" being married quickly. You may even move on to other romantic partners or physically reside in different homes, but none of this changes the fact that your union, your relationship, is legally recognized, something that may differ from relationships in your past. Your marriage isn't truly over until the courts say it is.
These two sides to the divorce process, the emotional and the legal, require different things of you.
You're on a journey, but this journey may sometimes feel like it's pulling you in different directions, asking you at times to bury your emotions and focus on the practical and then demanding that you confront your demons so you can exorcise them.
Knowing when, where, and how to handle the myriad pieces of this divorce process is half the battle. Below is the easy-to-digest breakdown of the divorce process. As you read about and, even, journey through, keep in mind you don't have to have all the answers—only some of them. Divorce professionals, the right kind of friends, constructive support groups, and family can help you get through the rest.
Decide what you really want
And that word really is important. We're not talking about figuring out what you used to want. Or what you kind of want. Or even what you think other people want you to want.
We're asking what you really want. Getting that honest with yourself can be absolutely terrifying because acting on whatever your truth is might mean tearing your world apart and putting it back together.
If you want a career that your husband doesn't support, then for you each to be happy, you may have to leave him. If you want a lifestyle your husband doesn't buy into, then you might have to leave him. If you want a marriage built on open communication but, instead, your husband would rather close parts of himself off and keep secrets, then you might have to leave him. If you want to be happy and your husband thinks "happiness" is a different thing than you, then you might have to leave him. No matter what problems you are having in your marriage, everything hinges on that question of what you might have to do and the fear that's keeping you from doing it.
Sometimes deciding what you really want means making it a point to get in touch with friends or family members who know you best, who will be honest with you and who, in turn, you can open up to. Other times it means getting still and quiet, digging down into the depths of yourself and taking a look at what you find there.
Of course, there will be pain as you "go there." But chances are there's already been a lot of pain, which is what brings you to reading this page.
Get the support you need before you act
We recommend a woman get fully informed on her choices in life before she makes any big decisions, including telling her husband she wants a divorce. And that the best first stop for that, strategically and economically, is with a seasoned divorce coach—a "thinking partner" who can you help you understand both your emotional and legal journey, what your choices truly are, and what good decision-making looks like.
A coach will bring down your stress levels by helping you understand what questions you must answer first and which ones can wait, or what type of divorce (traditional, mediated, collaborative, or DIY) is right for you. And if you're not sure about getting a divorce—if you're just wondering what "normal" even means in a marriage—a coach can help you with that too. (That's right, meeting with a divorce coach does not mean you are necessarily divorcing.) A coach will also be able to make good referrals, like the best lawyer for your circumstances or the name of a well-respected mediator to interview.
Depending on the circumstances of your marriage, you may have the impulse to punish your husband throughout the divorce process in any way you can. Maybe I'll blindside him, you'll think to yourself. I'd love to see the look on his face when he's served with papers. But doing this starts the divorce process off with nothing but charged emotions, ill will, and resentment—and that's a bad recipe for both your own recovery and any relationship you and your Ex might have in the future. To say nothing about what it could do to the kids. A divorce coach will help you understand what to do with your anger or sense of betrayal, so you don't lead from a reactive emotional place that often leads to worse, spiraling lawyer costs and wasted energies.
Consult with a divorce lawyer
A divorce lawyer isn't just going to file paperwork for you and represent you in court—a good one will also help you set expectations so that you understand going into the divorce process what you'll be facing. Divorce laws vary state by state, and every case operates on its own timeline. If your soon-to-be Ex isn't being cooperative or there are circumstances, like abuse, that make protecting both yourself and your children especially crucial, then your attorney can help you by taking steps with the court, like an order of protection or, at the very least, ordering your husband to move out of the marital home.
Prepare as much as you can before filing
Prepare, and then prepare some more. The more knowledge you have throughout the divorce process, the more in control you will feel. But don't just stop there. Get copies of family photographs or other mementos that you're sentimental about. Set up your own bank accounts and credit cards if you don't already have them, and change the passwords to your accounts so that your husband no longer has access to them.
Gather important documents, like birth certificates, mortgage statements, and insurance policies, and make sure you understand your financial situation. If you're working with a divorce coach, she can put you in touch with a certified divorce financial analyst who can help you understand the big picture, like if you can afford to keep the house. After divorce, it's not likely that you'll be able to maintain the lifestyle you led as a married woman, and the more that you prepare for this new future, the better off you'll be.
Be kind to yourself
There's the end of your marriage, and then there's the end of your marriage. By that, we mean, there's the moment you truly realize your marriage is over. You're not in love anymore, or maybe something has happened—a betrayal, for instance—that you can't come back from. And then there's the moment you actually do something about the end of your marriage—you talk with a divorce coach, consult with an attorney, you negotiate the terms of your divorce, and you file the paperwork.
Everything we've covered so far deals largely with the practical, legal, and financial aspects of divorce, but mixed up in there are a whole lot of emotions. Even if you feel a sense of relief now that your marriage is ending, you're feeling so many other things it's almost impossible to pinpoint your exact mood from one moment to the next.
Are you happy? Maybe. Are you miserable? Always, except when I'm not. Are you lonely? Even in a crowd. Are you angry? Oh, yes, there's a lot of that to go around. Are you keeping it together? I have to.
Much of the divorce process is riding out these highs and lows until the road evens out again, the journey becomes smoother, or maybe you just become better for all of it.
Get ready for life after divorce
Your divorce is final when you receive your signed divorce decree, or judgment of divorce, from the court. After that you can change your name, if you want to, and take further steps to separate yourself as much as possible from your Ex financially, such as removing them from insurance policies or your will.
But if you have children, then coparenting them can be another obstacle you must learn to overcome—hopefully together, with your Ex.
Even with DIY divorces or mediation, the divorce process can be long, and the ending of a marriage can feel a lot like grieving. But what, exactly, you are actually grieving feels uncertain. Your relationship with your husband? Your sense of family? Your ability to trust others? The image you projected as the perfect couple, the couple your friends liked? Or what your marriage could have been?
After divorce, all of it seems to have gotten so far away from you, and perspective takes time. Be patient with and kind to yourself. We recommend practicing self-care throughout this journey (and really, always) and taking steps to find your support network if you don't already have one.
Since 2012, smart women around the world have chosen SAS for Women to partner them through the emotional, financial, and oft times complicated experience of divorce and divorce recovery. Experience SAS firsthand. Schedule your FREE, 15-minute consultation to hear perspective, next steps and the best resources that will honor your life and who you are meant to be.
*At SAS we respect same-sex marriages, however, for the sake of simplicity in this article we refer to your spouse as a male.