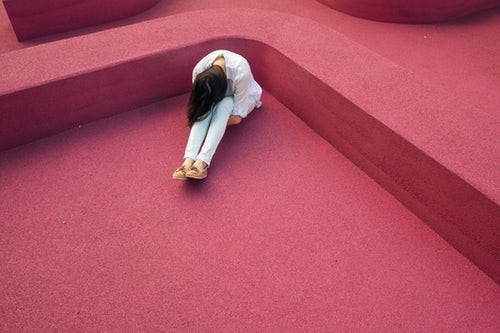 Even when our marriages feel rocky, many of us are resistant to change. So when you or your spouse comes to the other and says, "I want a divorce," understanding your emotions and your new reality can be a long and difficult journey. It's not uncommon for either partner to find reasons to resist and to use a variety of delaying divorce tactics as you scramble to make sense of the events that led you here.
It's almost impossible to leave your marriage without "baggage," without emotions and regrets.
As angry or hurt as you are, a part of you does not want to hurt the people you love the most. If you have children, you tell yourself that the break up news will break them. When you look at your husband* and say you want a divorce, you dread the heartbreak or shock or, even, anger you'll see in his face.
And if it's the other way around—if you are the one being told your marriage is over—then the realization of either how bad your marriage has gotten or how much you've grown apart fills you with another kind of regret. The kind that makes you asks yourself: What did I miss? Were there signs? What could I have done differently? I know we have problems, but why doesn't he care enough to try to work on our relationship and stay?
Grappling with these emotions during divorce can cause us to lash out and make questionable decisions. It can also cause us to procrastinate or go into denial.
Why people use delaying divorce tactics
If you or your husband find yourself looking for ways to delay or stop your divorce, it's usually for one of the following reasons…
You're angry and unhappy about the divorce, so you've decided that you won't make this easy for anyone. You want any form of revenge or punishment you can get.
You're scared about your future (or your children's future), and so you're trying to prolong the inevitable for as long as possible.
You think you can fix your marriage—that, perhaps, your spouse is rushing into this decision or being too stubborn to work on himself—and you're trying to give the two of you more time together so that he realizes this too.
You're hoping to gain something financially—you're hiding assets, racking up attorney fees, or putting off support payments.
Of course, human emotions are complicated and fickle things. It's possible you or your spouse has a myriad of reasons for delaying your divorce, but these are some of the more common ones.
Below you'll find a list of common delaying divorce tactics—it's important that you recognize them, whether you're the person doing them or not. Sometimes we delay movement or "progress" in our lives unintentionally, and we have to take a step back to see it clearly.
Seeing a therapist
Whether you talk to a therapist on your own or attend marriage counseling, talking to a professional about the problems arising in your relationship is one way to delay your divorce and help you figure out what it is you and your spouse really want. Some states will grant a continuance putting the divorce on hold for a number of days if it looks like there's a possibility of reconciliation.
But if you've already seen a therapist (possibly even more than once) or your husband isn't receptive to counseling, then it becomes clear that no amount of talking is going to help your marriage. These conversations quickly devolve into attempts at figuring out who to blame, and solving that is nearly impossible and almost always pointless.
Claiming to have busy schedules
By cancelling meetings at the last minute or being unavailable to schedule them at all, you can delay your divorce. Sometimes people use their jobs as an excuse, but some people exploit or invent health reasons to cause delays. Whether it's stress-related or a medical condition, they claim that their need to schedule doctor visits and procedures is affecting their ability to continue on with divorce proceedings in a timely manner.
Changing attorneys
People look for new attorneys for a lot of reasons. Sometimes they just want someone who's more aggressive. They do not feel well represented, or maybe they don't feel understood or heard.
When you or your spouse changes attorneys, you can be granted a continuance and divorce proceedings are placed on hold. This isn't always the case, of course. Judges might require you to stick to your current schedule even if you're changing representation. But certainly, divorce professionals have seen spouses use this tactic to consistently put off negotiations.
Being unresponsive
Ignoring texts, phone calls, and emails? Failing to sign documents? Generally being unresponsive and unavailable is another way that people attempt to delay their divorce.
Consciously or not.
In any case, whether it's you or your spouse employing delaying divorce tactics, judges and attorneys have seen it all. Your particular spin will not be new. Divorce professionals recognize when someone isn't acting in good faith, and in many states, this is when attempts at delaying divorce start to backfire. They might continue on with proceedings without you, and in the end, your husband will get much of what he wanted in the first place.
If you think your spouse is attempting to delay your divorce, a good attorney will help you balance out those attempts with, for one, motions to deny their repeated cancellation requests and other tactics. Your attorney will help you prove that you have made every effort to notify your husband of the divorce proceedings and come to an agreement, and the judge will be able to use this evidence to waive his rights to a trial.
Delaying divorce tactics might work, but they can never truly be successful in the long-term. We no longer live in a world where one spouse can force another to remain in a marriage against their will, and these tactics don't just hurt your Ex—they inevitably prolong your own pain and put off your divorce recovery. They also affect your children's relationship with both parents and their ability to heal. How you resolve your challenges with the divorce, the temperature of the negotiation, and how you conduct yourselves is directly related to how your children will recover long term.
If one of you is really ready to move on from your marriage, then using delaying divorce tactics won't actually change anything. The longer you put off your divorce, the higher the chances are that your spouse will move on with his/her life—romantically and otherwise—while you're still technically married. This further complicates everything. Even well-intentioned love interests will want to offer their opinions on your divorce, and those opinions could sway your Ex to make certain choices as proceedings continue. Choices that may not benefit you or your children.
If you find yourself dealing with delaying divorce tactics, whether you are perpetrating them or not, we encourage you to seek the divorce support you need so you and your family can move through and forward with your lives.
Whether you are considering a divorce or already navigating the confusing experience, one thing we see making a significant difference for women is the conscious choice to not do divorce alone. Since 2012, smart women around the world have chosen SAS for Women to partner them through the emotional, financial, and oft times complicated experience of divorce.
SAS offers women 6, FREE months of email coaching, action plans, checklists and support strategies for you, your family, and your future. "A successful divorce requires smart steps, taken one at a time." – SAS for Women 
*This piece was written for SAS for Women, an all-women website. At SAS we respect same-sex marriages, however, for the sake of simplicity in this article we refer to your spouse as a male.